Macrame Christmas Ornaments & Decorations
Learn how to make macrame decorations for holiday season with Hemptique video tutorial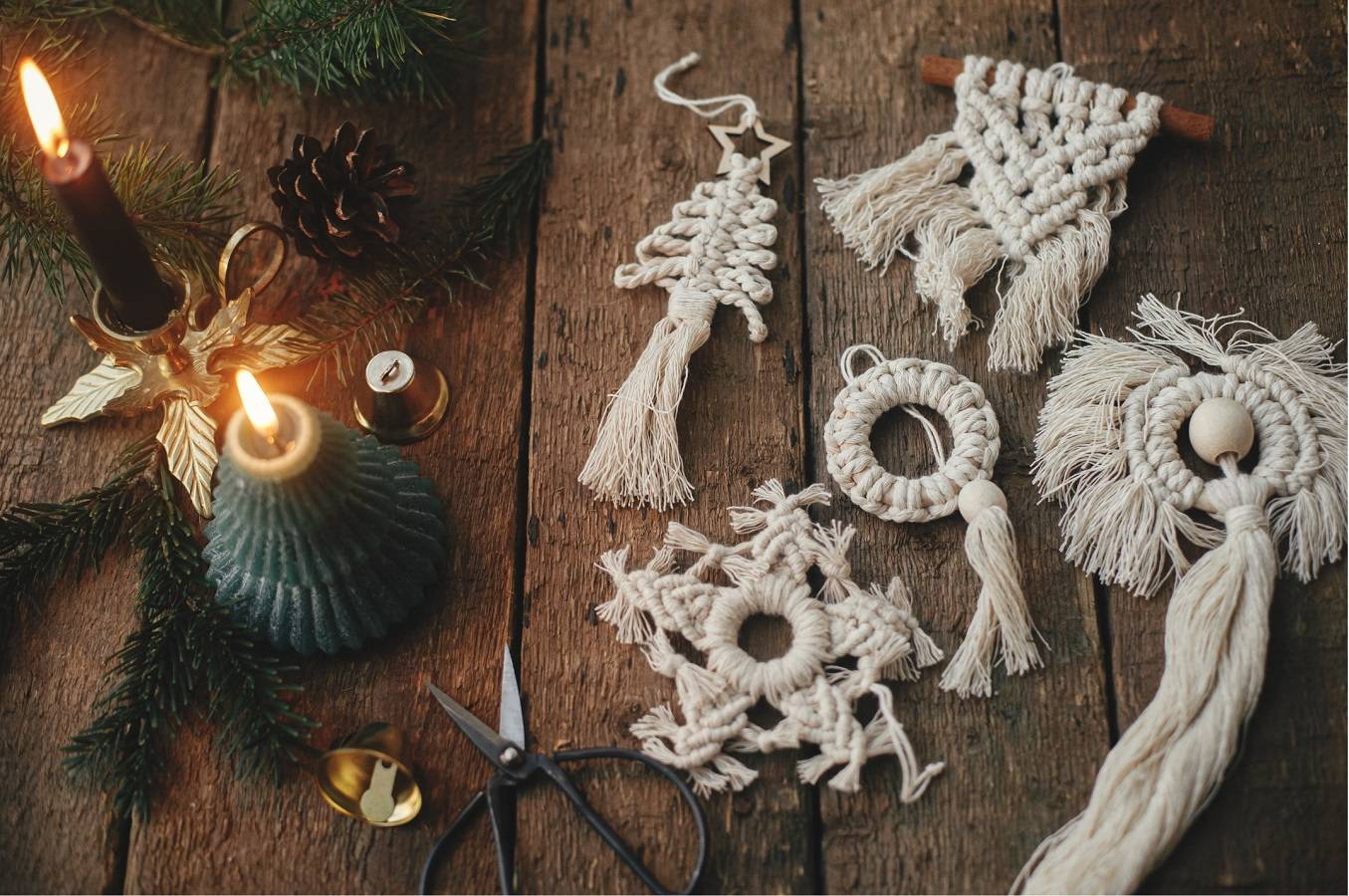 Developing and supplying premium-quality, sustainably grown, consumer products
Organically Grown and Ethically Sourced

hemp and other natural fiber products
We offer fast shipping
Your order out within 1-3 days
Visit our wholesale portal to register or login to your account
The Christmas holiday season is a special time of the year and people enjoy decorating trees, living space and outside of their houses. Decorating the Christmas tree is the most popular family tradition. It gathers people to spend special time together, reflect on previous year and look forward to future Christmas season. Each ornament tells its own story and some of them are even passed through generations.

When it comes to Christmas decorations, stores are fully equipped, and possibilities and products are endless. But people should also consider macramé art and DIY projects for ornaments and other decoration. The thing is you don't have to be a macramé expert but only learn a few beginners' knots and the whole new world will appear. Limitless cord colors, designs and patterns will be available and by proudly making something yourself it can be a beginning of new tradition and your own Christmas story.

In further paragraphs bellow you will be presented with the world of macrame in general, various beginner techniques, supplies and cord types. You will have the possibility to see two tutorials on how to make macrame ornament cover and snowflake as well as step-by-step instructions to try it yourself.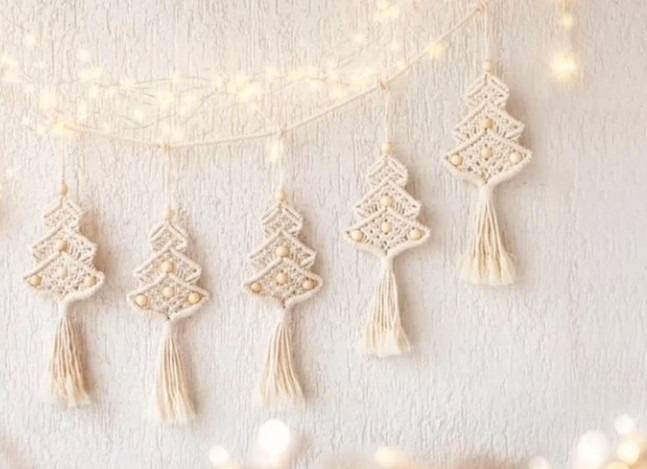 Buy Best Macrame Cords for Christmas Decorations at Hemptique
Hemptique offers pure hemp and cotton cords which can be purchased in wholesale and retail in our web shop. If you are an art crafter it is very important to make the right choice for cords and ours are 100% organic, sustainable, and biodegradable. Over the many successful years, we have provided our customers with the best service and products. We thrive to develop appreciative relationships and dedicate ourselves to producing variety of choices for macrame lovers. If you are interested in getting more information about our products email us at sales@hemptique.com. If you however want to apply for wholesale account contact us at (760) 602-4864 ext. 403 and 405.
Macrame Ornament Cover Tutorial With Step-by-Step Instructions
Christmas season holiday is here, and it is time to start crafting. In the following video you will be acquainted with
basic macrame knots
and how you can make your own ornament cover. Christmas macrame craft such as this ornament cover can be a perfect way to put a sparkle on the Christmas tree or just surprise someone with an adorable gift.
The supplies needed for DIY macrame ornaments cover presented in the video are:
1 hemp cord that is 2 mm and measured 10 inches long (25.4cm)

12 hemp cords that are 2mm and measured 36 inches long (91.4cm)

1 round ornament of your choice. Try to find the transparent one because the knots and cord color will be more appealing.


Pins for securing the rope to the table-top
Hemp cord used
in the video tutorial is
#48 Hemp Cord Spool
and our color of choice was red. This hemp cord comes in various other colors. It is made 100% from organic hemp thus being environmentally sound, biodegradable, and sustainable. Besides being used here for ornament cover you can use it for various macrame art projects such as jewelry making, gift tags and cards, scrapbooking, etc.
Step-by-Step on How to Make Macrame Ornament Cover
We previously mentioned material and supplies needed for this project. When it comes to art, macrame, knots, patterns, and colors the choice is never-ending. The level for this project is beginner and with a bit of interest and practice anyone can do it. Let's check how!
Buy or take a table-top and pins of your choice since you only need it to secure the 10 inches long rope. Make sure the ends of the ropes are equally spread and in the straight line and pin it to the table-top.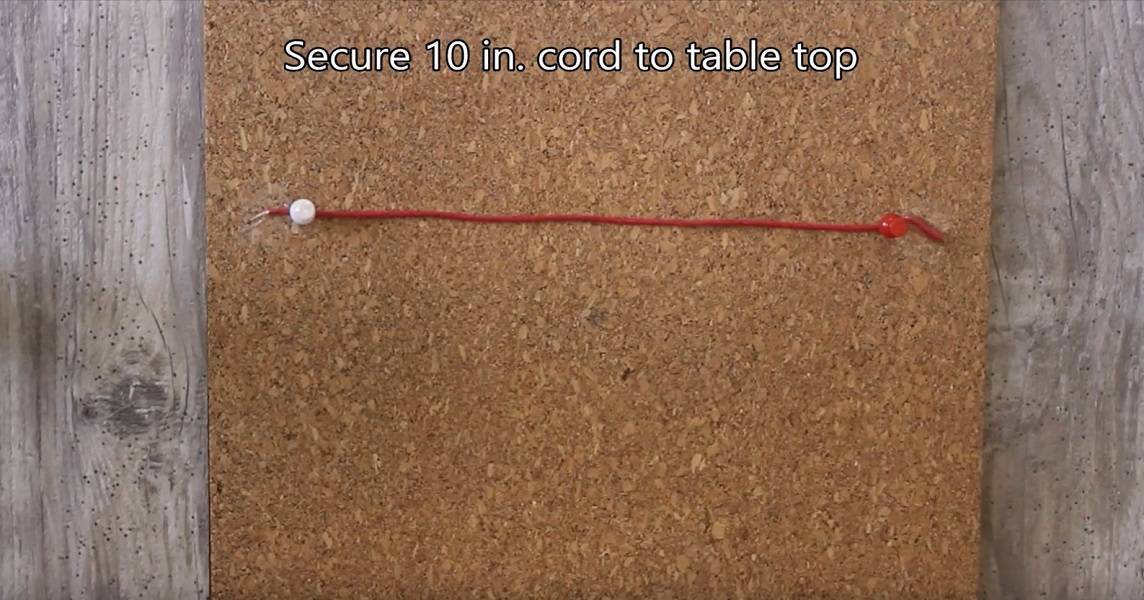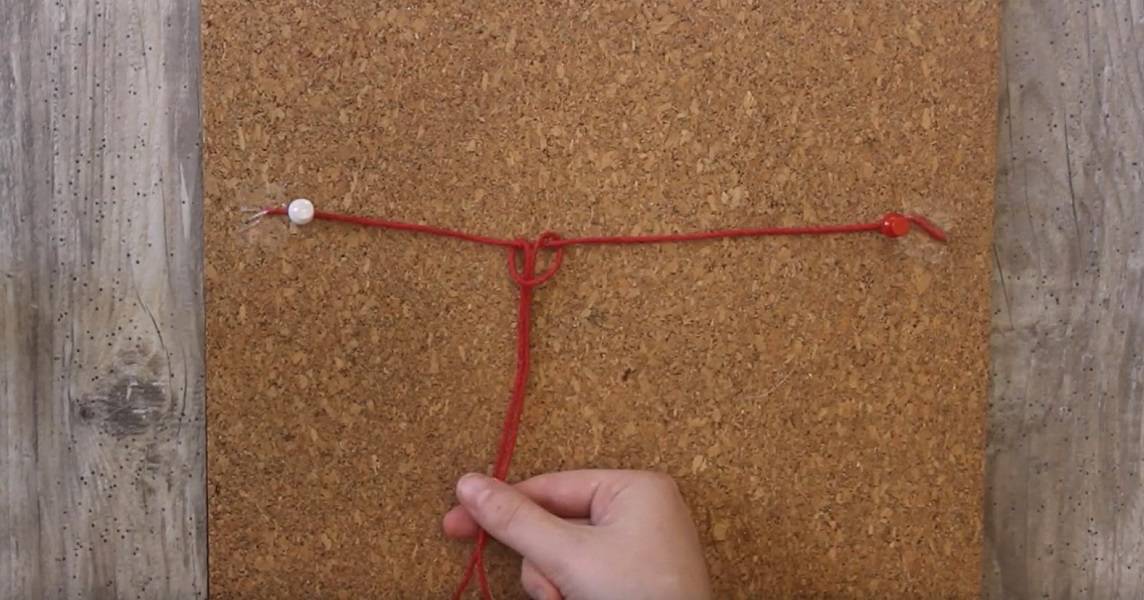 Take one piece of 36 inches long cord and attach it to the pinned 10 inches long cord by making a larks' head knot. Fold the 36 inches long cord in half and in even length. Place the loop in front of the pinned cord, twist it around and get two ropes through the loop. You made lark's head knot! Repeat step 2 with all other 12 ropes by placing them on the whole length of a 10 inches long cord.

Step 3: Take the ropes down and attach strands
After attaching all 12 cords remove the pins and cords from the table-top. Next thing you should do is to tie the ends of a 10 inches long cord by forming a double knot. It is better if you do it directly on the ornament top so that you don't tie it too tight. Use scissors to trim the ends leftover of the doble knot cord.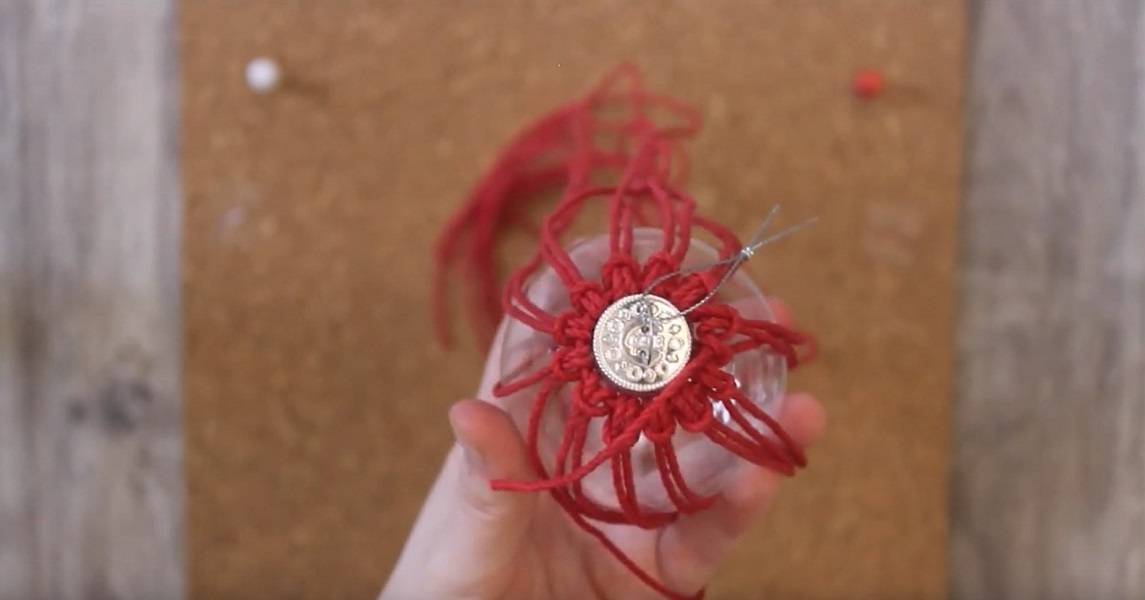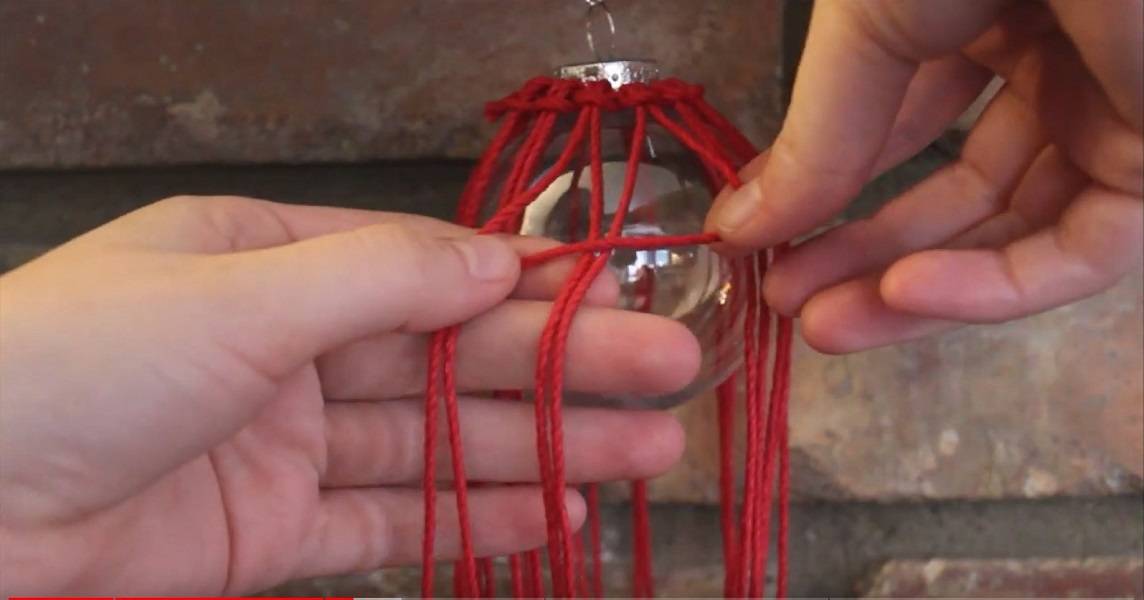 Step 4: Make square knots around the ornament
Take some hook and hang the ornament onto it to ease the following steps of tying knots. Our goal now is to tie 6 square knots all the way round the ornament. Take four ropes from two already formed ones and make a square knot. Take rope from the far right and cross it with two in the middle to form a loop. Then the rope on the left goes over two in the middle and through the right rope formed loop. Then repeat the step but this time take the left rope to form a loop and right rope to go through it.

Step 5: Repeat square knots again
Repeat step 4 all the way around. After finishing it take another four ropes and repeat making the square knots. You can leave a bit of space between square knots so that the pattern is well visible.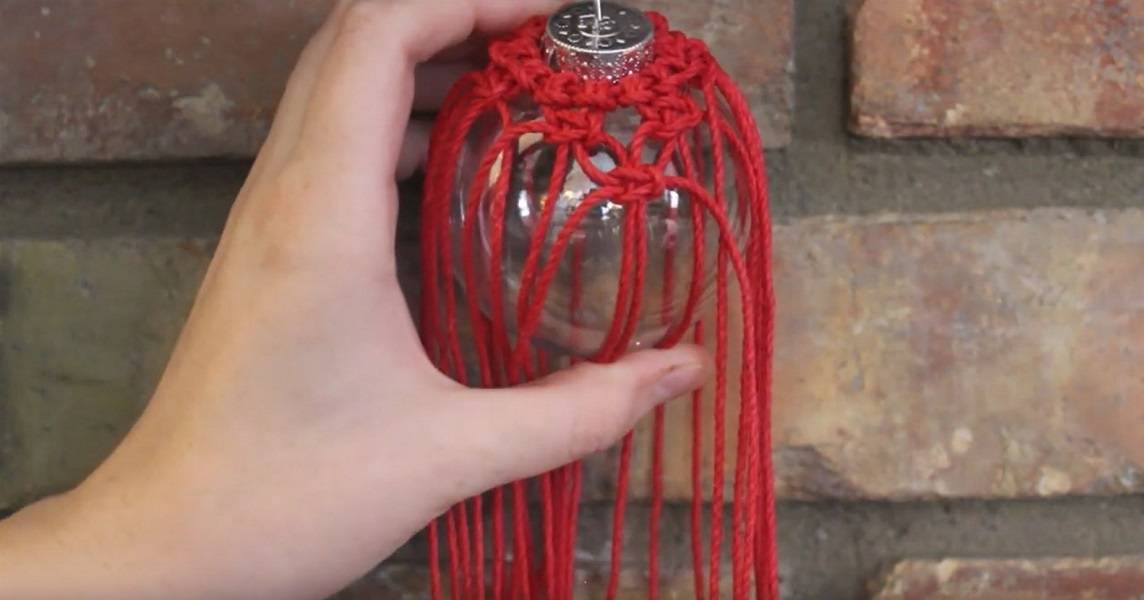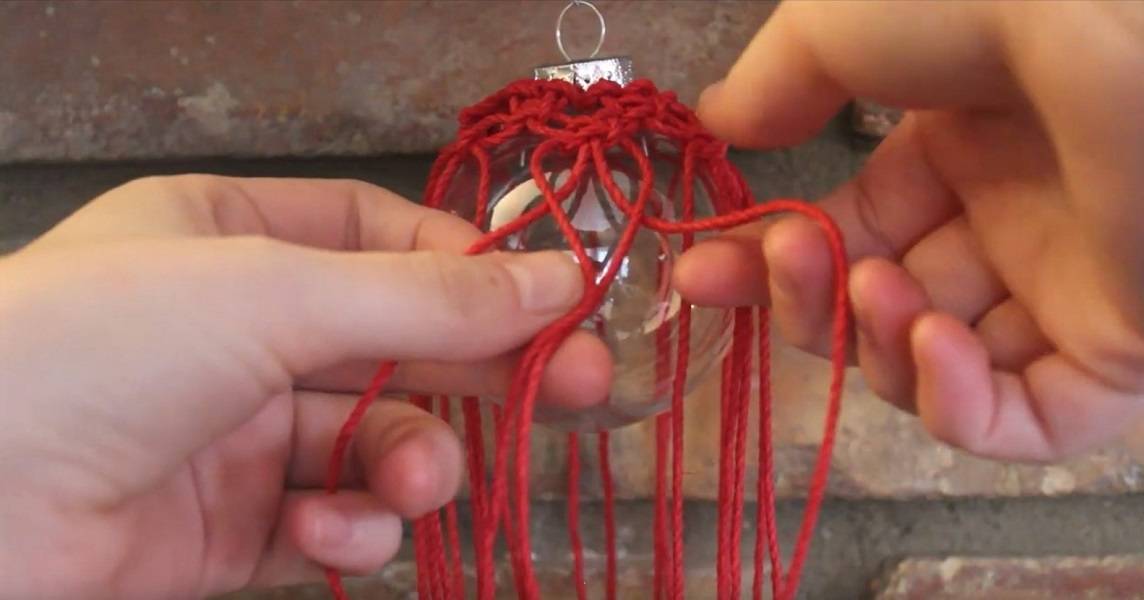 Now the square knots are done we will make chains all the way down by using the switch knot. Use four ropes which are part of the latest square knot and take two on the end and cross them over so that they become two ropes in the middle. Now tie the regular square knot. Repeat these two more times.

Step 7: Gather the ropes and make square knots again
In the end you should gather all the ropes at the bottom and make three square knots. Bundle everything together and leave two strings on the side. These two strings will be working cords while the bundle will act as two middle strings from before. After completing these square knots tie the double knot below to secure the cover. You can use scissors to trim off a bit of rope leftover or not.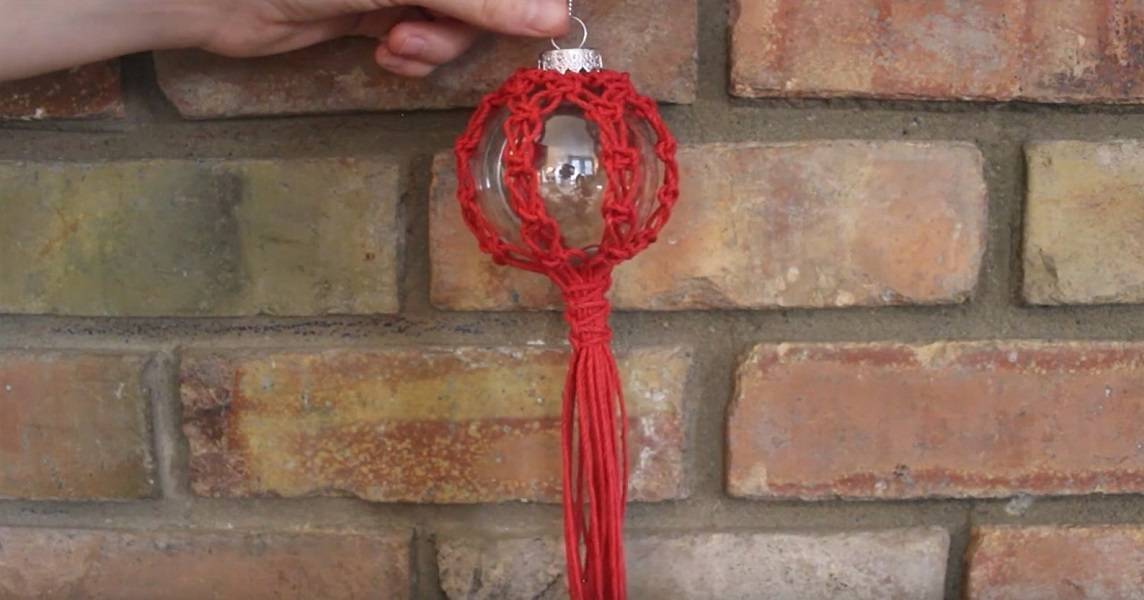 Snowflake Christmas Decoration
Here is another video tutorial on how to make snowflake decoration for your wall or table. Differently from the previous project for the snowflake we used recycled cotton
Royal Corderie 3mm Metallic crafting cord
. The color is creamy gold which makes it a perfect choice for Christmas decoration. It comes in four other colors too. It is made in Belgium from 100% organic cotton and gold strings.
Besides the cotton rope we used wooden ring 2.4 inches wide in diameter, scissors, and pins to place the ring on so that I wouldn't move while we macrame. The pins and the wooden ring are again placed on the table-top.

This time we cut all 14 ropes at once and attach them all around the wooden ring by making reversed lark's head knots. After completing this we will do the square knots as in the previous tutorial and repeat it as much as we choose. The ends should be trimmed off by scissors.
Macrame is a knotting technique used for various DIY crafts. There are many macrame knots that you can master, and possibilities and choices are endless. It is a very affordable way to express your artistic side, decorate your home and even earn some money by selling it. It doesn't have to be just about knotting cords since you can combine macrame with other techniques, such as knitting and weaving.

When you think of macrame art the first thing crossing the mind is wall hangings, clothes, and dream catchers popular back in the 60s and 70s. The thing is the knotting itself wasn't invented then. There are many historical beliefs such as that knotting dated back in BC centuries and that it was used by Persians and Babylonians. But in modern times, it was brought to the west by Arabic countries who practiced these techniques on woven tapestries and rugs with fringe. The knotting art reached England and Queen Mary's court, but it wasn't spread throughout Europe until sailors began to use it as a pastime activity. Sailors even traded macrame craft when off the ship and some of the projects included hammocks, hats, and belts.

The beginning of Industrial Revolution stopped DIY crafts for some years until recently, when hand-made crafts became popular again.
How to Choose Cord for Macrame
Cord is one of the most important supplies when making macrame. Besides the cord we also use scissors, wooden rings, beads, measuring tape, etc. When it comes to cords, we have a choice between natural and synthetic fibers. Common macrame project use cords between 3mm and 6mm thick. The less thick cord is used for micro-projects like jewelry and small decorative pieces, and it is usually between 0.5mm and 2mm.


There are two basic fiber types:

Natural includes hemp, cotton, jute, and wool. All of these are eco-friendly and have high biodegradability and we use them for interior projects.

Synthetic fibers include polypropylene, acrylic, nylon, and plastic. These materials are great for outdoor projects since they won't decay after being exposed to natural elements.
There is a wide range of widths and diameters depending on your project and macrame purpose. They can range from 2mm to 40mm, so they come in three categories small, medium, and large. As we already said, smaller cords are used for jewelry and other delicate projects. Medium cords are mostly used for macrame projects and by beginners. You can make everything from wall hangings, curtains, carpets to furniture and lanterns. Large cords, or ropes are a bit more difficult to work with and we will use them for some big wall projects.
Another common type of fiber used for macrame projects is cotton. It is an eco-friendly choice that comes in many appealing colors and sizes. Cotton is produced from replenished resources such as fibers, recycled materials, and cellulose. Using cotton for your macrame project has many advantages since it is soft, sustainable, and easy to work with for newbies. It is a general-purpose cord which makes it perfect for those who have just began or have less experience in tying knots. Cotton is principally strong on its own, so it doesn't need to be combined with synthetic materials, which often can cause discomfort if in touch with the skin.
Recycled cotton macrame cord
is very popular choice among Hemptique buyers. You can use it for number of macrame projects, such as wall hangers, fringe curtains, gift wrappers, dream catchers, and children's toys.
Other natural texture materials include
jute
and
felted wool
, while you can also use synthetic materials like
polypropylene
.
Hemp usage dates back from early centuries and it is made from
long fibers of Cannabis plant
. This plant can grow almost anywhere, and it is used in many different industries including construction, food industry, gardening, etc. To make hemp cord, farmers use the best fibers from the plant. This is the reason hemp is strong and sustainable. What is more important is its great impact on the environment since it doesn't require any pesticides to grow. Hemp is also resistant to bacteria, mildew, and mold.
It is one of the first choices for people who enjoy making macrame crafts and jewelry making. Hemptique offers 0.5 to 3mm hemp cord sizes. Anything from 4mm and more is considered
hemp rope
.
When we make some arts projects, including macrame, visual is what attracts attention. Other important things are how the material feels on your hand while doing macrame so it would be advisable to choose softer and more natural textures. Two of the most widely used materials are hemp and cotton. Let's see why these two are textures of choice for most macrame lovers.
Basic Macrame Knots for Beginners
Since macrame is a knotting art technique, it can be used for making a variety of items. Depending on the purpose and type of macrame project, the ropes and cords are tied in different knots to create beautiful patterns. Let's list some basic knots for beginners that are easy to master. Those are: