What is Hemp? Is it Legal, Uses, Product, Differences Between Hemp and Marijuana (Ultimate Guide)
Hemp (Cannabis sativa), or industrial hemp, is a multi-usable plant. Plants of the hemp family are tall, aromatic, erect herbs. There is no hollow core to the slender stalks except for their tip and base. There are small, greenish-yellow flowers and compound leaves with a palmate shape. Female plants produce flowers with elongate spikelike clusters.
Hemp can be used in many ways, including in medicine. As a result, hemp is a drug but has no overdose hazard.
Throughout this article, we will explore
everything you need to learn about hemp, from its history to its features, the difference between hemp and marijuana, its law, and its common applications
. Moreover, we will introduce the best trustworthy hemp products supplier in the U.S., where both retailers and wholesalers can purchase the best hemp cordage and hemp clothes.
Hemptique
has been offering high-quality hemp products, cordage and clothes, since 1997. The company strives to build mutual, long-term relationships with clients and partners who value and appreciate our commitment and passion for creating more sustainable,
earth-friendly products
. Some of our products are
hemp cords, hemp twine, hemp yarns, hemp ropes, hemp wicks and hemp thread
.
We know that hemp products should be of high quality, sustainably grown, and consumer-friendly. That is what kind of products we offer to our customers. For more info about products we carry and wholesale opportunities, we can be reached at:
Hemp Cultivation Throughout History
Throughout the centuries, hemp has been utilized in various ways. Historically, hemp has been used for clothing, seeds, wood, and fibers since the B.C. era. Many communities have benefited from hemp over the years, from China to Turkey to India to America.

The first copy of the Bible was lined with hemp, and Columbus's sails were made with canvas and rope because hemp is a traditional fiber crop. In addition to providing nutritional and medicinal benefits, hemp is considered one of the oldest plants cultivated for this purpose. Whether raw, cooked or pressed into oil, its seed is well known for its high nutritional value. Traditional oriental medicine has used hemp's effects to treat and prevent ailments for thousands of years. The potential use of industrial hemp in food and nutraceuticals has become increasingly popular in recent years.
Hemp is a plant that
firstly appeared in Central Asia
. During the Middle Ages, its cultivation spread throughout the rest of Europe after it was first practiced in the Mediterranean countries of Europe in the early Christian era.
The first trees were planted in Chile in the 1500s
and then in North America a century later.
Here is one interesting historical fact. World War II required more raw materials to make strong, durable ropes. During American engagement with Japan, their oversea supply was cut off. To help with the war, the government created a campaign called "Hemp for Victory," encouraging U.S. farmers to grow hemp. There is even a promotional video from the United States Department of Agriculture (USDA) highlighting the benefits of hemp fiber!
The hemp plant is the only one that yields true hemp. Still, different plants have been called hemp, including Indian hemp (Apocynum cannabinum), sunn hemp (Crotalaria juncea), and Mauritius hemp (Furcraea foetida).
Where and How Tall Does Hemp Grow?
Trees take years to grow, but 120 days after planting, hemp is ready for harvest. It can be grown on land suitable for farming or other temperate zones. Rather than harvesting trees, hemp would also reduce erosion caused by logging, reducing soil erosion and water pollution caused by soil runoff.
It
can grow up to 16 feet high
. Crops require an average rainfall of 2.5 inches per month in sandy loam with good drainage during the growing season. Plants grown for fiber are densely sown and average 6–10 feet tall with little branching. Oilseed plants are planted farther apart, shorter, and have many branches. The best yield and quality of fiber are obtained by harvesting the plants as soon as they reach maturity, which is indicated by full blossoms and freely shed pollen of the male plants. Even though plants are sometimes pulled up by hand, they are usually cut off about 1 inch above the ground.
Unfortunately, hemp plants can develop pathogens such as bacteria, fungi, nematodes, viruses, and others. Such diseases result in reduced fiber quality, stunted growth, and plant death. Hemp fields are rarely affected by these diseases. Therefore, hemp production is not traditionally reliant on pesticides.

Some of the biggest hemp producers are
Australia, Russia, Canada, France, the United Kingdom, the U.S., and Ukraine
.
What Are the Uses of Hemp?
Cordage:Hemp ropes

,

hemp cords

, twine and strings are popular among artisans. Cords made of hemp fiber are very strong, durable and eco-friendly. They can be used for marine applications, craft making, home décor, gardening, climbing, and fishing.

Fabrics:

Hemp is also widely used in the fashion industry, though it is not as new as it may seem. People have been wearing

hemp clothing

for centuries because it is considered an environmentally friendly fiber. Designers using eco-friendly methods are increasingly relying on its fibers for their projects.

Clothes: Hemp fabric has proven superior to its counterparts in nearly every way. It is eco-friendly, durable, breathable, and sustainable.

Skincare Products: Some people with dry skin already use oils on their faces to gain moisture. Hemp oil has been used by more and more skincare experts lately as it is effective for most people, regardless of their skin type. Whatever type of skin you have, it helps to regulate its hydration.
Shoes: You can make shoes from hemp, too, so its fashion use goes beyond clothing. Hemp shoes are soft and comfortable, usually a hemp and cotton blend.

Animal Food: Many people add its seeds and oils to smoothies and yogurt bowls, but hemp is also a valuable food for animals. In addition to supplying proteins and fats, hemp has antibiotic properties that protect animals from illness.

Automobiles: In the United States, Henry Ford's "cannabis car" was one of the first automobiles made with hemp materials.

Batteries: Using hemp fibers to make batteries is another way to use this versatile plant. Researchers use the plant to manufacture supercapacitors, a battery that incrementally delivers electricity.

Carpets: Additionally, hemp is used in carpets and rugs. The hemp plant's woody fibers provide textile workers with naturally durable, hard-wearing pieces.
Chocolate: In addition to being delicious, hemp chocolate offers relief from anxiety, inflammation, insomnia, and many other aches and pains without the high associated with most cannabis-infused chocolates.

Concrete: For quick fixes, hemp may be your new best friend if you work in construction. Hempcrete is lightweight, unlike concrete, which is heavy and difficult to move. But it can only be used as an insulating infill, not as a structural material.

Coffee: For all coffee lovers, coffee beans made from hemp seeds and ground coffee beans are something that you must try. Roasted hemp seeds combined with roasted coffee beans produce a nutty-flavored coffee with numerous vitamins and minerals.

Diapers: Growing numbers of companies are turning to hemp to create diapers for babies. Besides being antimicrobial and biodegradable, hemp is non-allergenic, breathable, and recyclable. It keeps your baby comfortable and clean all day long.
Oil: Women have traditionally used fish oil as a vitamin for several years. As a rich source of omega-3 fats, it prevents heart disease, reduces blood pressure, and eases aches and pains associated with menstruation and perimenopause. In addition, hemp oil is also an excellent substitute for fish oil.

Flour: Oil and seeds from this plant can both be consumed as nutritious foods, but it might also be possible to use them to make flour that can replace all-purpose flour in any recipe due to its earthy, nutty flavor. This makes hemp flour ideal for bread and pancakes.

Inks: It is possible to make non-toxic ink using hemp oil. These inks dry quickly and require minimal processing. You can also use it on your body or your latest bunch of homemade hemp paper.

Milk: Besides being high in protein, hemp milk is lactose-free, soy-free, and gluten-free. You need to mix hemp seeds, water, and some vanilla or maple syrup.
Nail Polish: The beauty industry uses hemp to make nail polish.


Paint: Paint made of hemp is completely biodegradable and chemical-free, making it incredibly easy to use. You can make a stunning wood stain or finish from hemp seed oil.

Paper: China's Han Dynasty used hemp for paper-making in 200 BC. Throughout the years, hemp paper has been used in historical documents and literature, and Russian banks also used hemp paper during the 1800s. In the 1930s, some trees were being transformed into paper, so they lost popularity. Hemp paper, however, is beginning to regain popularity again.

Plastic: It is also possible to make plastic from hemp plants. Even though most plastic is made of polluting, non-biodegradable chemicals, we still use it every day. Consequently, the hemp plastic industry has been growing rapidly.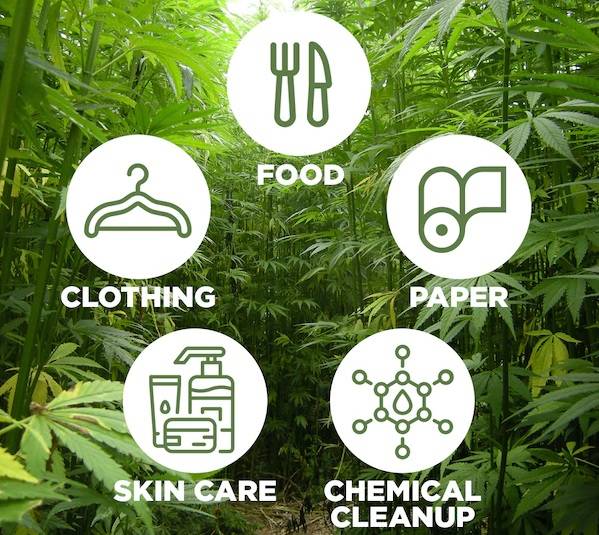 Shampoo: You can incorporate hemp oil into your shampoo or conditioner as a valuable ingredient. Its fatty acids seem to promote nutrients for healthy hair and faster growth.

Solar Panels: Hemp panels are even more efficient than solar panels, currently used to sustain energy and utilize natural resources. A hemp solar panel produces energy when it is heated like paint.

Toilet Paper: The U.S. produces more toilet paper waste than almost any other country. Currently, there is no mass production of it, but some brands are available online. Hemp toilet paper will probably make its way to the U.S. soon.
Is It Legal to Grow Hemp?
In Australia, Germany, England, Canada, and other countries, hemp cultivation was illegal ten years ago.

In essence, industrial hemp grows legally in the United States. As long as the crop contains no more than 0.3% T.H.C. by dry weight, every state has legalized the process. A state-issued permit is the only way to cultivate hemp commercially.
The world is increasingly testing hemp's potential in the field and on the market. North America now offers a wide selection of hemp clothing, cordage, footwear, and food products.
Cannabis and hemp are thought to be two distinct types of plants. There is no difference except in their names. Both are plants of the Cannabaceae family. But the law distinguishes between hemp and marijuana.

Tetrahydrocannabinol (T.H.C.) is the key component that determines the two. Cannabis contains many cannabinoids or chemicals. T.H.C. is one of those chemicals. Moreover, the "high" associated with cannabis is primarily due to this compound.
As defined by law, hemp is a cannabis plant with less than 0.3 percent T.H.C. In contrast, marijuana is a cannabis plant with more than 0.3 percent T.H.C. T.H.C. levels in hemp are extremely low so that you won't get high, and the term "marijuana" usually refers to cannabis that gets you high.
Different cannabis plants contain varying levels of T.H.C. T.H.C. content varies from strain to strain. There are three types of cannabis plants:

Cannabis Sativa, Cannabis Indica, and Cannabis Ruderalis. Scientists have yet to verify the effects and characteristics of each of these substances.
In addition to the T.H.C. content, hemp and marijuana differ in their legal status. According to the 2018 Farm Bill, hemp, or cannabis that contains less than 0.3 percent T.H.C., can be grown throughout the United States. Additionally, hemp-derived CBD products are now legal in the United States. Still, cannabis that contains more than 0.3 percent T.H.C. is not legal. Anyway, laws vary from state to state. Depending on the state, it may be used for medical and recreational purposes. The other states allow only medical use. And some states still prohibit its use.
Cannabis Sativa: It is the most widespread species. Many strains of this species exist, some high in T.H.C., others low in T.H.C. (hemp). This species came from Southeast Asia, where the humidity is much higher, and the growing season is much longer. Therefore, it has the longest flowering time and grows the largest of all cannabis species.

Cannabis Indica: Having come from northern climates, it is more tolerant of cold weather. It has a shorter blooming season due to the shorter growing season. Currently, no Cannabis Indica strains are classified as hemp, so all of these species belong to the marijuana family.

Cannabis Ruderalis: This is a lesser-known cannabis species. In addition to producing very low yields, the plant contains little fiber.
It is more environmentally friendly to cultivate hemp than many other crops. The yield of hemp crops for textile fiber is about 600% greater than flax and 250% higher than cotton. Moreover, hemp plants can grow in various conditions and can grow rapidly.
A dense canopy of hemp plants blocks the sun from reaching competing weeds as they grow. Other crops may require significant amounts of pesticides, fungicides, and herbicides to grow, but industrial hemp doesn't.
Hemp's rapid growth makes it great to absorb carbon from the air and convert it into plant material. An acre of industrial hemp can absorb carbon dioxide (CO2). Plants like hemp have dense, deep roots that prevent soil erosion and related land loss.
A hemp plant's roots can also extract nutrients deep in the soil, including heavy metals, and incorporate them into harmless plant matter. Because hemp has these qualities, it is excellent for decontaminating or "cleaning" soil, reclaiming it, and reinforcing it.
Moreover, hemp seed has been reported to provide
many health benefits
and potential treatments. As an omega-6 to omega-3 PUFA, hemp seed is beneficial for:
The pharmacological properties of CBDmake it a potential therapy for neurological disorders such as:
neurodegenerative diseases

multiple sclerosis (M.S.)
What are some of the most common dangers of hemp?
In addition to diarrhea and bradycardia, taking whole hemp seed by mouth can cause nausea, vomiting, throat irritation, and hypertension.
Can hemp be detected on a drug test?
NO! The regular consumption of hemp foods (such as seeds, milk, cooking oils, cereals, and granola) or hemp products (such as shampoos, lotions, and lip balms) will not result in a positive T.H.C. on a drug test.
How long does hemp stay in your body?
The CBD effects last 2-5 days on average but may vary from person to person. Some people can retain CBD for weeks.
Why should I choose hemp?
Although hemp has long been known for its industrial, medicinal, and commercial properties, its environmental benefits have recently been recognized. Many industries seeking sustainable and eco-friendly processes are now looking to hemp. It does not require a particular climate or soil, and it can be grown anywhere.