Properties, Usage, and Where to Buy Finest Hemp Yarn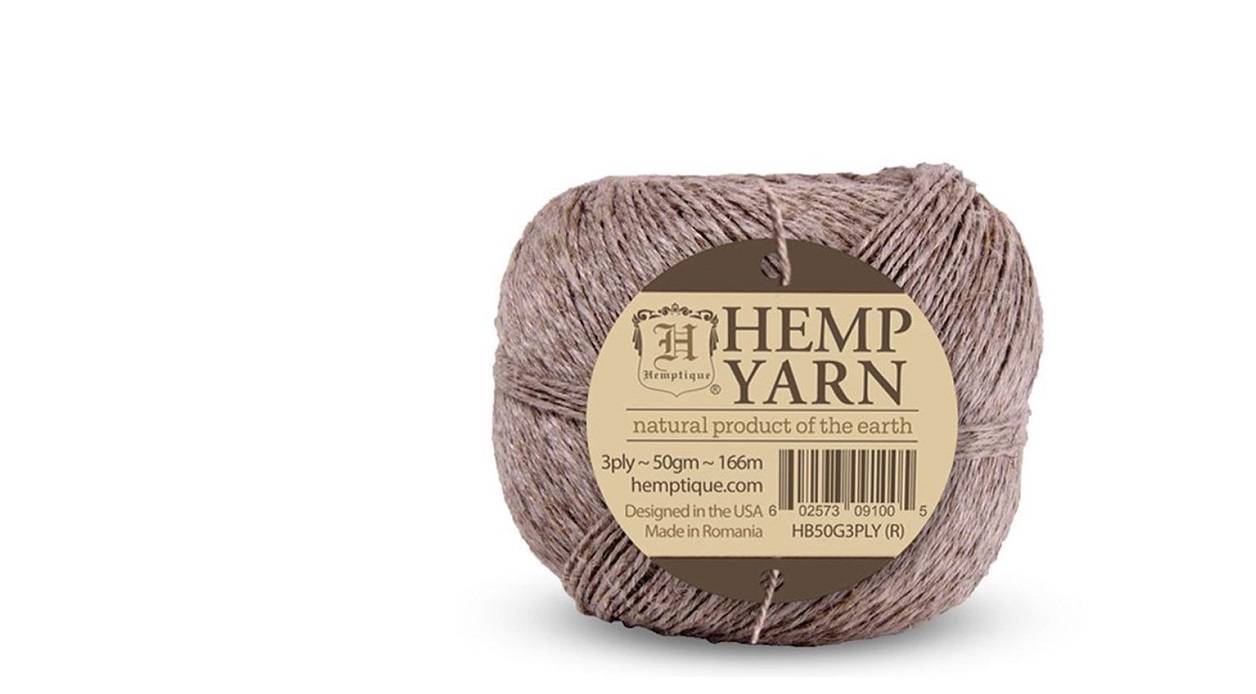 Developing and supplying premium-quality, sustainably grown, consumer products
Organically Grown and Ethically Sourced

hemp and other natural fiber products
We offer fast shipping
Your order out within 1-3 days
Visit our wholesale portal to register or login to your account
Organic hemp yarn is a perfect way to make delicate lace, summer clothing, and other unique, handmade pieces by weaving, knitting, and crocheting. Being an intermediate step between fiber and other finished products like twine, cording, and textiles, 100% hemp yarn is not such a common product. It is usually blended with cotton yarn to reduce some of the hemp's yarn drawbacks.

As a refresher, hemp is an environmentally-friendly material that does not need any fertilizers and heavy pesticides in the production process. Also, it needs a small amount of water to grow, so it is a perfect addition to zero waste movement. Hemp fabric usage dates back to 800 BC in Asia, where it was used on a daily basis. A wide variety of items are made of hemp, including rope, twine, fabric, shoes, paper, and more. Today it regained popularity due to its positive effects on the environment. Sustainable fashion is here in the form of hemp fiber.

This text will introduce the yarn made of industrial hemp and explain its advantages and a few disadvantages. Also, we will present our hemp yarn products available in Hemptique online store.

The History Of Hemp Fiber
Disadvantages of Hemp Fabric
Making Yarn from Hemp Fiber
Hemptique's Hemp Yarn Balls
Hemp Yarn Wholesale at Hemptique
Don't miss your chance to get our amazing yarn balls at Hemptique.com. Our yarn is a great oil-free, eco-friendly, and biodegradable option for your weaving, crocheting, knitting, and crafting sessions. Available in different and vibrant colors, as well as in a non-polished finish, it is lightweight and soft. Our hemp knitting yarn will not easily break or fray; it will look amazing for whatever purpose you use it. If you are interested in buying bulk, you will certainly save a lot. For more information about our products, or if you want to apply for the wholesale account, please call 760-602-4864. Ext. 403 and 405.
Hemp yarn is a fiber derived from the stalks of the plant Cannabis sativa. The stalks are then processed to extract the inner fibers using retting and decortication. These fibers are spun and twisted together to make useable yarn. It is used for knitting, crocheting, weaving, and many crafting projects.

The History Of Hemp Fiber
Hemp has been one of the first cultivated fiber plants. It originated in Central Asia – the first cultivation for fiber was recorded in China as early as 10,000 BC. The archaeological records arise mostly from rope imprints on pottery. The cultivation then spread in the Mediterranean countries early in the Christian era, trading and spreading throughout the rest of Europe during the Middle Ages along the Silk Road.

Hemp was an important part of ancient Chinese culture, with the paper being one of the most significant Chinese inventions. Also, the bast fiber of the male plant was used to spin yarn and make cloth, shoes, and hats.

Unfortunately, hemp use reached its peak after the industrial revolution in the 18th century. Due to the industrialized cotton agribusiness, other crops were favored for fabric and paper. However, hemp is as versatile and strong, an excellent ally in climate change and the ecological battle, so we hope it will regain its popularity.
Called fiber of hundreds of uses, it has become increasingly popular nowadays. Hemp fibers have some excellent properties, like resistance to rot, mold, and mildew, better screening out UV rays, great tensile strength, and superior insulation properties. Some of the usages are:

Placemats, coasters, and other home accessories

Weaving, crocheting, or knitting into apparel
The oldest found paper was discovered in China and dated back to 770 AD. That said, hemp has had an illustrious history. Henry Ford even built the automobile's body from hemp-based plastics back in 1941. As far as hemp fabric is concerned, it has numerous advantages, including:

Hemp fabric protects your skin by filtering UV light.


It is resistant to bacterial growth, prevents odors, and breathes excellently.


It tends to be softer and softer on the skin with each wash.


Hemp has an amazing property of retaining color better than any other fabric.

It will not weaken after every wash – it has four times the strength of the cotton.


Hemp blends easily with other materials to make a hemp-hybrid material.


It has a low environmental impact; growing hemp requires less water and soil than other crops.


It grows quickly, so it can be harvested up to three times a year.


Hemp fabric is 100% compostable and biodegradable.


Fabric retains its shape and will not shrink or stretch out after washing.


The hemp plant absorbs and traps carbon dioxide from the atmosphere.

Disadvantages of Hemp Fabric
Being the least harmful to the environment, hemp fabric still has some disadvantages. Some of them are:

Hemp needs a little more care than other fibers.


Being a natural fiber, it is not so rich in color compared to its synthetic counterparts.

It is prone to wrinkling and tends to crease.


Production is less affordable compared to cotton.

It can be damaged even with mild acids.


Hemp offers little elasticity.

Despite its disadvantages, hemp is still a great fiber. Its low environmental impact and durability are well worth the price.

Wool is another common choice for knitting, weaving, and crocheting. Here are some differences between these two:

Wool can be scratchy and rough on your bare skin, while hemp gets softer with every wash.


Hemp has a stronger fiber than wool, especially when it gets wet.


Wool tends to attract moths, while hemp fibers are pest-resistant.


Hemp production is more humane than wool.


Wool products often need special care or dry cleaning, creating more waste and costs more.


Hemp production traps carbon and improves soil health, while wool production creates more waste and consumes more and more land.

Making Yarn from Hemp Fiber
Let's clarify how yarn is made from hemp fibers. It involves several different stages and processes:

In the stage of cultivating the hemp plant for fibers, the plant is densely sown, so it grows tall and slender. When starting flowering, the plant is harvested. The stalks are then left in the field for the retting to take place. This process allows the weakening of the substance that binds fibers to the woody core, pectin. The stalks need to be turned occasionally to ensure uniform retting. The process takes about five weeks.

The stalks then need to be broken by the machine known as the decorticator. The broken stems are then beaten to separate the hurd from the fibers, which is called scutching. Hackling is the next stage and involves further cleaning the fibers from any residue. The roving process indicates the fibers twisting to improve their strength. Only after all these preparations, hemp fibers are ready for the spinning process. Although it is possible to do all these manually, mechanically-driven methods are more than the norm today.
The spinning process can be dry or wet. It serves to twist and draw out the fibers to make them into continuous and smooth yarn. It can be done manually (using a spindle that comes with different weights) or using machines. Once dry, the yarn is ready to be woven into exquisite hemp clothing.

Hemptique's Hemp Yarn Balls
When it comes to hemp yarn manufacturers and suppliers, look no further than Hemptique. Our mission is to revitalize hemp usage and bring vibrant, useful, and premier-quality products to our consumers. We use eco-focused, creative designs and special colors and styles to create beautiful hemp ropes, cords, twine, and fabrics, together with labeling and attractive packaging solutions. We want to rise above others using research and development. Our yarn products include:

This product has a non-polished finish and is a great yarn for weaving. It is lightweight and soft and washes very well. The ball weighs 50g and is available in 3 lengths:

3 ply, approximately 172 yards


6 ply, approximately 90 yards


12 ply, approximately 45 yards.

It is eco-friendly, oil-free, and 100% biodegradable. With this natural-looking yarn, you can create beautiful crafting projects and give them a rustic look, no matter if you use it for crocheting, weaving, or knitting.

This 65% cotton and 35% hemp blend is ideal for crafting and apparel needs. Bon bons are incredibly versatile and perfect for knitting, crocheting, and weaving. At the same time, our customers like this product because of its durability and strength. Our luxurious yarn drapes beautifully; it is biodegradable, eco-friendly, oil-free, and dyed in AZO-free dyes. Being soft and absorbent, it will keep you warm in the winter and cool in the summer.
The length is approximately 82 feet (25m), and you have 6 different colors included in the package. Color mixes are named Denim, Love, Crayon, and Earthy.