How To Wear a Beanie – A Spirit of New Wearing
Learn how to wear a beanie, its history, styles and best beanie materials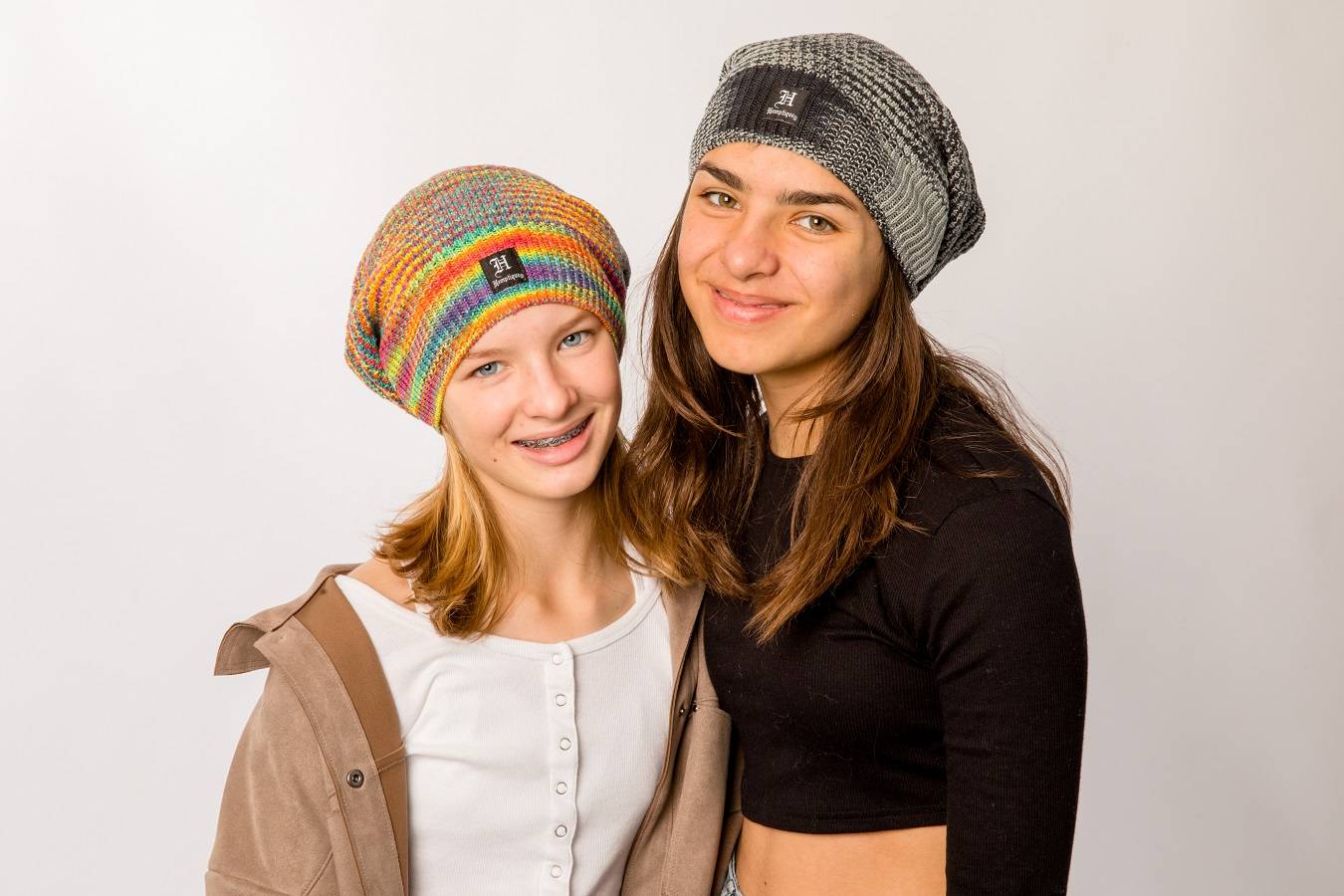 Developing and supplying premium-quality, sustainably grown, consumer products
Organically Grown and Ethically Sourced

hemp and other natural fiber products
We offer fast shipping
Your order out within 1-3 days
Visit our wholesale portal to register or login to your account
Welcome to another article from How To series on Hemptique. Lines below will introduce an extremely popular fashion accessory, yet a very practical one – a beanie. Learn how to wear a beanie, its history, beanie styles, materials and where to buy the best hemp beanies.

A beanie is a cap worn by both men and women. It is usually brightly colored, and it has a triangular-shaped top. Beanie is a brimless hat and can be knitted, woven, cuffed or cuffless. Usually hikers, snowboarders and fashion lovers wear it. Beanies are popular with people of all ages. They are available in many colors and patterns, so it is a very matchable part of an outfit. How we wear beanies depend also on the type of it, whether it is long or short, cuffed or uncuffed, etc. So it's not what you wear, it's about how you wear it. Beanies are considered a misunderstood winter accessory, but you should know that they work with almost every face shape and hairstyle.

Beanie is a popular American slang, and it means "head." We can assume that people thought that head looks like a bean. Even in baseball, there is an expression "bean ball" when a pitcher throws a ball at a player's head. Beanie hats also go by many other names: stocking cap, dink, bobble hat, toque, skullcap, etc.

Who Started Beanie Trend?
The first time wrapping the head type of hat was mentioned was in 12th century Wales. Back then, it was called Monmouth cap because it was originally made in Monmouth town. The original Monmouth hat even had a button at the top.

So, how did beanies arrive in USA and Canada?

It was with the colonization of the Americas by Britain. Initially, men used to wear it to keep their heads warm while working outside in the fall and winter seasons. We can say that, back in the day, the beanie was more popular for its practicality than as a fashion accessory.

After the wave of baseball hats popularity,
beanies
made their way back in the 1960s and hippie culture. Hippies, wanderers and beat poets wore them as an expression of belonging to alternative scenes and subculture. College students loved it too.
In recent years it became a hot fashion, worn by males and females, with the appearance of hipster culture. Beanies are easy to match with various outfits and keep your head and ears warm during the winter.
Buy Beanies in Bulk or Retail at Hemptique
Hemptique aims to provide its customers with high-quality, 100% organic and environmentally friendly hemp clothing and accessories. You can purchase our products and hemp beanies in retail or in (high volume) bulk. To register as a wholesaler, please visit this link. What is crucial about our clothing line is that they are made of all-natural, biodegradable and pesticide-free farmed industrial hemp to raise awareness and the importance of keeping our planet healthy. Another advantage of purchasing hemp hats and beanies is that the material provides antimicrobial features, sustainability, and durability. Beanies are designed in Europe. You can choose from short and long styles and several color options.
There Are Various Beanie Types Out There
As styles and trends changed over the years, beanies also underwent some evolution. Now, we have various beanies depending on where and how you wear them.

Let's look at some most wearable beany types or styles.
Traditional or cuffed beanie
This one is a classic, usually neutral color, plain-looking beanie. Cuffed beanie is a great choice for cold winter days because the folded cuff covers the ears. Traditional beanie is necessary if you plan to go skiing or snowboarding. You can also wear it while commuting to work or taking a nice walk. Sometimes cuffed beanies have logos or brand names printed on the front.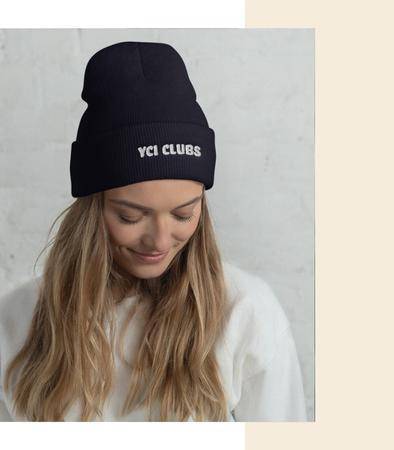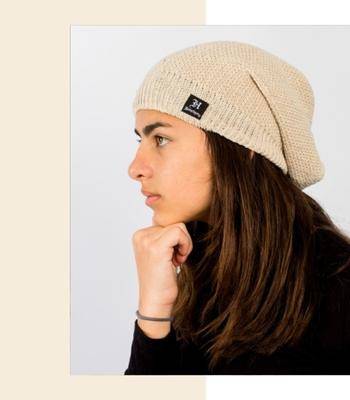 Fisherman or short beanie
This style was inspired by fishermen working on docks, and it is the most popular one nowadays. Fisherman beanie is commonly made of fleece or cotton and is somewhat thicker than a cuffed beanie. It is positioned at the top of the head and doesn't cover the ears. It may happen that you feel cold while wearing it, but you will look fashionable.
If you decide to try natural and sustainable material, pick
short hemp beanie
by Hemptique. It is designed in four color combinations and follows sustainable and ethical clothing standards.
Slouchy beanies help you achieve cool, laidback, chill vibes. They drop down in the back of the head and usually don't have cuffs. This style is also mostly associated with hipsters and skaters. David Beckham wore it on many occasions.
This is another beanie type you can buy at Hemptique store.
Long or baggy beanie
is made from 100% hemp fiber and it comes in a few colors: black and white, rainbow, natural, black and blue and white.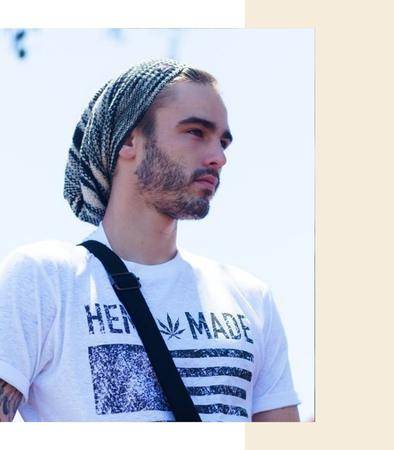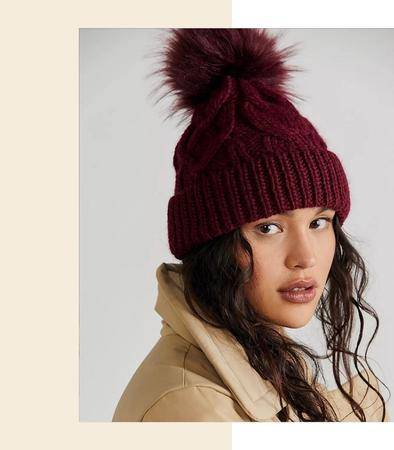 Pom Pom beanies or bobble hats
Pompoms on hats had been popular after the Great Depression in the US when sailors wore red balls on top of their hats, so they don't get hurt in tight places on ships. Today, beanies have pompoms on top and some think they may look childish. They are cuffed and are very warm. You can wear them with a fancy or casual look, but choose darker, classic colors wisely.
These beanies have a lot of space on top, and people tend to wear them as high as possible. It is not a wintertime hat because it does not cover ears and forehead, so it is less functional and more fashionable. Keep it in your closet and wait until spring comes.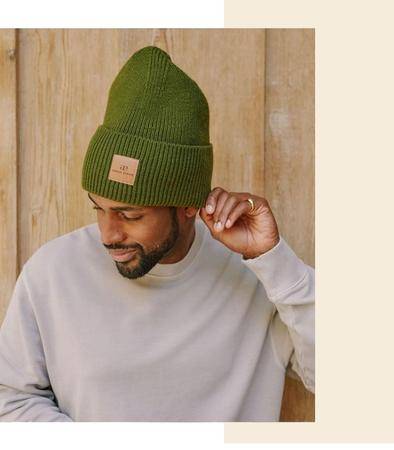 Materials Beanies Are Made Of
There are many factors to consider when choosing beanie material. It may depend on your hair type, environmental factors, allergies, and skin type. The important thing is you feel comfortable wearing a beanie without being irritated by the material.

Another important factor when choosing the material is the season. You won't wear the same material for spring and winter.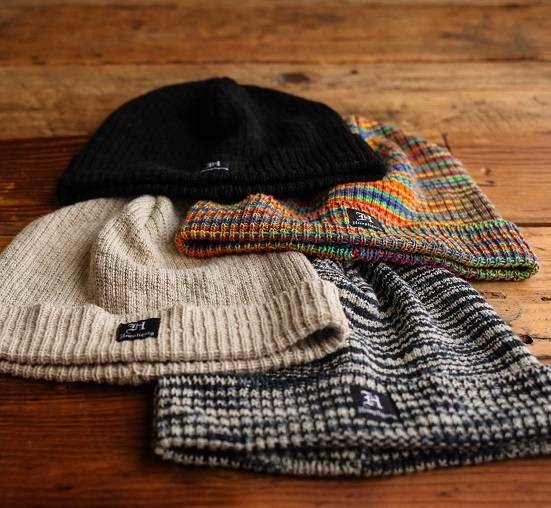 Wool is a natural fiber from animals like sheep, goat, alpaca, or camel. It retains heat well, making it a good choice for beanie hat material. Other advantages of wool include being breathable, durable, high functioning, naturally moisturizing material. For example, merino wool is soft and isn't itchy. It adjusts to changes in temperature so beanies made from this material can warn us in winter and protect us against cold. Effectively managing moisture doesn't leave any odor, thus stopping bacteria from thriving. Lastly, it is a hypoallergenic material, so it won't cause any rash and skin irritation.

Acrylic is an artificial material that imitates wool. Synthetics are perfect for those who don't wear materials that come from animals. But there are some advantages to it, like it is highly water resistant, resists abrasion and is less likely to get wrinkles. Keep in mind that acrylic materials don't breathe well, so it is possible to leave bad odor if wearing it for a long time and sweating under it. It is man-made fabric material and fuel-based, so it uses chemicals during production.

Cotton is an eco-friendly and light material ideal for beanies and customizing embroidery designs. Cotton beanies are breathable and don't smell like synthetic ones. Cotton keeps you warm and comfortable. It also has hypoallergenic features, making it perfect for people with skin issues. Cotton won't stretch and is long-lasting if you treat it right. To boost its durability manufacturers usually mix it with other fabrics, such as polyester.

Hemp is used for a wide variety of products, including jeans, shirts, hats, bags, ropes, and dresses. Hemp fabric is made from Cannabis sativa plant's stalks. The fiber itself is similar to that of linen and has the softness of cotton and bamboo. There are many advantages to using and buying hemp material for beanies and other clothes. Hemp is durable, very strong material; the more you wear it, the more it softens. Hemp clothing can keep you warm in winter and cool you in the summer due to its ability to breathe. Furthermore, it is antimicrobial against mold or mildew. No pesticides are used for industrial hemp growth. Other advantages we should mention are that hemp is biodegradable, UV and odor resistant, eco-friendly and hypoallergenic.

Perfect Ways to Wear Your Beanie
Wearing beanies in the summer
In the summer, we don't wear any hats other than the one protecting us from the Sun. Choose light materials like hemp, cotton, linen, or silk. Women can pair their beanie with a long dress or skirt and loose pants. Men can pair it with shorts and some baggy, long shirts.

Both men and women can wear short hair. The perfect beanie would not be too large, like fishermen or traditional. The point is that beanie doesn't overpower your whole face.

Even though most women prefer long hair, it has become a trend in recent years for men too. When you wear a beanie, it would be great not to hide all your hair inside but to let it loose on both sides. If you decide to tie the hair, it may create a bump that will stick from inside the hat. High-top beanies and slouchy are a good choice for long hair.

Choose a bit larger and looser beanie if you have curly hair, as it is hard to keep a hat on your head. Longer shapes like baggy and high-top beanies won't flatten or squash your hair.

What if you have bangs or wear glasses?
If you have bangs, make sure the beanie goes back, placing your bangs on your forehead. You can also pin the beanie with bobby pins. If you wear glasses, choose a smaller frame or slouchy beanie.

What If My Beanie Keeps Slipping?
Wearing ear band underneath can help beanie stay in place

If beanie is long, creating the cuff at the bottom helps to tighten it
Every time we want to purchase a beanie online, we read various features, elements and constructions that can confuse us, and we remain unsure which one to buy. Let's grasp some basic features to understand what we are looking for.

Cuff & Brim is used in almost every beanie product description and tells about the lower part, which is often turned up or folded. If looking for fisherman beanie, you can notice an obvious cuff or brim, while slouchy beanie doesn't have it.


Reversible beanies can be worn inside out since they have color or pattern on both sides.


Ribbed beanies with vertical stripes due to knitting

Chunky knit beanies are called chunky because they mostly remind us of those hats made by our grandmas. They are considered chunky due to their bulky size and thick yarn.

Double-knit beanies are extra warm because they are made by combining two fabrics together.


• Cable Knit beanies are made using a cable knitting technique to make them thicker and warmer.

Ear flaps beanies are designed to keep your ears warm and you can tie ear flaps under the chin. Two most popular are Sherpa hat and Russian ushanka.

Lining refers to the inner layer of fabric that provides polished finish, so it will make the inside of a beanie extra soft and smooth.

Does Wearing a Beanie Damage My Hair?
Like any other hat, beanie should be taken off inside the room. There is no evidence that wearing it can damage your hair. According to some studies, wearing tight hats can damage already weak hair, and some strands can gradually begin to fall out. So the advice is to let your hair and head breathe from time to time.

Different Occasions Ask For Different Beanies
There are no formal beanies, meaning people wouldn't probably wear them while going to a black tie event. But it is more than acceptable in other situations such as the office, combining it with casual outfit or streetwear style.

We understand that it wouldn't be polite to enter a business meeting wearing a beanie, but many people wait for the bus or a train during winter while commuting to work. The best beanies that match coat and some stylish boots are thin, tight-fitting, and can be with or without cuffs, depending on your taste.
Thicker, looser and slouchy beanies are perfect to be matched with casual, everyday outfits. For example, wear jeans, knitted sweater, coat, lace-up boots and cuffed beanie.

Something between sporty and casual is streetwear style. Whether you go to a concert, summer or winter walk or out to have fun, beanie is matchable accessory combined with all types of clothes, scarves, gloves and sunglasses.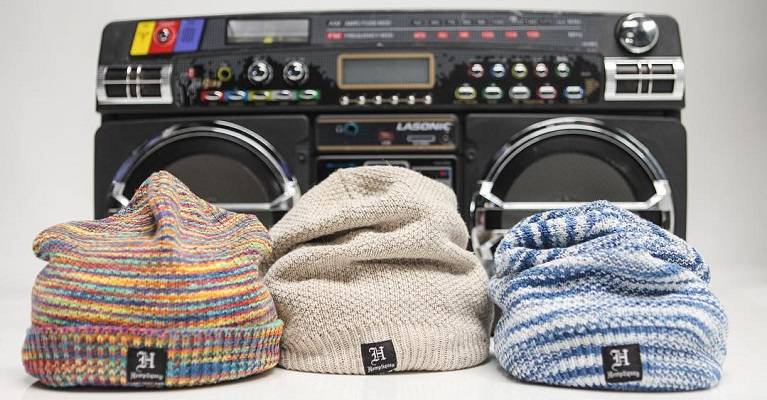 Famous Beanies in Pop Culture
We can conclude that beanies aren't just worn by hipsters nowadays. They were famous way back and throughout pop culture as well. Some of these celebrities and characters from different movies and cartoons left an impact on fashion and trends. People will usually relate to their favorite TV faces and adopt various styles. Let's revive some of the most famous beanie wearers:
Where's Waldo striped beanie

Cartman's beanie in South Park

B.Rabbit's (Eminem's) beanie in 8 Mile

Linus's winter hat in A Charlie Brown Christmas

Jay's Beanie in Jay and Silent Bob Strike Back

Meg's beanie in Family guy

Jimbo's beanie in The Simpsons

Leon's hat in Leon: The Professional