The Only Guide You Need on Decorative Ropes : Craft Ideas & Materials
Get Inspired and Learn Some Essential Tips on How to Choose the Right Rope Material and Why Hemp Is Ideal for Home Décor Projects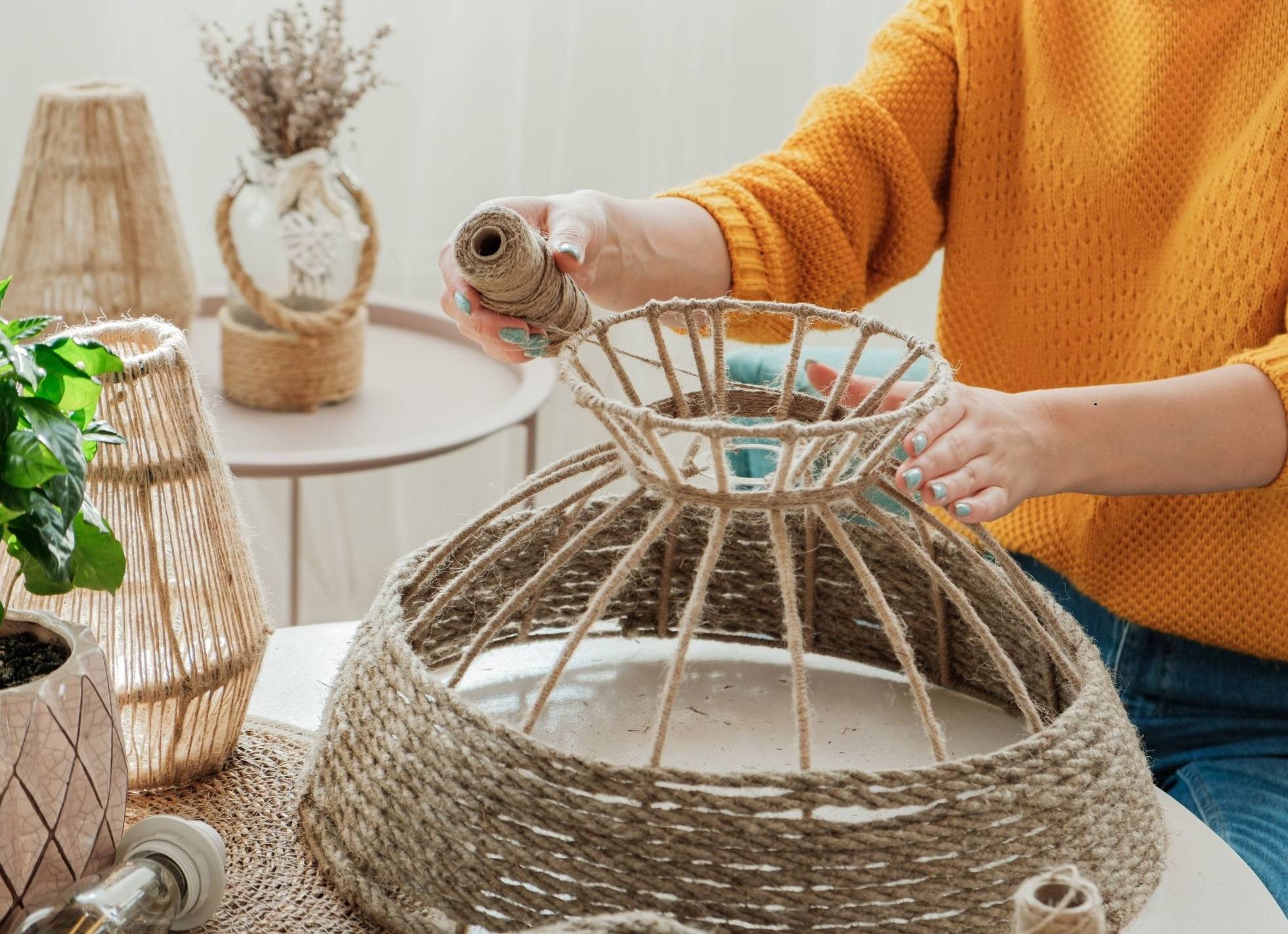 Developing and supplying premium-quality, sustainably grown, consumer products
Organically Grown and Ethically Sourced

hemp and other natural fiber products
We offer fast shipping
Your order out within 1-3 days
Visit our wholesale portal to register or login to your account
In recent years, people are turning to nature and becoming more aware of the importance of preserving the planet. Eco-friendliness and environmental ethics are gaining momentum and are finally entering all areas of our lives. The same principles apply when we look at items and supplies we often use in our daily lives, such as decorative ropes for home décor, arts, hobbies, and crafts. Choosing sustainable and 100% natural materials, such as hemp, contributes not only to a more natural aesthetic appeal but also to a greener future.

Whether you are just a beginner or an expert in crafts, having the right tools and supplies is vital to accomplishing the desired look.
In this article we will help you find the right decorative rope and show you fun and creative do-it-yourself ideas for home decor
. We will analyze versatile types of rope, focusing on natural materials like hemp as an overall winner and show you how to choose the correct size. Creative DIY ideas and applications for revamping your living space include making wall hangings, string art, wrapping furniture, creating outdoor décor pieces, rugs, shelving, railings and much more. All of the decoration ideas below can be made using Hemptique
superior quality hemp rope
. By the time you read this guide, you will have more confidence to tackle the next DIY project.
1. How to choose the right rope for your décor needs?
2. Natural vs. synthetic ropes for home décor

3. Why hemp is #1 choice for hobbyists
5. Guidance for the care of DIY hemp décor pieces

6. Why hemp rope is the overall winner for DIY home décor
Buy Premium Decoration Rope for Your Home Décor Crafts!
Hemptique is a leading supplier of premium quality hemp rope for crafts & hobbies. We provide a wide selection of biodegradable & sustainable 100% natural hemp rope and other natural material products that can be used for DIY interior and exterior decoration projects. Hemp is exceptionally durable and strong, and easy to work with, which makes it perfect for both beginners and experienced hobbyists. For more than 26 years Hemptique has nurtured innovative approaches and supreme product development which sets us apart from the competition. We successfully cooperate with consumers, retailers, and wholesalers, and we ship nationwide and internationally. For more information do not hesitate to contact us. If you are interested in applying for a wholesale account, click here.
How to Choose the Right Rope for Your Decoration Needs?

Knowing which decorative rope to use goes beyond looks. To be able to choose the perfect cord that will last you a long time, you have to determine what it will be used for, where it will be used, what style you want to achieve and so on. Let's take a closer look at different factors you should consider before making a purchase.

The first thing you have to take into consideration is the area where you will use the decorative rope. The conditions of the environment are very important, as they can impact the longevity, durability, and aesthetics of the finished piece. Hence, one of the most important steps is picking the perfect material for your rope decoration DIY idea.

For instance, if you are inspired by an outdoor craft idea, you should avoid using Manila rope as it has high absorption and shrinks if it becomes wet. Polypropylene has a tendency to harden and rot if exposed to UV and heat for extended periods.
Hemp rope
, on the other hand, is exceptionally durable and weather resistant, making it perfect for both indoor and outdoor home décor projects. You can use hemp decorative cord for front porch makeover, DIY outdoor lanterns, hanging planters, garden swings, fences, railings, and various other backyard and outdoor projects.
The next step is determining how flexible the material should be. More intricate crafts, such as macrame, weaving, or crochet require highly flexible materials, such as cotton, nylon or hemp. Use these materials to make garlands, crocheted privacy screens, twine spheres, jewelry, or macramé wall hangings.
If you're crafting a shelf for the bathroom or a cat hammock for the backyard, you should use a highly strong material like sisal or hemp. They have enough tensile strength to withstand heavier loads, unlike cotton or polypropylene, which are not suited for suspension. Remember to always check manufacturer's instructions to ensure safe application and use.

Choose small diameter decorative cord (up to 8mm) for delicate or small crafts like creating bookmarks, holiday garlands, or coasters.

Medium diameter ropes (10mm-20mm) are most commonly used for home décor projects. They are sturdier than small diameter cords, and are ideal for creating string art, weaving area rugs, wrapping vases and baskets, decorating picture frames etc.
Large size (20mm+)
is mainly used to make statement décor pieces like wrapped furniture, upcycled coffee tables, knotted outdoor screens, fencing, hammocks or backyard cable bridges.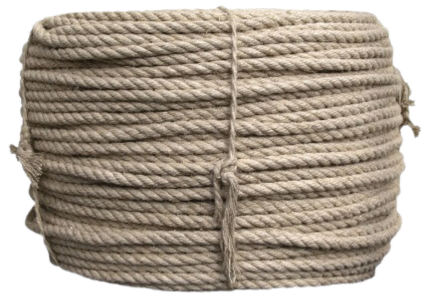 Rustic-style
premium quality hemp rope
is ideal for macrame and home décor projects. It is extra strong, durable, oil-free, UV-ray and mold-resistant, and available in three widths - 12mm, 20mm and 40mm. Due to its properties, it can be used for both interior and exterior decoration.
Natural color matches easily with the rest of the décor as it is neutral
Do not forget to think about care requirements, as it ensures the longevity of your handmade piece. Certain materials, like cotton, require specific care instructions, while others are low maintenance. Hemp, for example, requires casual cleaning with mild detergent and lukewarm water.

If your rope craft idea involves bathroom, kitchen, or outdoor décor, avoid using cotton. Try to go with materials such as nylon, hemp, sisal or jute. Make sure not to use harsh detergents or strong chemicals when cleaning natural fiber, as fiber strength and structure may be damaged.
Rope is a very affordable and versatile item that can be found in almost any hardware or
craft online store
. It is sold in various colors, sizes, and materials.
There are two main types of materials: natural and synthetic
.
Natural fiber includes materials such as hemp, sisal, and jute. They are characterized by rustic and organic charm. Their raw appeal adds texture and layering to your indoor or outdoor space. These unique naturally sourced fibers are usually used to upcycle furniture pieces in various décor styles, like nautical, boho, rustic, or farmhouse.

Of all natural craft ropes, hemp stands out as the most robust and durable. Hemp fiber is a popular home décor material due to its strength and longevity. Most of these materials are sunlight resistant and will not deteriorate if used outdoors.

Natural ropes can be braided in several ways to provide different looks and characteristics, such as twisted, three-strand braid, plaited or square braid, and multi-strand braid.

Last, but not least, they are biodegradable, with minimal environmental impact. Those who value working on a home décor project while contributing to a greener planet should select natural fibers.
Synthetic fibers, like nylon, are strong, flexible, moisture resistant, and low maintenance. This makes them ideal for frequently used décor pieces or outdoor application. In general, synthetic materials are more flexible than natural ones, and usually have a wider selection of colors.

However, if you are eco-conscious and are looking for a sustainable material, you should skip synthetics. They take a very long time to degrade and have a big negative impact on our planet.
| | | |
| --- | --- | --- |
| Feature | Natural Ropes (Hemp, Sisal, Jute) | Synthetic Ropes (Nylon) |
| Aesthetics | Organic & rustic appearance | Smooth and modern look |
| Strength | Fairly strong, especially hemp | Exceptionally strong |
| Durability | Degrade faster if exposed to excessive moisture | Increased durability due to moisture, UV rays, and chemicals resistance |
| Flexibility | Provides enough flexibility for certain crafts, but less flexible than synthetics | very flexible |
| Resistance to Sunlight | Excellent UV – rays' resistance | May degrade with prolonged UV rays' exposure |
| Maintenance | Casual maintenance needed to ensure longevity | Easy to clean, low maintenance |
| Color Selection | Mostly available in natural shades | Available in a wide array of colors |
| Sustainability | Biodegradable and environmentally friendly | Non-biodegradable and can be harmful to the environment over time |
Why Hemp is #1 Choice for Hobbyists

If you have to choose, always go with natural decorative ropes, like hemp. Hemp has various features that outshine synthetics. Apart from the apparent earth-friendly impact, hemp is highly durable, which guarantees longevity of your homemade decorative items. Furthermore, it introduces rustic and organic texture and patterns into any space, indoor or outdoor.

Hemp is becoming a very popular craft supply material.
Since it is exceptionally flexible and strong, on top of its sustainability, it should undoubtedly be your number one choice
. Other benefits include UV resistance, anti-bacterial and hypoallergenic properties, breathability, and low maintenance. You can use it to wrap, weave, or decorate candles, baskets, bottles, placemats, boxes, and shelves. The list is endless. All you need is some free time, a hot glue gun and fun decoration ideas.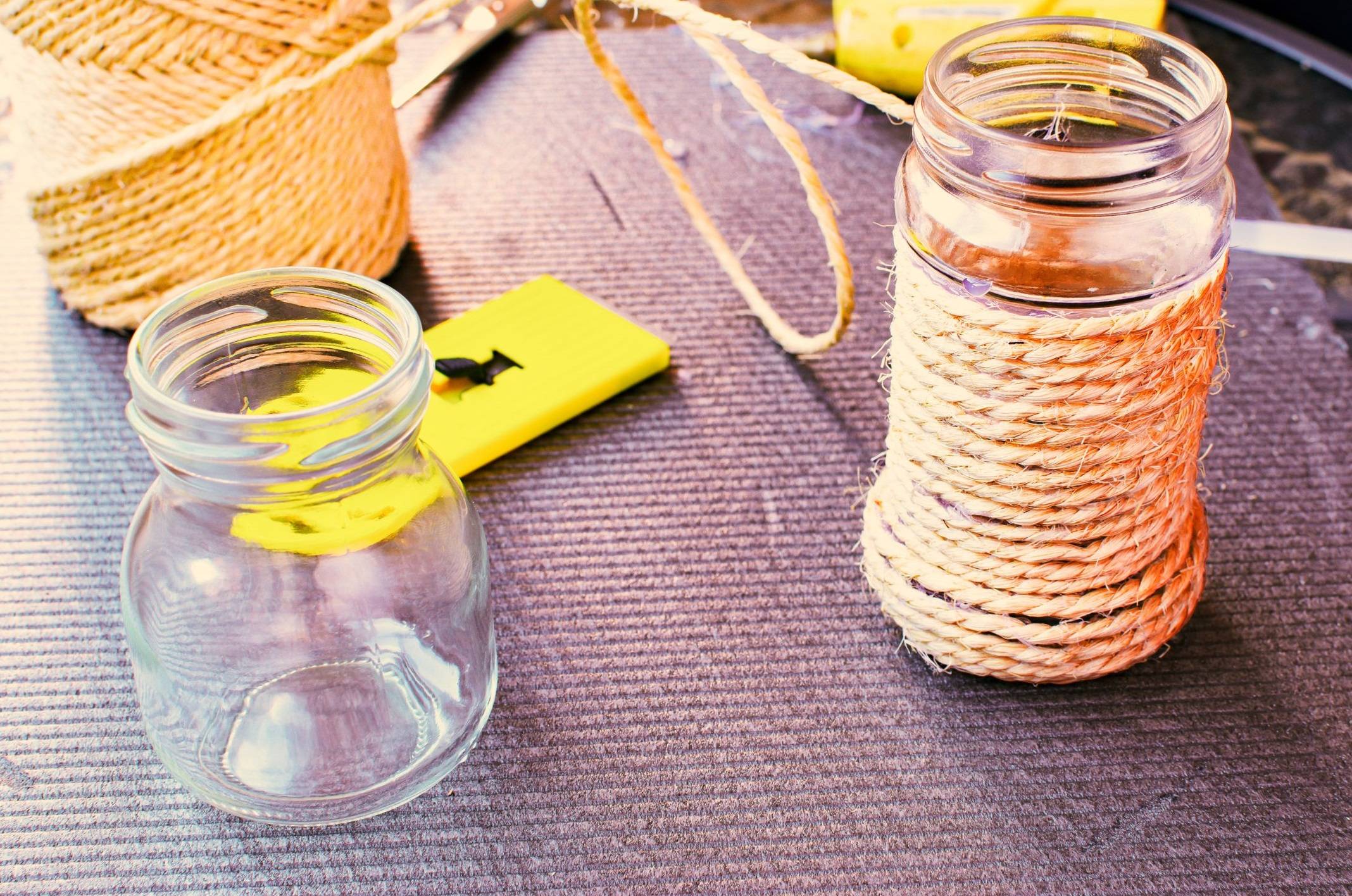 To help you try out your creative and crafting skills, we have compiled several fun DIY home décor ideas using ropes made of hemp. They look great and are easy to complete. As you will see, natural fiber introduces a charming and sustainable touch to your home decor.

Wall hangings
are decorative pieces that add depth and character to any room – living room, bedroom, office. Even if you are a beginner DIYer, do not worry, there are no rules when it comes to creating wall hangings. Individuality and personal touch ensure uniqueness and sentimental value.
Due to its flexibility, hemp is easy to work with for beginners. It is perfect material for making DIY macrame wall hangings, string art, garlands, tassels, and wreaths. Hemp's strength ensures your wall hanging stays in place, and the organic look brings warmth and texture into space.
Small or medium sized hemp cord can be used to revamp lanterns, candle holders and lighting fixtures. By wrapping the cord around the pendant light cable, you can add personality and achieve a nautical, farmhouse or vintage look. String art on lanterns creates an effective and creative piece of light art at your home.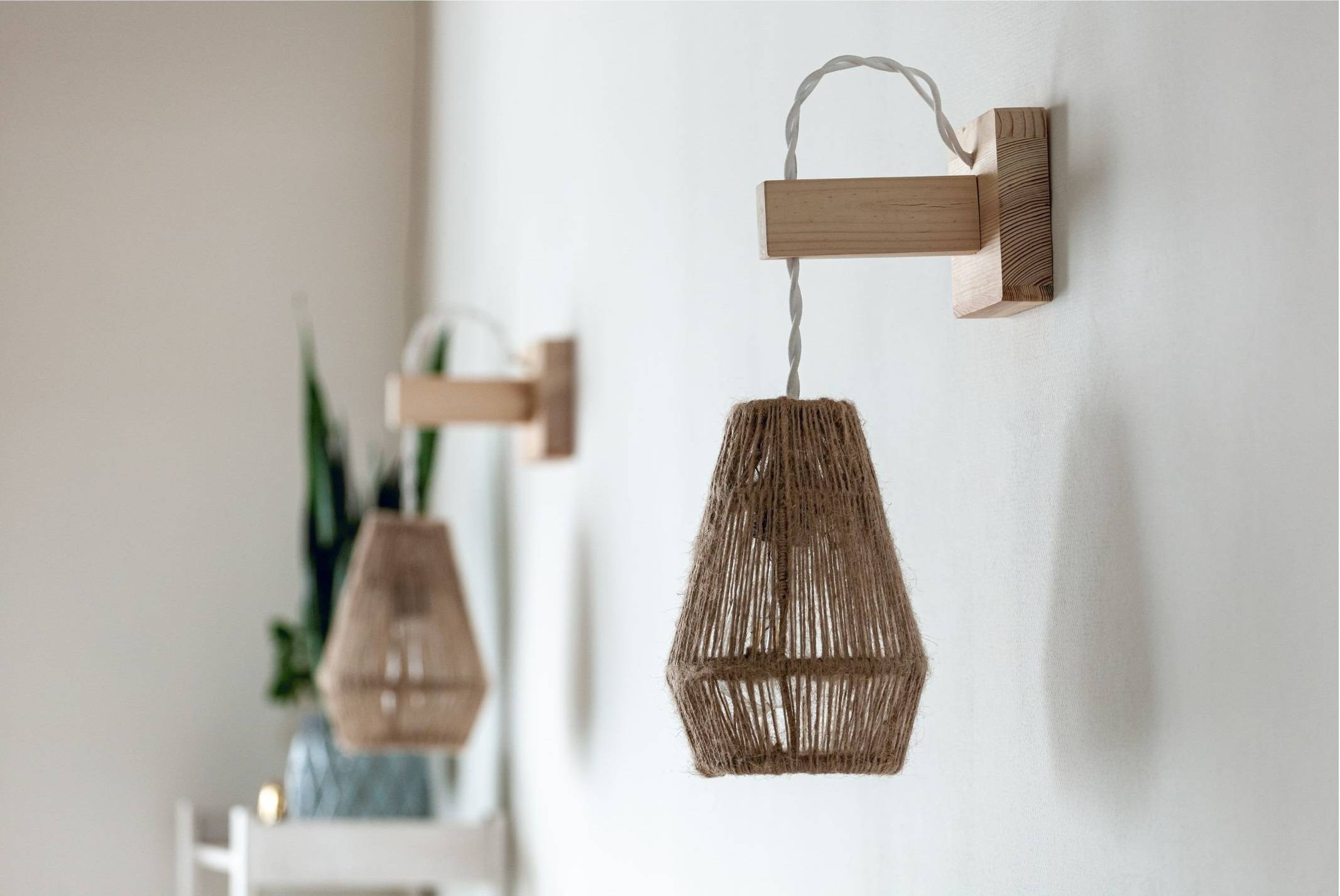 Hemp tiebacks can be used to add organic finish to window treatments. This is an easy craft project if you are just starting out with creating homemade décor. By adding a braid, beads or tassels, you will dress up the curtains in a unique way. You can also quickly change them up by adding seasonal or holiday embellishments.
Since hemp is strong, UV and weather resistant, it can be used for crafting patio, backyard or garden décor. Some of outdoor rope decoration ideas include garden edging,
dream catchers
, rope tire ottomans, swings, hanging baskets, hammocks, hanging mason jars, and much more.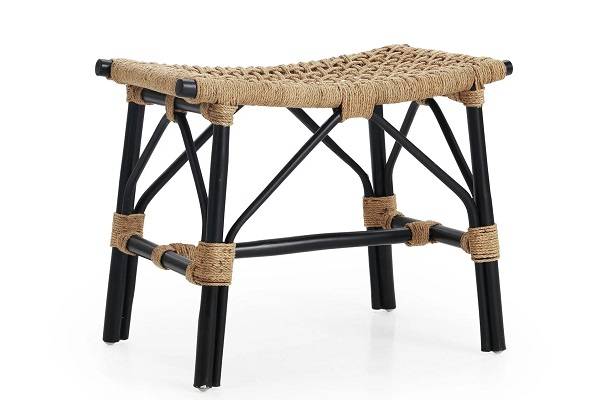 Hemp can be a fantastic way to refurbish old furniture, or simply to freshen up the look of your interior or exterior. The quickest and easiest way to redecorate is to wrap the cable around side tables, stool legs, or cabinets. It adds visual interest, depth, and structure to your space. Rope is a highly versatile material, used in many decorating styles like industrial, French cottage, vintage, and so on, so you can easily beautify your space. But don't forget to experiment, too. Unleash your creativity to come up with extraordinary craft ideas and end pieces.

By wrapping the frame of a picture or mirror in small or medium-sized hemp cord you will accomplish a rustic, boho, or beach-inspired piece. For a cohesive and nature-inspired color scheme, add other natural elements, such as greenery or wood.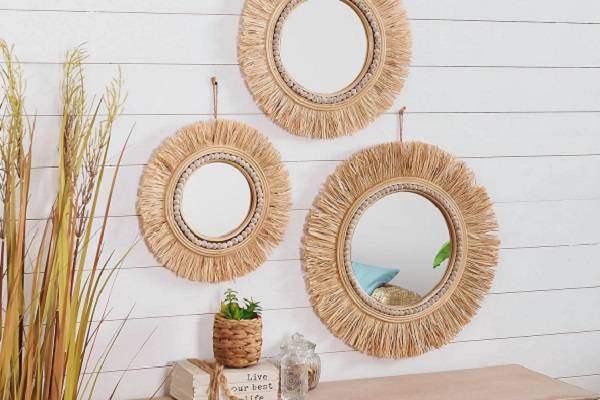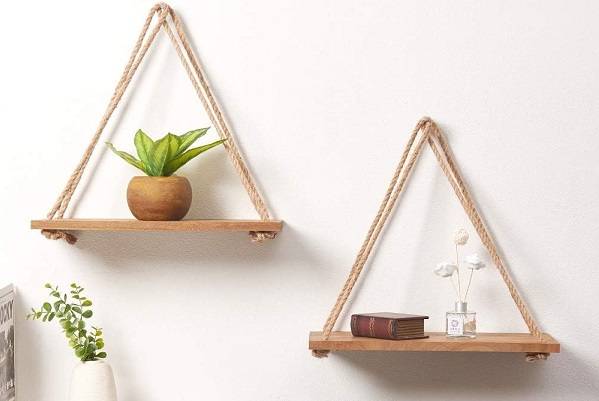 Use decorative hemp rope and wooden planks to make an eye-catching shelving unit. Hang it in the bedroom to display a vignette or in the bathroom for storing toiletries, to add a unique, rustic charm.
You can use large-size natural string to make railing along your staircase or deck for a nautical vibe.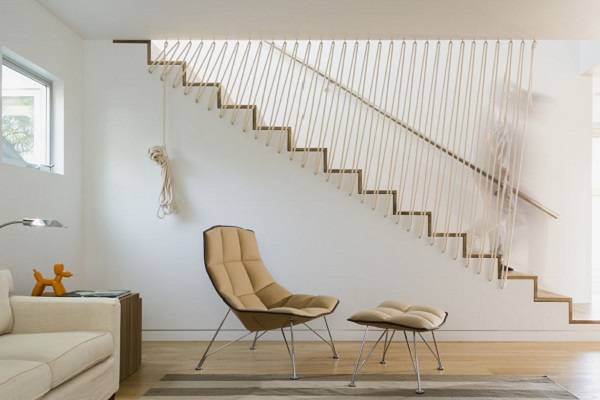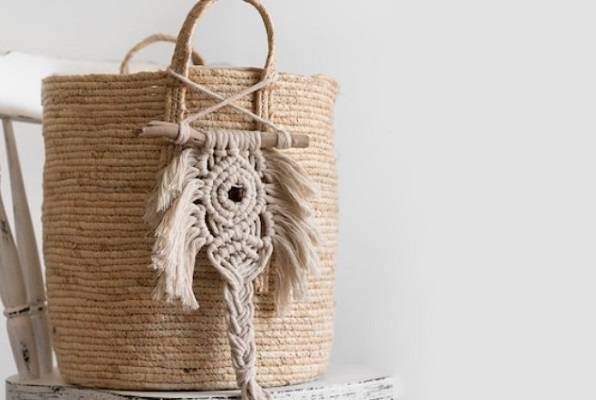 Rope wrapped baskets are a timeless addition to your home decor. They are functional as they provide storage while adding a pop of structure to any room. They are fairly easy to make too. Use a hot glue gun to attach the cord to the basket or box.
Decorative napkin rings can be made either by simply wrapping and tying the string around napkins, or by braiding. Optionally, you can add ornaments to follow your table décor theme. Holiday embellishments can be added for a stylish table look. Choose small or medium-sized diameter for this purpose.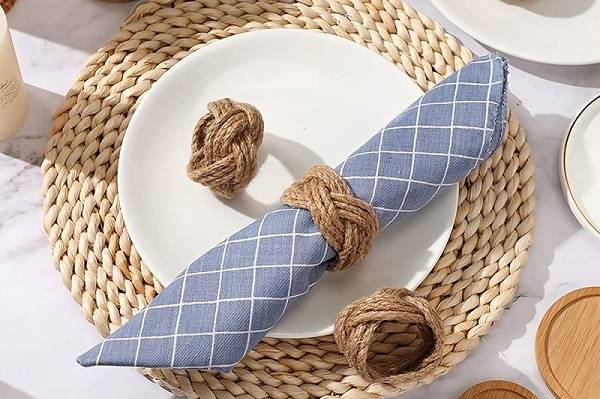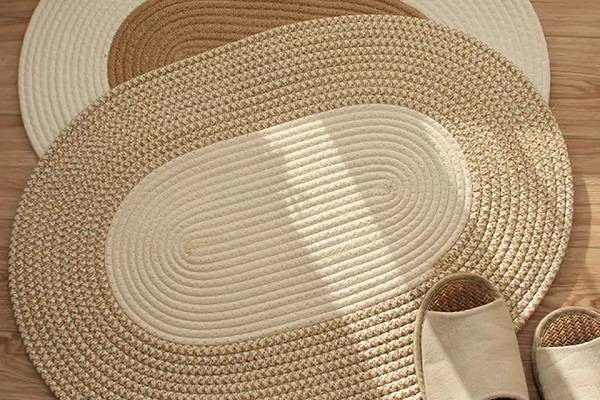 Natural fiber can also be used to weave rugs and doormats. It would be best to use hemp, as it is the most durable material that will last longest if used in high traffic areas and will withstand wear and tear. Bear in mind that it does take some patience and time to create one.

Enhance your dining table or coffee table décor by crafting homemade hemp cord
coasters
. This is fun macrame project, which can be done by beginners.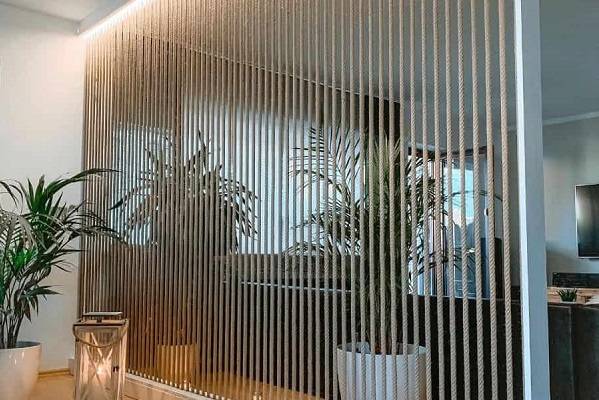 Cord can also be used to make creative room dividers. Add pattern and dimension to a large space by hanging the room divider from a beam.

Guidance for the Care of DIY Hemp Décor Pieces

We have put together tips on taking care of your DIY items. By adhering to these instructions, your handmade creations will maintain their looks for a long time.

Keep away from damage, such as moisture, chemicals, and rough surfaces

Regularly inspect the fiber to detect minor wear and tear issues early and prevent significant damage


Dust using soft brush or a vacuum cleaner brush attachment. Collecting dust maintains vibrant look


• Clean small stains using soapy water and gentle rubbing

Do not machine wash. Always hand wash using lukewarm water and mild detergent. Strong detergents can damage the fiber. After rinsing, lay flat or hang it to air dry.


Store in a cool, dry environment.

Coil cords neatly for storage to prevent kinks.

Summary: Why Hemp Rope Is the Overall Winner for DIY Home Décor

The unique charm and eco-friendly features of natural ropes represent a wonderful choice for DIY home décor projects. DIY artisans choose natural materials like hemp as their preferred material since it has organic appeal, strength, durability, flexibility, and many other beneficial features. Various hemp rope applications include furniture accents, wrapped furniture, placemats, wall decorations, coasters, dream catchers, swings, and many, many more. Synthetic cords might have a wider selection of colors, or more strength, however, natural materials can improve our planet's life.

Whether you're a seasoned DIY enthusiast or a beginner crafter, you can use this guide as a reference for buying decorative rope and an inspiration for your future projects.