10 DIY Nautical Rope Fence Ideas to Decorate Your Backyard
Get Inspired With Our Amazing Collection Of Handmade Rope Fence Ideas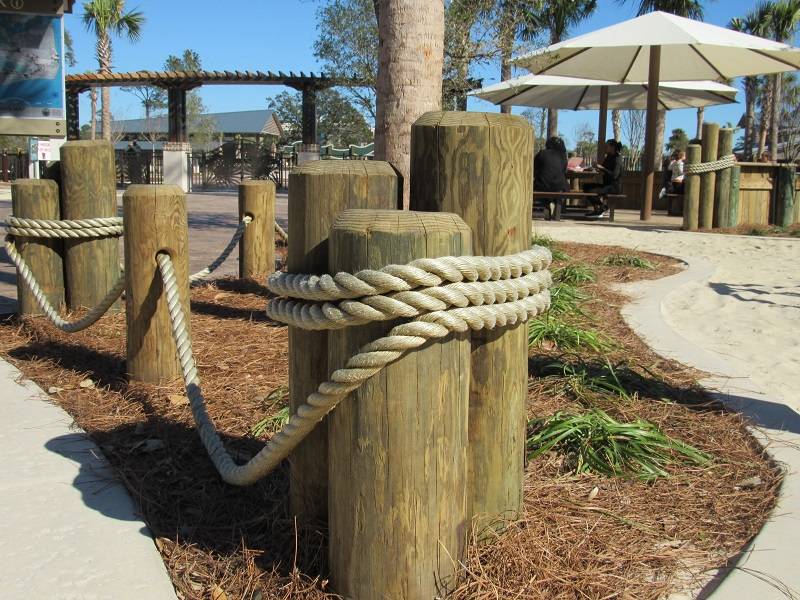 Developing and supplying premium-quality, sustainably grown, consumer products
Organically Grown and Ethically Sourced

hemp and other natural fiber products
We offer fast shipping
Your order out within 1-3 days
Visit our wholesale portal to register or login to your account
Rope is a versatile material perfect for DIY home décor and outdoor projects, serving as a simple yet wonderful means to infuse decorative accents and turn your backyard, deck, or garden into a charming outdoor space. It is versatile, easily available, and cost-effective, making it a go-to for DIY enthusiasts. Rope complements a variety of design aesthetics, including coastal, French country, cottage, modern, and traditional, allowing for creative freedom and stylistic exploration.

Creating handicrafts with your own two hands is a special feeling that can become fairly compelling.
Crafts with rope
are countless and rewarding, as they are quite easy to make. If you feel like crafting nautical-inspired fencing for your yard but have run out of ideas, don't worry. We have compiled a
collection of easy but charming garden rope fence ideas
. Whether you are just starting on your crafting journey, or you already have lots of experience, you will surely find something in our compilation that peaks your interest. We will also outline why you should try hemp rope for your next craft. For all of the rope fence projects mentioned below you can use Hemptique's
hemp rope
. There are many different designs you can accomplish, so let's get started with the best rope fence ideas.
Buy Highest Quality Rope For Your Fence Project at Hemptique
Hemptique is a renowned company from Southern California that has been in business for over a quarter of a century. Our mission is to deliver premium, 100% hemp products that can be used for various purposes like hobbies, arts, apparel, stationery, home décor, accessories, garden equipment, and much more. We pride ourselves on offering
hemp rope
products that are exceptionally strong and durable, while remaining completely natural, sustainable, and biodegradable. Our dyed products are dyed using only premium eco-friendly, azo-free, and colorfast dyes. Hemptique's wide assortment of merchandise includes hemp rope in dozens of different colors and of different diameters, for versatile usage. We nurture business relations with individual clients, distributors, retail and wholesalers, and we ship nationwide and worldwide. If you are interested in learning more about our products or if you want to introduce pure hemp into your offerings, do not hesitate to get in touch with us. Reach out to us via our
contact page
, or give us a call at
760-602-4864. ext. 403 and 405
. To enjoy
hemp rope bulk ordering
benefits, apply directly for a wholesale account.
How To Make Rope Railing For Your Outdoor Living Space

Crafting a rope railing is a great way to introduce timeless nautical or coastal décor to outdoor landscaping. Rope handrails can be seen near waterfronts, beaches, and docks, but also as a part of the backyard scenery. If you have decided to put your craftsmanship skills to use, but are unsure of where to start, don't worry. We are sharing some pro tips on how to build a rope railing by yourself:
The planning stage – This stage involves choosing the design and style of the railing, but also the materials you will be using. Try to sketch your ideas to have a better understanding of what the end product will look like.


Choosing the supplies - Before you begin building, you will also need to decide on the size and type of fence posts (round or square) and calculate the length of the rope needed for the project. Make sure you factor in the sag between the posts. If possible, try cutting the rope only after you have wrapped it around the timber, and not prior to beginning the craft.

Building stage – Start by clearing out and prepping the area where you will be building. Mark the spots for the posts and dig the holes by using a post hole digger or a spade.


Attaching the rope - If you want to feed the rope through the posts, you need to mark the holes before drilling. Holes can be drilled before putting the posts up. Once the posts are correctly positioned and secured, you can add the rope. You can also wrap it around the timbers, or anchor it on the sides. To secure the ends of the rope in place, use metal rope fittings, or tie it firmly for a more rustic and organic look.


Final inspection – Lastly, do a final round of inspection to make sure everything is sturdy and firm. Check the timber to ensure it is not wobbly.

mptique's organic and rustic-looking
Hemp craft rope
is a perfect material for DIY rope fence making and other homemade projects requiring thicker ropes. Made from 100% natural hemp of exceptional quality, it is extra strong and durable but flexible enough to be easy to work with. This 3-strand twisted rope is
8mm thick
and resistant to UV light, mold and mildew, making it ideal for outdoor use.
It comes in three different sizes with vast potential to serve a variety of purposes. We offer decorative rope in several different diameter dimensions (thickness) and lengths: 4mm/ Approx. 30 meters, 6mm / Approx. 25 meters and 8mm / Approx. 20 meters.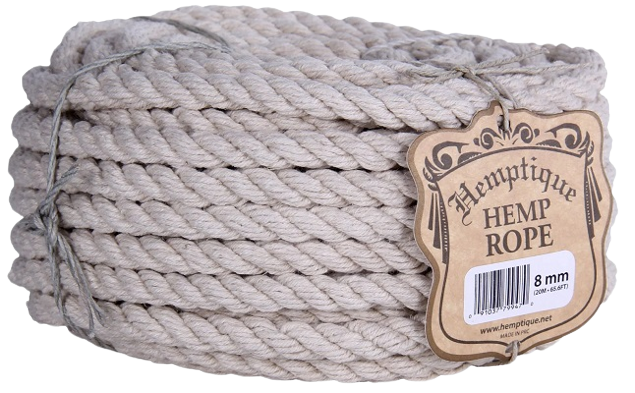 Available colors are natural and black. This eco-friendly and sustainable product is perfect for styling your backyard, garden, porch, patios, decks, and outdoor living spaces in general.
10. Simple & Easy Rope Fence Ideas

There are countless varieties of rope fence, from classic round timber with wrapped ties, to a more contemporary style with square posts with rope fed through holes. Here, we have gathered some amazing garden rope fence ideas to get you inspired for your backyard makeover. Choose a design that appeals to your taste, style, and budget and start crafting!
A nautical fence can be a way to section off and define an area in your backyard. For instance, if you want to define an area for entertainment or to section off a particular vegetable plant in your garden, why don't you try this simple but effective idea from
H2OBungalow
. Using 4" x 4" posts and the rope, she created a fabulous fence that is easy to reproduce. Decorative shells along the border add texture to this well-defined, crisp area.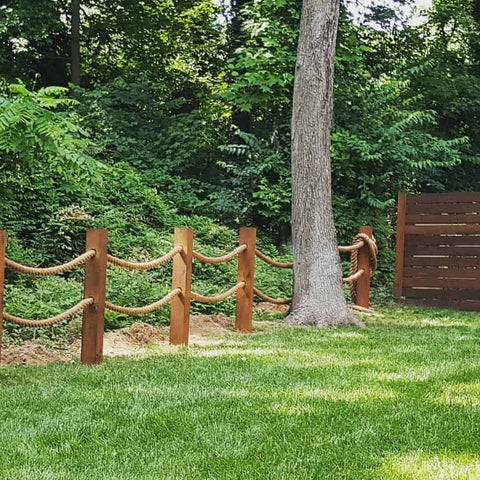 Here is another idea how to use rope fencing for your garden. In this example, two ropes are fed through the top and the middle part of the timber. The natural colors blend in wonderfully with the environment, not disrupting the color scheme of nature. The most important stage of this project is to measure and mark everything correctly before beginning the building, in order to accomplish a cohesive look.
Photo courtesy of
NextLuxury
and Denise Auhbe (dee_ohbee/Instagram)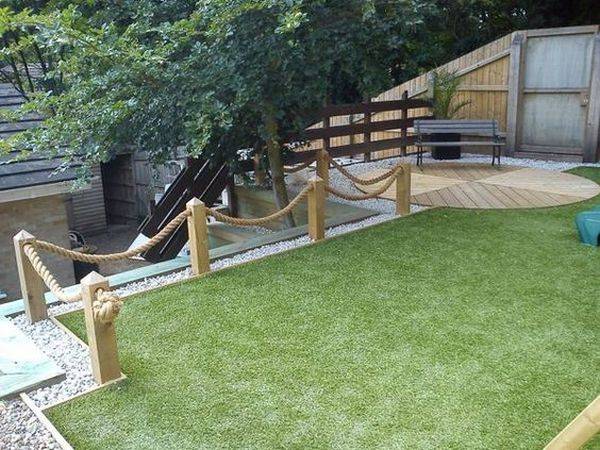 If you are a fan of charming little lawn fences, then you will surely go for this DIY project. Here, rope fence is positioned along the lawn. Timber posts have been pre-cut to the desired length and have caps on top. The rope has been tied up at the ends, for a more rustic touch. Image credit:
Little Piece Of Me
.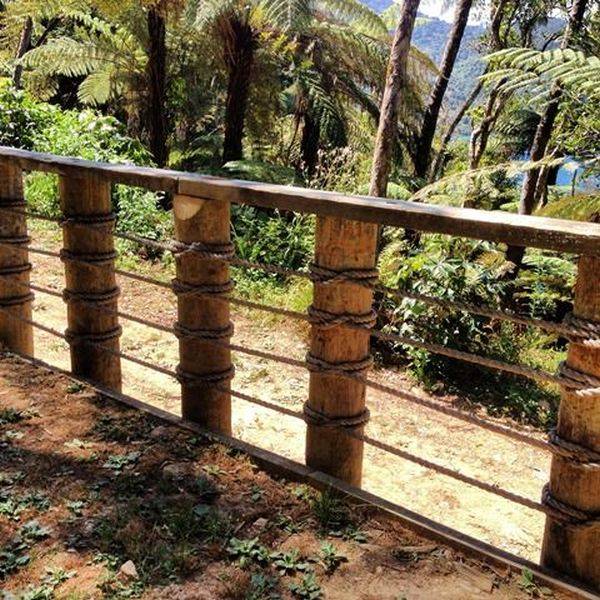 4. Decorative Rope Balcony Banister

If you want to avoid digging in the dirt and drilling the posts, you can opt for adding the rope to the fence that you already have. It will add texture and softness to your outdoor living space, without being overpowering, as it looks natural. Measure and mark the posts before placing the rope to ensure symmetry. Wrap the ropes several times around the posts, making sure you are wrapping them firmly. Secure the ends with metal rope fittings. Photo courtesy of
Idei Pentru Casa
.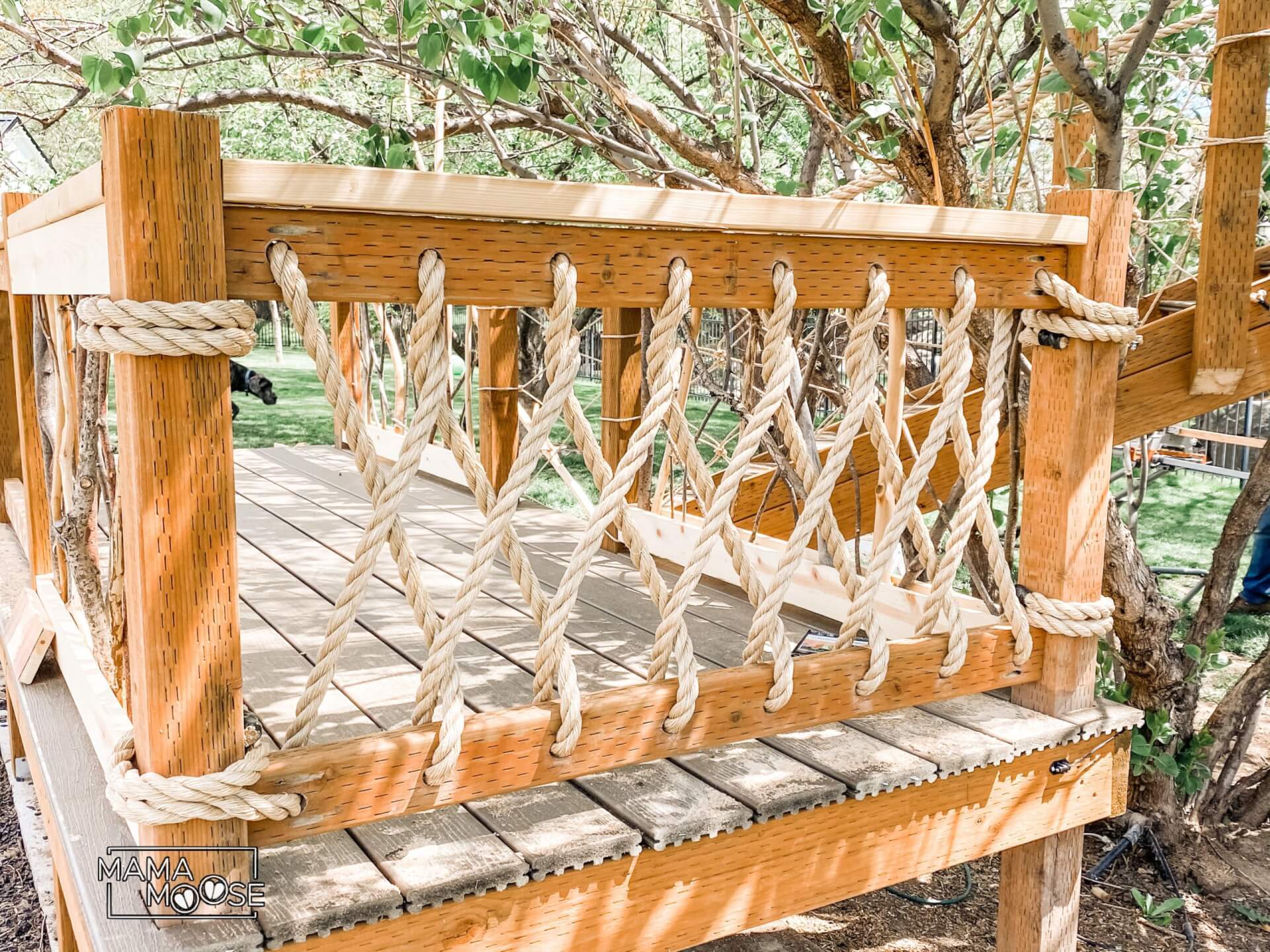 This amazing, braided railing can be a perfect addition to a patio, a balcony, a treehouse, or deck stairs, as can be seen on
Mama Moose
website. For this DIY project you will need rope, 4x4 posts, 2x4 railings, electrical tape to secure the ends, a drill, and deck screws. Pro tip: Do not cut the rope until after you have wrapped it, to ensure you have enough length. Measure and mark the holes before drilling. Wrap the rope, paying attention to how you twist the two pieces. When you are done, secure tightly and enjoy the end result!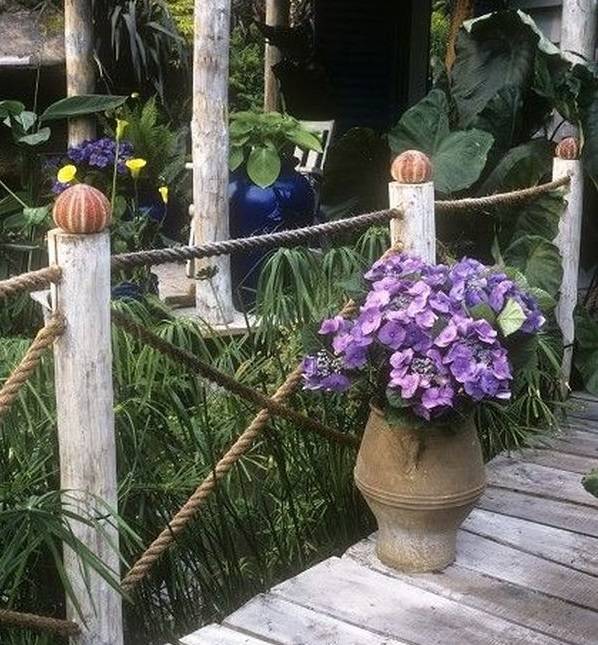 Minimalistic and effective, this idea is perfect for houses on the lake. This type of barrier is visually very appealing, giving off the maritime feel and it helps people walk to the end of the dock. Fairly simple to make, with single, double, or crossed ropes, this fence would be a wonderful addition to a private dock. Image courtesy of
Do It Yourself
. Add decorative items on top of the posts, and a large flower pot beside the fence for a complete look.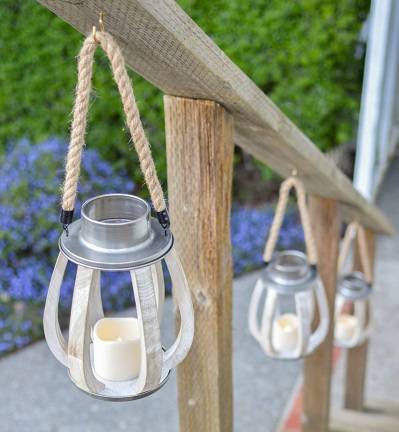 If you feel that your old banister needs a new life, but you do not feel like taking on another renovation job on the house, why not try adding accents and decorations to freshen it up quickly. This craft is easy to complete, and is budget-friendly. Rope handle lanterns are anchored to the railings with hooks. This brilliant idea was found at
Fox Hollow Cottage
.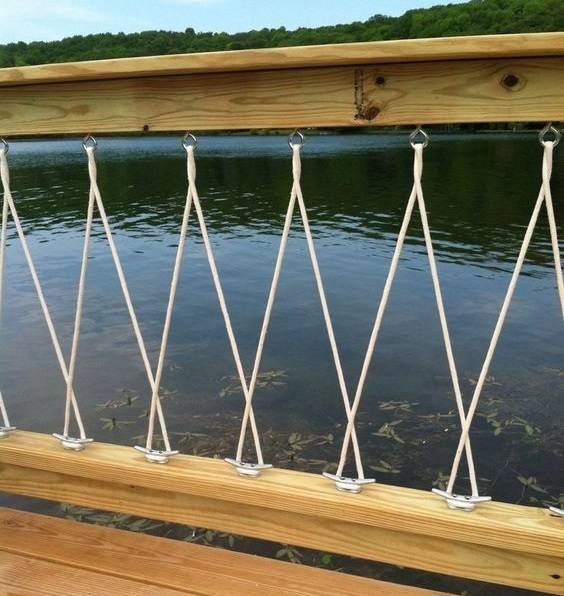 Whether you live by the lake or the ocean, you can use this great idea from
H2OBunglaow
and decorate your outdoor fence with boat cleats and rope. Boat cleats are not only functional, but also very decorative and can be used for both indoor and outdoor design and styling. For this project you will need to purchase hooks which are secured into the top railing and are used to hold the rope in place tightly.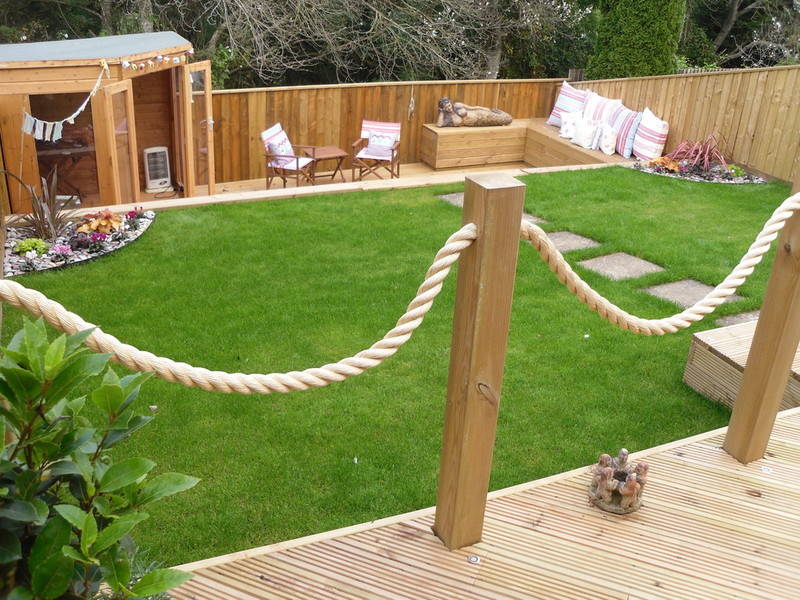 9. Eye-Catching Edging Idea

In this project from
Rachel Swirl
, rope deck railing is used to outline one specific area of the backyard. Here, it is used to separate decking from the lawn, but it can also be placed along the paths, wooden walkways or around water features and ponds.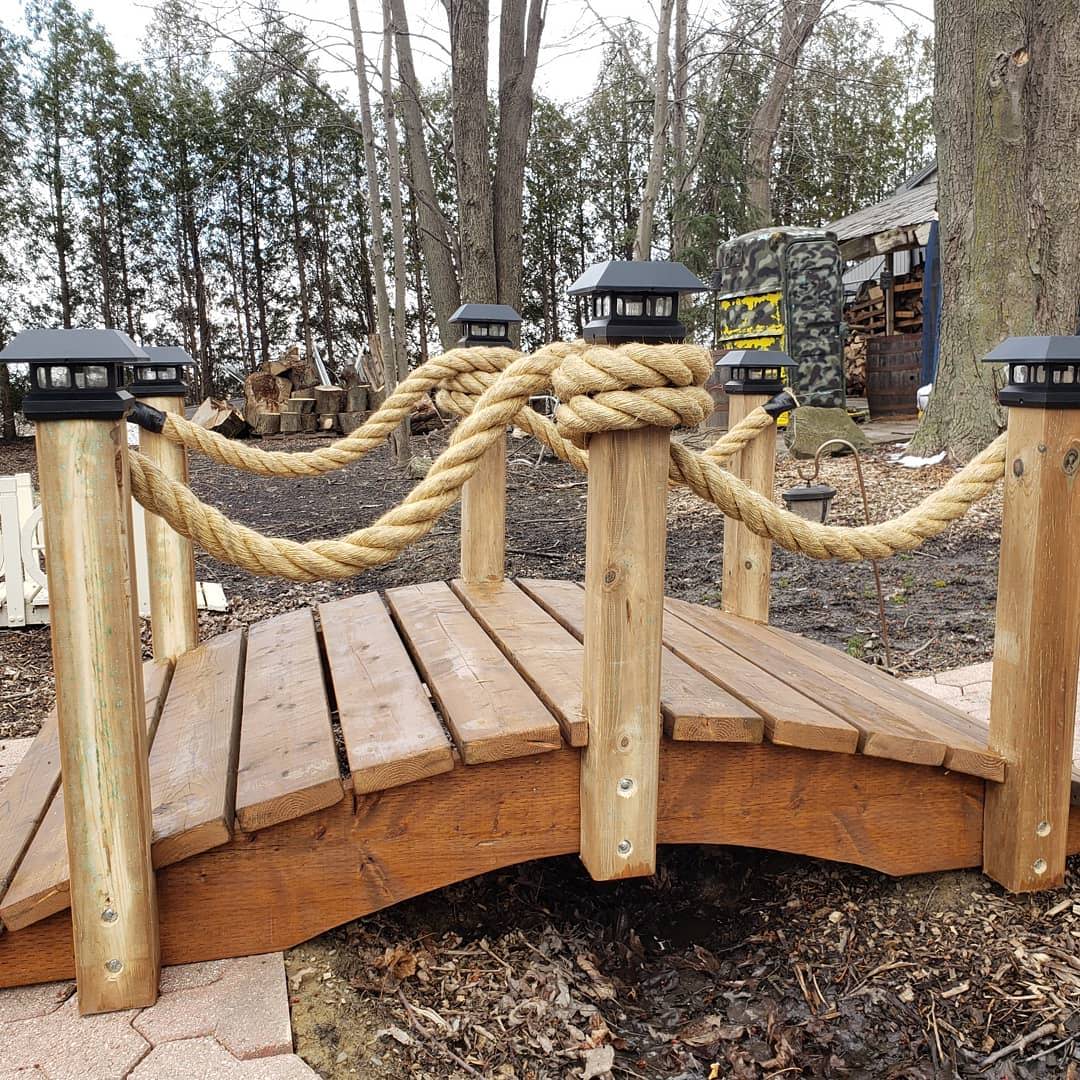 10. Rope Rail Garden Bridge

For those who are experienced in woodworking and have the necessary tools, we have an amazing idea from
@mmmat at construct101.com
. It is decorative, but also a functional nautical style garden bridge with rope railings. It will instantly add charm to that little creek or a pond and become a one of a kind feature in your backyard. There are no limits to how you can wrap or attach the rope to timber. For this project, you will also need to buy post cap solar lights for a complete look.
Why Hemp Is the Best Natural Fiber for Outdoor Rope Fance Projects

Hemp is one of the most unique natural fibers out there and it dates back thousands of years. Throughout history, people have cultivated it for construction, food, medicine, clothing, pottery making, animal feed, insulation, and so much more. No wonder the plant is also known as the "super plant". Not only does it have versatile application, but it also outperforms all other natural fibers with its superior properties.

When choosing supplies for your rope fence, you should definitely consider hemp rope, as
the best natural fiber with properties that are ideal for outdoor use:
Hemp rope has incredible strength. In fact, it is one of the strongest natural fibers available today. It has better compression and tensile strength than most materials, due to its extremely long and sturdy fibers. It is incredibly enduring, and can last a very long time before degrading. Furthermore, it is about 3 to 4 times stronger than cotton. Rest assured; it will be strong enough for all the garden projects you have in mind.

It does not shrink or stretch easily, as its fibers can support a lot of tension and pressure making it impressively durable. Since it has poor elasticity, it stretches considerably less than other fibers. This makes it ideal for outdoor use and crafting railings.

Since it is not as susceptible to UV rays radiation, it retains color really well and will not fade in sunlight as fast as other natural fibers. Investing in hemp rope means investing in a quality product that will maintain its color for a long time.

It is mold, mildew, and rotting resistant
When it comes to outdoor use, these characteristics are quite important. It has natural resistance to mold and mildew, which are common issues with outdoor environments.
IIt is eco-friendly and sustainable

Hemp is an environmentally friendly, sustainable, and low-impact crop. It requires very little water and land for cultivation, with exceptionally high yields. In addition, it is a carbon-negative plant and replenishes the soil it grows on. Choosing hemp rope means choosing green.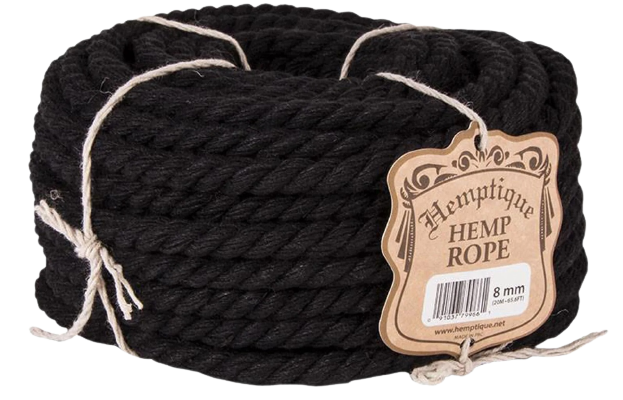 Get Creative & Spruce Up Your Backyard With Decorative Rope

There are lots of amazing ways to use decorative rope outdoor. Why don't you try one of our ideas and beautify your garden with rope fence. Turn your backyard into a charming space without spending a lot of time and effort. To get you started, Hemptique has premium hemp rope. Don't wait any longer, start decorating today!