A MUST-TRY FOR YOUR NEXT CRAFT PROJECT
Waxed Cotton Cord : FAQ Answered
In this article, we'll explore the benefits of using waxed cotton cord, as well as some tips for working with it and examples of projects that can be made using this versatile material.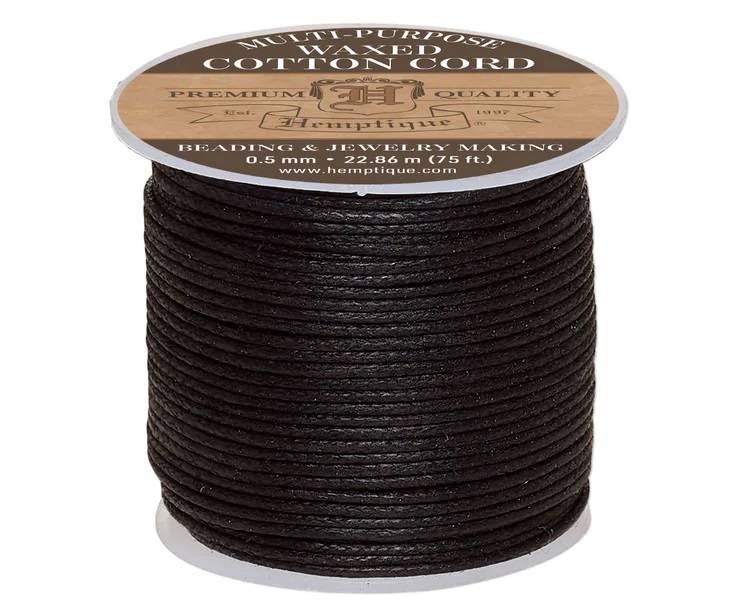 Developing and supplying premium-quality, sustainably grown, consumer products
Organically Grown and Ethically Sourced

hemp and other natural fiber products
We offer fast shipping
Your order out within 1-3 days
Visit our wholesale portal to register or login to your account
Compared to leather cord, waxed cotton cord is a plant-based, vegan-friendly alternative. For those of you who enjoy making kumihimo, macrame, braiding, and jewelry, waxed cotton is the perfect choice.

Waxed cotton rope usage dates back from the 1920s to 1950s, which was used for sailing in England and Scotland because of its waterproofing abilities. Also, mariners noticed that wet sails were more efficient than dry ones, so they decided to apply fish oil and grease to heavy sailcloth. Over the years, some more modern materials replaced it, but the sports community still uses it.

Waxed cotton cord is a long-lasting, strong material that has been covered in paraffin or bee's wax
. Because of its waterproof feature, it is perfect for jackets, coats, hats, shoes, and even luggage. It is an ideal material for clothes because of its durability. Waxed cotton is also great for beads and jewels or ornaments for Christmas and Easter. We can define it as a multipurpose material for home furnishing decoration, curtains, furniture, clothing and tying.
Waxed Cotton Cord Wholesale & Retail at Hemptique
Hemptique offers supreme quality waxed cotton cords for jewelry making and crafting. The cords are lightly waxed to get soft and flexible product. Those who enjoy DIY crafts can choose this great leather cord alternative which knots perfectly and doesn't wear out over time. At Hemptique, we offer three colors and three thicknesses of
waxed cotton cord
. Our products have proven their quality over the years, which can be seen from our connections with professional designers, and also our relationship with DIY crafters all over the world. If purchased wholesale, Hemtique offers low minimums and quantity discounts. For all additional info contact us at (760) 602-4864, ext. 403 and 405. If you want to buy in bulk fill
volume pricing quote
or
apply for a wholesale account
.
What is Waxed Cotton Cord Used for?

Waxed cotton cord is used for various projects mostly because of its look and strength. It is a very popular stringing rope and is great for home decoration, furniture, clothing, and handicraft industry. DIY fans also love waxed cotton cord because it is versatile for smaller projects such as jewelry making, macrame, kumihimo, and braiding.

People create beautiful and unique jewels, and the cord can be knotted, woven, and braided. Variety of patterns and designs will create vibrant look since waxed cotton comes in different colors too. Makin jewels and pendants require sturdy string and waxed cotton is known to be strong and durable.

In embroidery and sewing, crafters use waxed cord cotton for hand sewing and stitching to decorate. Because of its wax coating, it is less likely that the cord will tangle and knot, which makes it very easy to work with. Waxed cotton string is thus used for button sewing, fabric decoration, and embroidery designs on textiles.

Waxed cotton cord is great for macrame, braiding, and other fiber arts. Its stiffness and durability make it easy to knot and weave.
Waxed cotton cord can be used to create various home decor items, such as curtains, wall hangings, and plant hangers. Its natural look and range of colors make it a versatile choice for many decor styles.
Bookbinding also uses waxed cord because of its long-lasting features. Its strength adds to making the book spines and attaching pages to the cover. In case the books experienced flood, or were kept in the attic, basement or any other wet place, waxed cotton cord's resistance to water will protect it from breakage.

Another benefit of waxed cotton resistance to water is making outdoor and camping gear. Hammocks, tent guy lines, backpack straps, and other equipment for nature lovers can be made of waxed cotton cord and it is usually their primary choice. The strength and moist resistance features make it ideal for withstanding various weather conditions.

RECOMMENDED PRODUCTS BY HEMPTIQUE
How strong is the waxed cotton cord?
Waxed cotton thread is made from multiple strings combined, making it a very strong material. It can be found in a range of 0.5mm to 3mm thicknesses depending on the project. Nevertheless, it is very durable and secure for projects like furniture and clothing.

How to store waxed cotton cord?
It should be stored away from direct sunlight in a cool and dry place. It should be wound around a spool to prevent tangling and damage to the wax coating.
Does waxed cotton cord decline over time?
The thing is, that waxed cotton cord is highly water resistant, and over time, that resistance will fade because the wax coating fades too.

What is waxed cotton cord waxed with?

It can be waxed with paraffin or bee wax.
Does the quality of waxed cotton cords differ between brands?

Yes, the quality of waxed cotton cords can vary depending on the manufacturer. Higher-quality cords will be less prone to fraying or breaking and have a more even wax coating.

Can I purchase waxed cotton cord wholesale?

Yes. Hemptique offers wholesale pricing for waxed cotton cord, with lower minimum order quantities and discounted prices. You can contact us directly at (760) 602-4864, ext. 403 and 405 or apply for a wholesale account through our website
here
.
Can waxed cotton cord stretch?

Cotton waxed string is generally considered to be a durable and long-lasting material that holds its shape well. It may have some slight stretch to it, but it is not considered a highly stretchy material. Its stretchiness will depend on the thickness.
What are Some General Rules When Working With Waxed Cotton String?

Use a lighter to melt the ends and prevent fraying and unraveling.

Always ensure to use the right needle for the project. If the needle is too large, it may create larger holes in the fabric. Otherwise, if it's too small, it may not fit through the cord.

Knot carefully, since waxed cotton cord can be difficult to untangle once it's knotted. Ensure to pull the knots tightly and evenly, and double-check that they are secure before moving on to the next step.

Waxed cotton cord comes in various colors. Before you start the project, consider how the color will complement your project. Some colors may look better with certain fabrics or materials than others.
Is waxed cotton breathable material?

The advice is to mix or get waxed cotton lined with flannel, wool, or fleece to reduce the discomfort. It can feel a bit wet on your skin and in general, it isn't very breathable.

How to wash waxed cotton?

It is recommended to wash it at 40 degrees maximum with detergent. Even after being repeatedly washed, the color won't fade easily. Make sure not to wash it in a washing machine or take it to dry cleaning to prevent wax removal. Use soft brush to take the spot away.

Waxed canvas can be easily sewn on sewing machine and recommended needles are #16 and #18 with v-69 thread, but it depends on the project. Waxed canvas is sewed regularly, almost like marine one, but the presser feet sometimes leave marks on the fabric.