Why and How to Use Leather Cord for Jewelry Making
Unlock your creativity and find a new fun hobby!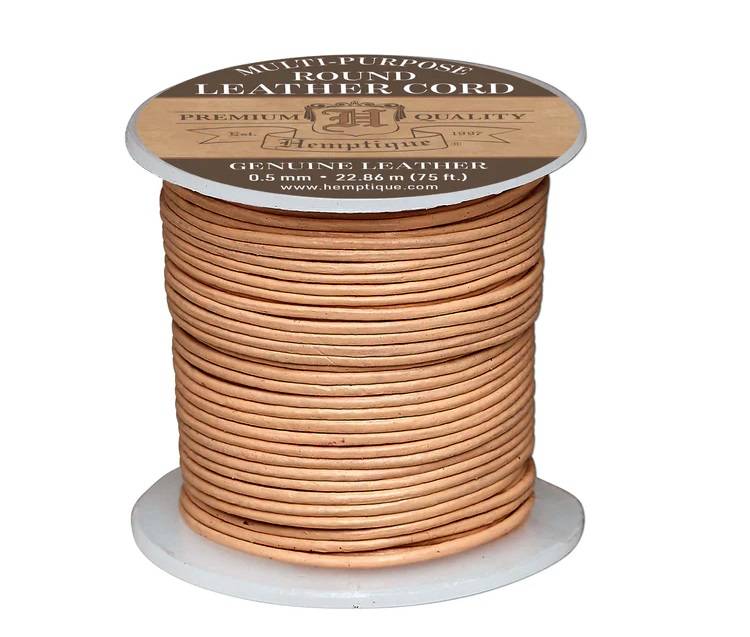 Developing and supplying premium-quality, sustainably grown, consumer products
Organically Grown and Ethically Sourced

hemp and other natural fiber products
We offer fast shipping
Your order out within 1-3 days
Visit our wholesale portal to register or login to your account
Leather is a highly durable, strong and flexible material made from tanning of animal skin and hides. Leather cord production and usage dates from the time when it served for simple tools, chariots, harnesses, drive belts, and famous roman sandals. Today, there are countless uses of leather cord from unique bracelets and saddlery to fashion accessories and clothing decoration.

Leather cord is a strip made and cut from leather hide edge. It can be left square, rolled flat, and rolled round. It is a product highly versatile and widely used among DIYs and crafters.
Buy Genuine Leather Cord at Hemptique!
You can get premium quality leather cords at Hemptique. Our product is strong and durable, perfect for beading, braiding, all kinds of jewelry making, lacing, etc. Our aim is to develop excellent customer service by providing supreme quality products at reasonable prices. Over the years we created mutual relationships with professional designers and DIY leather cord crafters. Quantity discounts, direct factory orders, wholesale prices and low minimums are just some of the benefits Hemptique offers if you purchase wholesale. For all additional information contact us at

(760) 602-4864, ext. 403 and 405

. If you want to apply in bulk, please fill volume pricing quote or apply for a wholesale account. Order the premium quality leather cord today and boost your creativity to the next level!
Leather Cords: 4 Benefits of Usage
Leather cord is a perfect choice for custom-made projects since it can be printed, stamped, and decorated according to one's wishes and preferences. This feature makes it great for gifts since each design may be unique with a personal touch.


It is the perfect material for all kinds of projects since it comes in various thicknesses. Leather cord is flexible, easy to cut, and workable material and this is why it can be knitted braided or weaved.


The leather cord will withstand tear and wear as it is one of the strongest and most long-lasting materials made of the most durable part of the hide.

It will add a rustic and antique look to your craft project. Those bohemian and earthly-looking lovers may enjoy making bracelets, keychains, plant hangers, home décor, etc.

There are a few types of leather cords used for crafting. These include round, square and flat leather cord which originate from real leather hide and usually come in one piece. Another type is braided leather which comes in multiple strands twisted into one thread.
Round leather cord is the most popular among crafters who make lacing and jewelry
. It is made from cutting stripes of leather hide and then pressed to achieve a round and rope-like shape. Round leather cord can be found in all sizes too, so it can be used for threading beads.
There are multiple types and finishes of round leather cord and some of the most famous are:
The Common Sizes of Round Leather Cord
The size ranges from 0.5mm to 10mm and the chosen thickness will mainly depend on the usage and the project.

0.5mm-2mm cords are mainly used for earrings and braided into thicker cords.


2mm-4mm cords are used to make necklaces, light braiding, and thin lacing.

4mm-6mm cords serve for medium size lacing and jewelry.

6mm-8mm cords are for thicker and heavier projects.


8mm-10mm cords are used for small straps and heavy lacing.
Recommended Hemptique Round Leather Cord
Material
: Genuine Leather
Length
: 22.86 Meters (75ft.)
Thickness
: 0.5mm, 1mm and 2mm
Colors available
: Black, Natural and Brown
Features
: Premium quality, soft, strong, durable, natural texture and versatile
Round Leather Cord Projects
Jewelry-making projects
include necklaces, earrings, bracelets, braiding, beading, hair ties and hat cords. Bracelets and necklaces are probably the most popular projects among crafters and people who wear them. Both can be decorated with beads or trinkets, but the creative potential is endless. Sometimes crafters attach something personal to them or significant.
Lacing projects
include shoelaces, clothing decoration, moccasin-making, saddlery, and bag making.
The square leather cord is left in its natural shape as it is usually cut into long narrow stripes. Depending on its purposes some called it cord or lace. This leather cord type is very popular for bag and moccasin making, shoe lacing and saddle making.

This type of leather cord is very diverse since it comes in many different textures, from snakeskin to suede. Sometimes it is referred to as leather lace or suede lace. It is used for a wide variety of projects such as accessories or jewelry making and tassels or decorations on other leather products.
Sometimes crafters want to create unique design effects so they use braided leather. Leather braiding may be done manually too, but it requires a lot of skill and practice. This leather cord type of projects includes belts, shoes, handbags and more. It is made from thin stripes twisted to make a braided look and is often braided around cotton or poly material.
6 Ways to Embellish the Leather Cord Projects
A leather cord is perfect for adding extras and different ornaments to achieve a unique design. Here are some of the ornaments which can be put on the leather cord project, closings for jewelry and other extensions.
Metal tube beads

– curved-shaped beads usually used for round leather cord bracelets.

Buttons/beads

– they can be sewn, threaded, or glued on leather jewelry to add colors and sparkle to your project.

Rivets

– these are commonly found on jeans and pants pockets to keep them safe from ripping off. For leather cord projects rivets would add strength or garnish the design.

Eyelets

– these are used for leather hole making, ribbons, and laces, but they can be a decoration too.

Stamping/embossing

– this is the best way to customize jewelry. Embossing stamps come in many different styles, designs, letters, and even little pictures.

Paint and markers

– When it comes to the paint, acrylics are used to embellish the jewels whereas the markers work great on the suede and textured part of the cord.
Buckles and snaps – Used for fastening simple leather cord jewelry designs like chokers or bracelets.

Buttons – It is used to close a wrap leather cord bracelet.

Magnets – These are usually glued to each end of the leather and are sized for different thicknesses.
Cord ends – There are many shapes, sizes, and types of cord end.


Glue – It is necessary to use glue if you want to create a multi–layered look, so you don't sew the pieces onto the leather. We use it to attach cord ends and other fastenings.


Strong thread – used for extra stability.

Strong needle – It is good for some thinner leather, and it would be advisable to puncture holes with an awl before sewing.

What can I use instead of leather cord?
A versatile substitute for leather cord is
waxed cotton cord
. Waxed cotton is a strong and durable material that won't break or fray over time because of its water resistance. It is perfect for jewelry making, knotting, stringing, and braiding. Being plant-based, it is often used as a vegan-friendly alternative to leather and is available in multiple colors and sizes. The vibrant look which it creates adds to the beauty of the jewels.
You May Also Find Interesting