Beginner Tutorial: DIY Face Mask Lanyard (VIDEO)
Join Kathy Gray and Hemptique and Lear to Make a Macrame Face Mask Holder Using Hemp Cord & Two Lobster Clasps.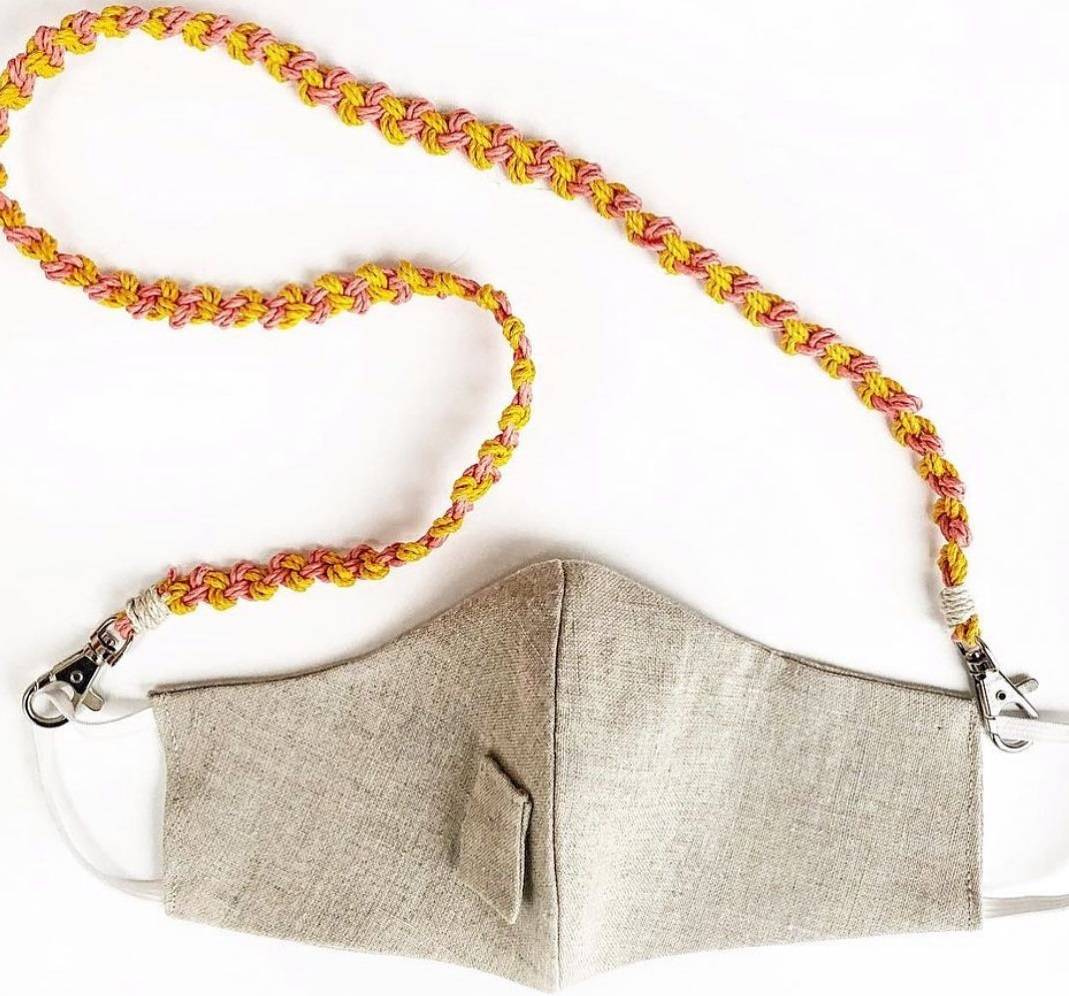 Developing and supplying premium-quality, sustainably grown, consumer products
Organically Grown and Ethically Sourced

hemp and other natural fiber products
We offer fast shipping
Your order out within 1-3 days
Visit our wholesale portal to register or login to your account
For all the beginner or experienced crafters out there, we have prepared a step-by-step guide and video tutorial on making a face mask holder using hemp cord. Quick to make and simple to use, this handmade lanyard easily attaches to straps, preventing misplacing or losing the mask. It will save you a lot of hassle and inconvenience of having to take it on and off. You will be able to wear it around your neck, which will give you extra convenience—a brilliant solution for both kids and adults, which can also be used for eyeglasses or sunglasses.
This DIY project involves creating a mask holder by using a fairly popular old craft called
macrame
. The technique is based on
tying distinctive knots
to make creative and unique functional items and decorations. We will guide you through this easy-to-follow tutorial by providing clear and detailed instructions along with visuals of each step. By doing this fun project, you will be able to explore your creativity and craftsmanship skills while creating an original accessory. So, let's learn how to make a DIY mask lanyard using natural and eco-friendly hemp cord.
Purchase First-Class Hemp Cord For Crafts At Hemptique
Hemptique is globally recognized as a highly eco-conscious company supporting sustainability and a green future. We are the leading manufacturer and distributor of eco-friendly and biodegradable hemp supplies for macrame, jewelry making, and crafts. Our 100% hemp products include hemp rope, cords, and twine of various thickness, color, and length. We offer a wide selection of cordage in 39 different colors, solid and variegated colors, and of different diameters (#10, #20, and #48) for tremendously versatile usage in many projects.
Natural hemp fibers are extremely durable and soft, making them perfect for handmade projects. We work with individuals but also provide wholesale options for distributors, retailers, schools, workshops, or businesses wanting to introduce pure hemp products. Contact us for more inquiries and to discover more about our competitive pricing, flexible ordering conditions, and shipping options. You can also reach out to us at 760-602-4864. ext. 403 and 405. If you want to become our wholesale client and enjoy bulk order discounts, apply for a wholesale account.

How To Make Face Mask Lanyard for Kids And Adults (Video Tutorial)
For this tutorial, Kathy used
hemp cord
in warm color palette: mustard, sunset coral, and natural.
Our
#48 Hemp cord
is made of pure hemp fiber, which is ideal for DIY projects like macrame, jewelry making, or scrapbooking, since it is quite flexible and easy to work with. It is polished to remove stray fibers and to be soft and gentle on the skin. At the same time, its fiber is famed for strength and durability, which means that all the items you make will last you a long time. The cord is available for purchase in 18 different colors and is 1.8 mm in diameter. Hemptique selection also includes a
#10 Hemp Cord
(approximately 0.5mm in diameter) and a
#20 Hemp Cord
(approximately 1mm).
You can use this highly versatile product to create all sorts of handmade items such as home decorations, accessories, handmade cards, bracelets, garlands, keychains, wall hangers, plant holders, etc. Apart from antibacterial and antimicrobial properties, mold and mildew resistance, and hypoallergenic properties, our cordage is earth-friendly, biodegradable, AZO-free dye and oil-free.
Lobster claw keychains (or lobster clasps), which will be used to attach the lanyard to mask straps. If you want to make a lanyard for the eyeglass, buy a pair of eyeglass holders instead of keychains. The holders will grip tightly to the temples of your eyewear.


Scissors to cut and trim the cord to the preferred length.

A ruler or measuring tape to measure the desired length of cordage.
Let's get started on making this sweet accessory for your cloth face mask. Once completed, you will have a unique and stylish piece of handicraft.

You will need to measure and cut 2 cords 10 feet in length, and 2 cords 20 inches in length. In our example, we used one 10-feet piece in mustard color, one 10-feet piece in sunset coral, and 2 pieces of 20-inches natural color cord.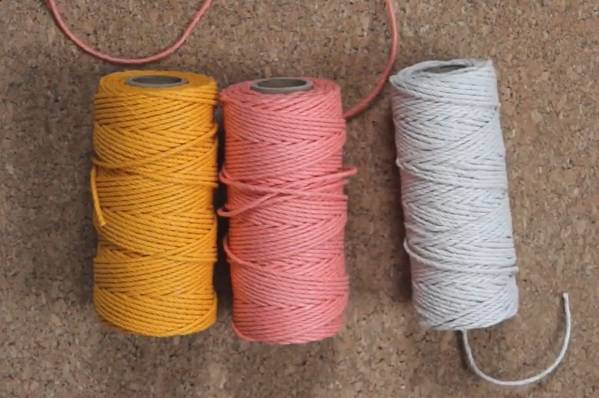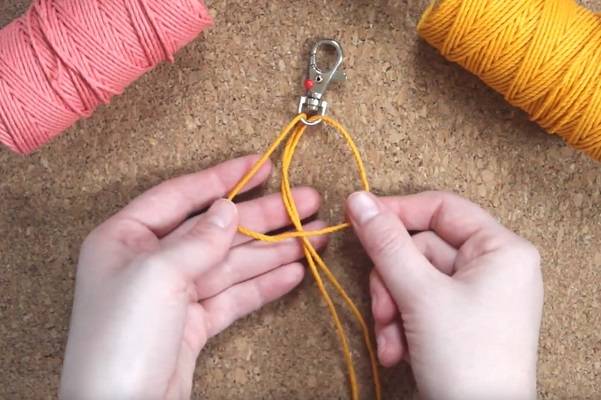 Take mustard color cord, fold it in half, and attach it to the keychain using a
reverse lark's head knot
. Guide the folded end of the cord from behind and over the keychain ring.
Pull the ends through the loop and tighten.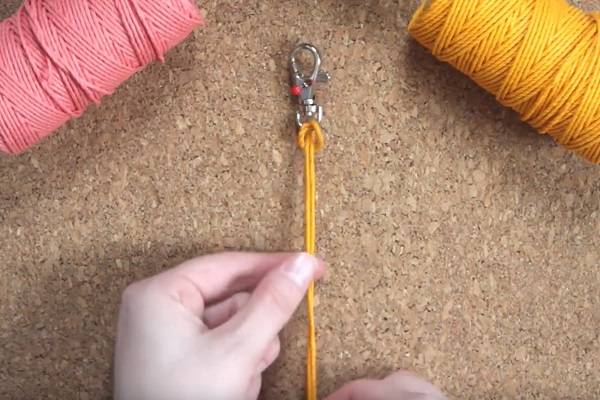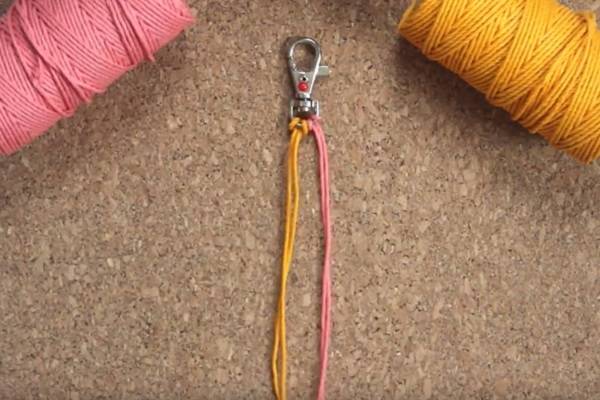 Repeat with the sunset color cord, so that you have both colors attached, side by side.

Take the natural color cord, fold the end to form a loop, leaving one end shorter and the other longer. Directly below the reverse lark's head knots, tie
a gathering knot
(also known as a 'wrapping knot'). Place the upside-down loop in front of other cords and hold it in place by pinching the bundle.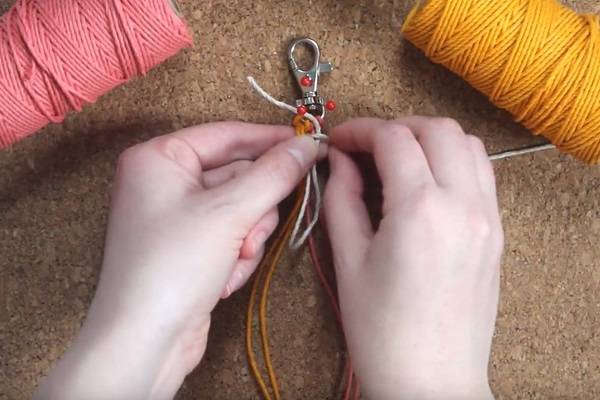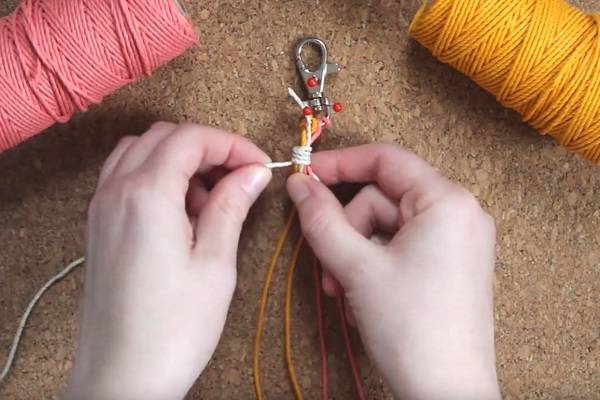 Take the long end of the rope and start wrapping around the other two cords, leaving the short end to stick out on top.
Keep wrapping it to the desired length.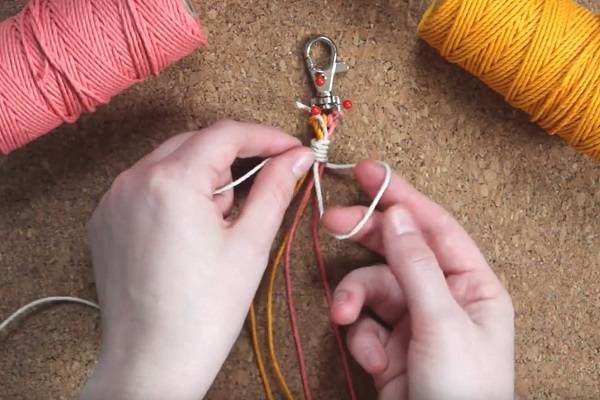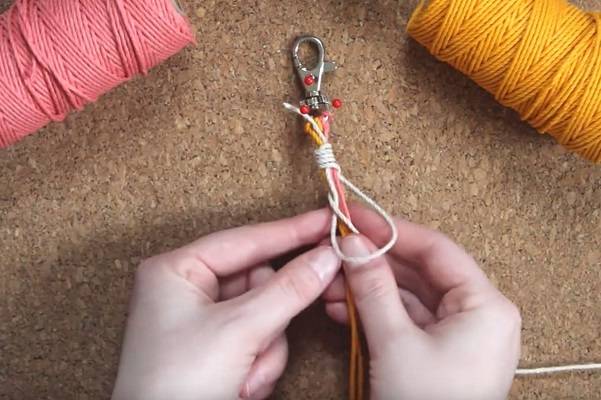 When you have finished wrapping, take the longer end of the cord and guide it through the loop.
Take the short end and pull. If you want to tighten the knot further, pull both ends. You can also slide the knot up above, right beneath the keychain.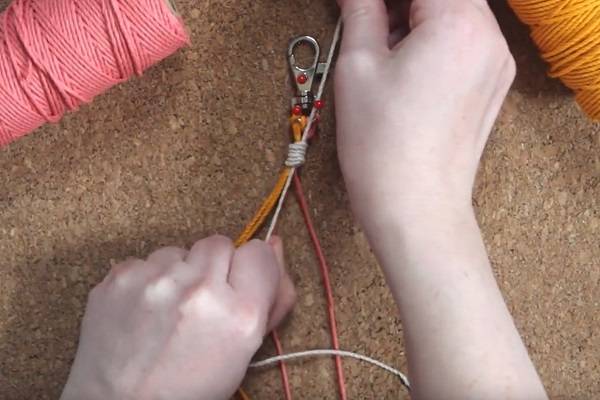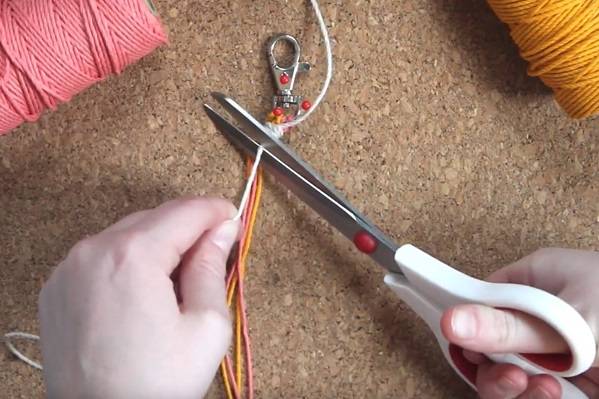 Take the scissors to trim the ends of the natural color cord.
Separate mustard and sunset coral cords into two sections by color.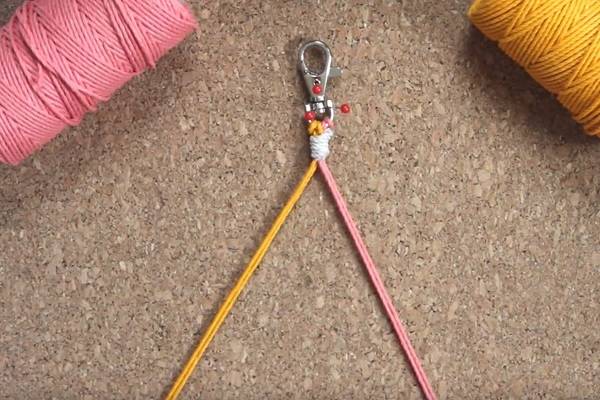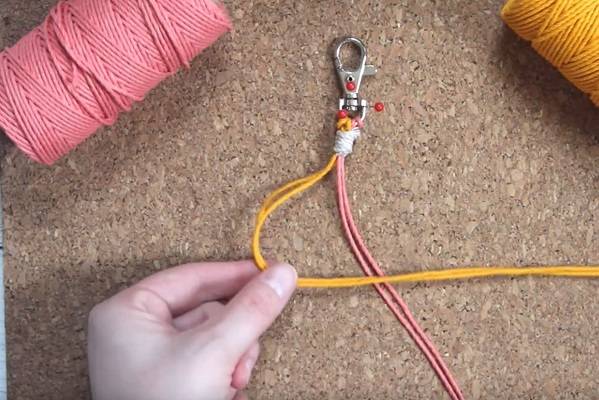 You will now begin to create the design of the lanyard by tying half hitch knots. Take the cords on the left (mustard color) and cross it over the right side cords (coral sunset).

Twist it around the side, and pull through the loop.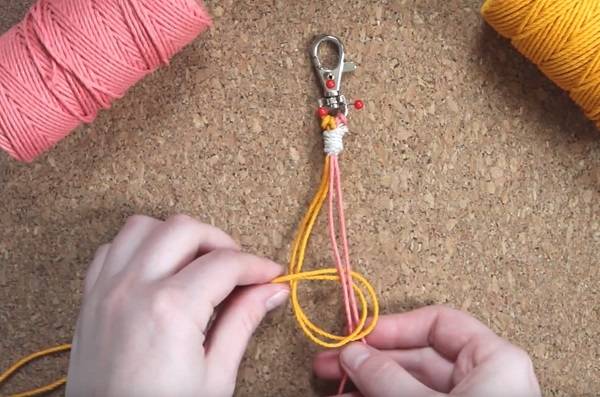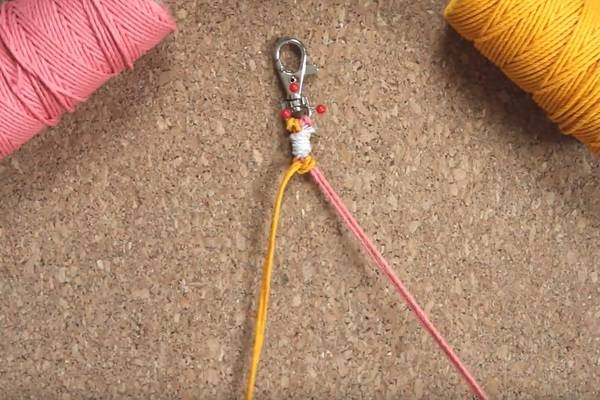 Now you will make a half hitch knot starting from the right and tying it around cords on the left.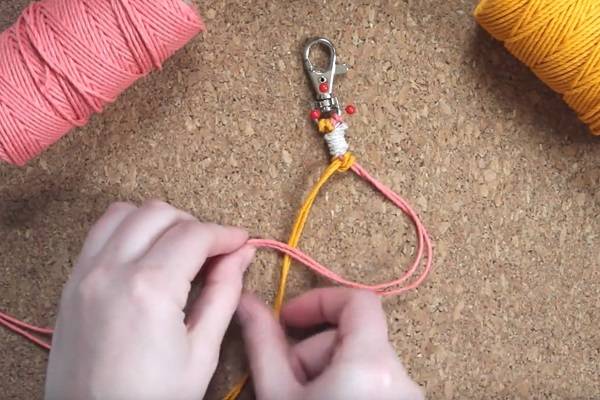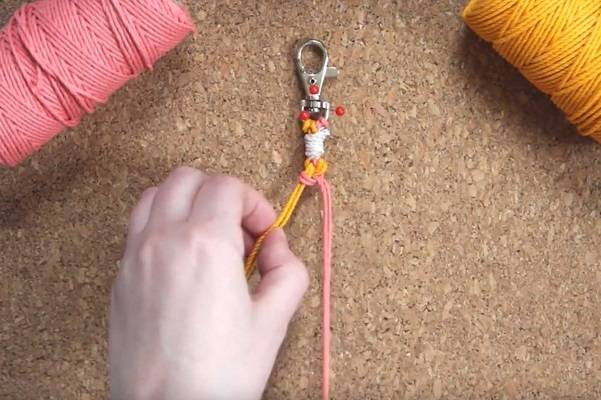 Make sure the knots are laying neatly on top of one another.

Keep repeating until you have reached the desired length of the lanyard. Ours is 28 inches long, which is an average recommended length.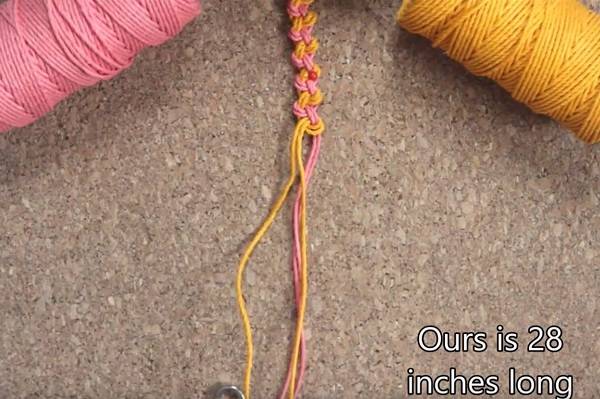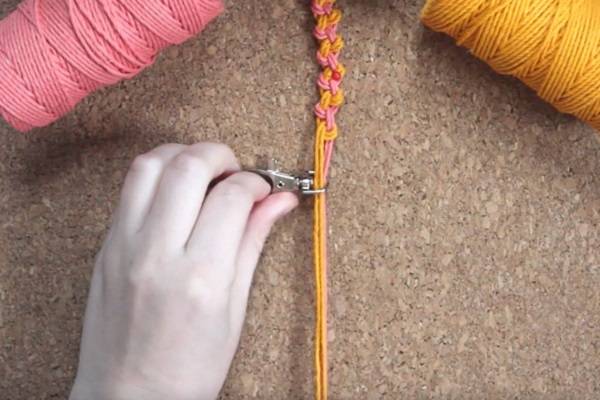 Pull all four cords through the second keychain. Leave some space between the clasps and the last knot, as you will use this space to tie a gathering knot.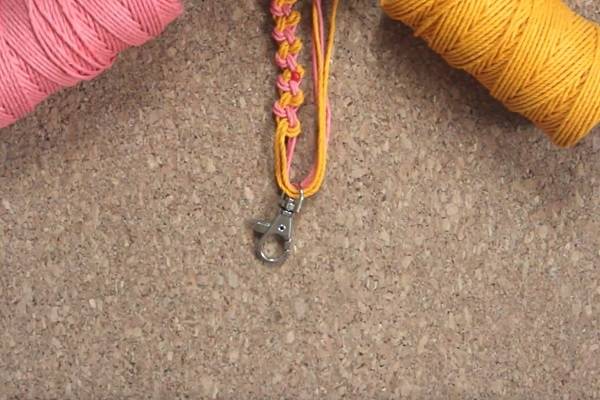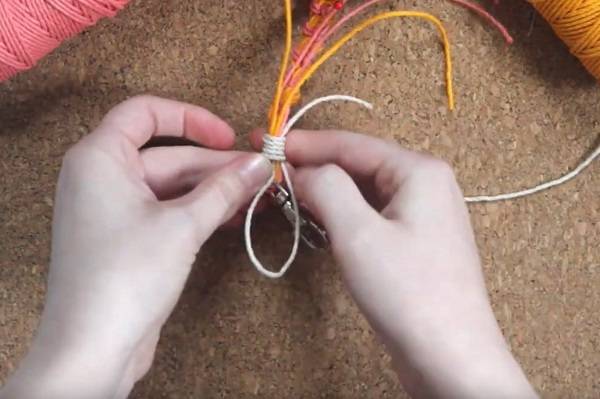 Take the last piece of rope and attach it to the keychain, as you did earlier, by tying a gathering knot. Ensure all cords are secured and pulled tightly individually, making sure there is no negative space. Take the scissors and cut all the remaining ends that are sticking out. Any loose ends can be tucked back in behind the gathering knot with a tapestry needle. You can also slide the gathering knot up or down to match the position of the other end of the lanyard.

Your lanyard necklace is now finished and ready to wear!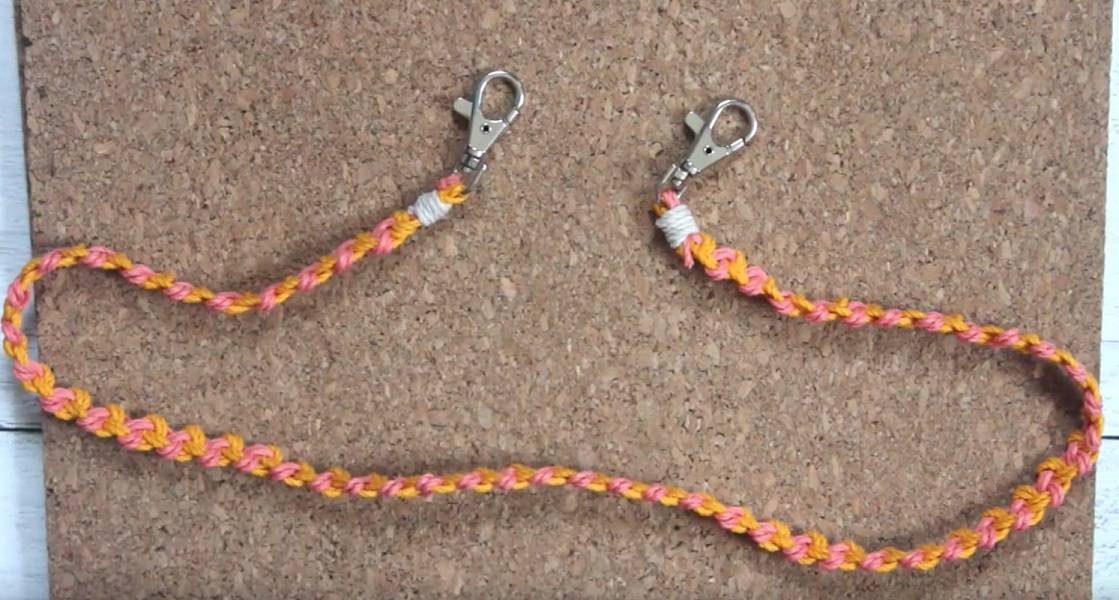 Why Hemp Cord Is Better Than Cotton Cord For DIY Projects
Necklace lanyards for reusable face masks and other handmade items can be made from different types of cordage materials like cotton, bamboo, wool, synthetic, etc. Each of these materials has its pros and cons, but one material stands out from the rest by its fantastic properties. That's hemp.

Here are just some of the
reasons why crafters around the world are choosing hemp as their #1 supply for crafts
:
Strength and durability - Hemp's fiber is highly durable and strong, ensuring the longevity of your DIY finished products. For instance, if you are planning on using a lanyard for glasses, you want to make sure the cord is strong enough to hold them. Cotton is strong, but degrades faster over time.


Flexibility - Soft and flexible, hemp is exceptionally easy and enjoyable to work with. Additionally, the fiber on the cord has been polished to remove strays and to be softer to touch.


Antibacterial, antimicrobial, antifungal, and hypoallergenic features - Due to all of these properties, it is appropriate for use among all ages, including kids. It is suitable even for people who are prone to allergies or have sensitive skin.


Biodegradability and sustainability - Hemp is a carbon-negative plant, and outperforms cotton in this aspect. It is the least harmful crop for the environment.

Mold, mildew, and UV resistance - Hemp is naturally resistant to mold, mildew, and ultraviolet lights.


Color retention - Hemp retains color really well. Your accessories or decor items will maintain its color for a long time if you keep them away for direct, harsh sun light.
Versatile Use OF Hemp Lanyard: A Perfect Gift And A Stylish Accessory

There are several ways you can further personalize this craft piece:

Make several lanyards in various colors or color combinations, to match your outfit.


Can be used as eyeglasses or sunglasses chain.

It makes a great gift for everyone, regardless of the age.


Make a special occasion lanyard (vacation, birthdays, anniversaries) or for each holiday (Christmas, Thanksgiving, Easter).

Add embellishments or beads to the ends of the necklace.
How To Make A Face Mask Lanyard Necklace Shorter

If your lanyard is too long or hangs too low, you can make it shorter in several ways:

Tie a knot in the middle of the necklace. This way the knot will be hidden behind the back of your neck.


Tie a knot on each end of the lanyard, near keychains.

Undo a few knots to cut the extra length and shorten the necklace.
Hemp Cord Care: Preserving Your Hemp Handicraft

It is best to remove surface dust by using a soft cloth or lint roller.

You can remove regular stains with mild detergent and spot washing.


Tough stains require the use of a washing machine. Always wash on delicate cycle, keeping the lanyard in mesh laundry bag or a pillowcase during the washing.

Leave the lanyard to dry in an area with good air circulation. You should not use the drying machine to dry hemp cord.

Related Read: DIY Hemp Tutorials & Knowledge Base