6 Essential Hemp Kitchen Accessories
Inspire your cooking and elevate kitchen experience with soft, antibacterial and durable hemp accessories.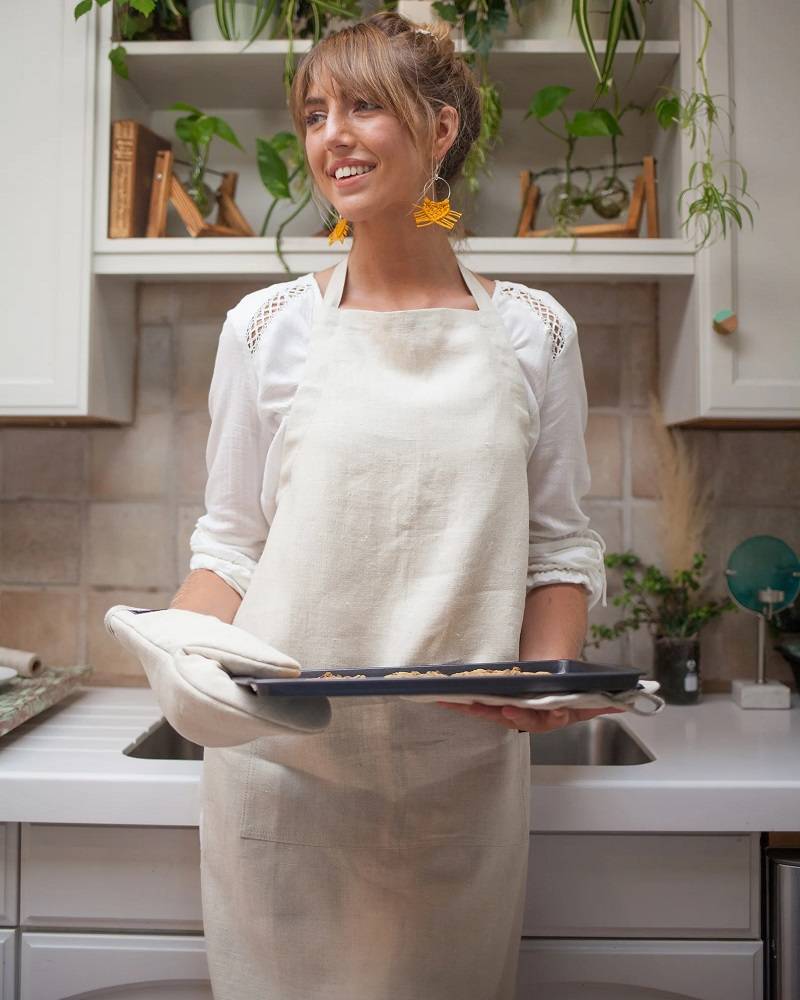 Developing and supplying premium-quality, sustainably grown, consumer products
Organically Grown and Ethically Sourced

hemp and other natural fiber products
We offer fast shipping
Your order out within 1-3 days
Visit our wholesale portal to register or login to your account
These eco-friendly products own goodness in their fiber, perfect for using it in a wet environment. We will present you with some hemp kitchen accessories and hopefully raise awareness of ecology and sustainability.
It is a great success that people nowadays have become more conscious of the environmental impact. Industries, too, make radical decisions and changes by producing greener materials and products. Among many natural materials, hemp is probably a sacred plant. The very important point is that hemp doesn't use any chemicals or pesticides to grow. You can basically throw it anywhere and it will grow while replenishing the soil.
The fiber which we get from the hemp plant is one of the strongest among other materials, but also durable and absorbent, which makes it perfect for kitchen use.
Some hemp kitchen accessories widely used are napkins, oven mitts, towels, potholders, cooking twine, and apron. Another feature that makes hemp great for kitchen products is resistance to mildew, mold, and fungi
.
Purchase Hemp Kitchen Accessories at Hemptique!
Hemptique kitchen accessories are of the finest quality and 100% hemp made. Their antibacterial, antifungal, and absorbent properties make them perfect for cooking and kitchen cleaning. Our main goal is excellent customer service and quality products. If you decide to purchase our products wholesale, many benefits are presented, such as quantity discount, direct factory order, wholesale prices, and low minimums. If you want to get to know our products and offers better, contact us at (760) 602-4864, ext. 403 and 405. If wish to apply for wholesale, please fill volume pricing quote or apply for wholesale account.
Benefits of Using Hemp in The Kitchen
Hemp fabric is known for its versatility and strength as well as its ability to survive in wet and humid environment. We will list some of the most vital hemp elements which make this fiber perfect for producing kitchen accessories.

Antimicrobial and Antibacterial
While researching this plant and its powers, scientists have identified significant antibacterial and antimicrobial activity against various bacteria. Since everyday cooking and dishwashing uses water as the primary tool, the kitchen environment is usually wet and steamed. This makes it a perfect place for developing mildew, mold, and some bacteria. By using hemp products, these chances are reduced to a minimum.

Soft and Lightweight Fabric
Hemp fabric is resistant to pilling and shrinkage and because its long and strong, hemp fiber is very soft. What is even more interesting is the fact that hemp fabric softness each time you wash it and its fiber won't degrade at all. Furthermore, hemp is a lightweight fabric which means that it is a breathable material and again resistant to mold and mildew. Since using it in the kitchen requires almost everyday washing, these features are another reason hemp kitchen accessories should be the best choice.

Blends Well with Other Materials

Hemp is usually combined and blended to get most of the benefits of other materials. It will add durability and extra comfort to cotton, silk, and even some synthetic materials. But probably the most powerful blend is with cotton, which creates unparalleled fabric quality. Cotton has comfortability and high-moisture absorption, while hemp has endurance and antimicrobial properties.

Hemp fiber is one of the strongest in the world and its greater strength provides durability. Fabric which is made from hemp can withstand wear and tear. From a sustainability point of view, buying long-lasting products offers customers and the planet way better solutions. Buying hemp apron, napkin and towel guarantee it won't stretch out and will endure greater pressure and tension.

Growing hemp doesn't require any chemicals and it replenishes the soil it grows on. Furthermore, it produces oxygen and absorbs great amounts of CO2. It is biodegradable, which means that when it breaks down, it returns to the Earth. These elements make hemp a sustainable gem of all-natural plants and the best option for those enjoying green products.

6 Suggested Hemp Kitchen Accessory Products

Hemp kitchen products are becoming widely used among housewives but also professional chefs. It is the best option for a steamy kitchen environment because of its absorbent and mold-resistant attributes. Let's look at some of the most popular hemp kitchen accessories.
There are some factors to consider when buying oven mitts such as size, durability, and heat and moisture resistance. Hemp material choice covers it all and produces the perfect green option for oven mitt accessory. It is polyester-free, chemical-free, and fire redundant-free and great for those trying to avoid plastic.
Hemp oven mitts
become softer and their quality grows with every use and wash. The long-lasting characteristics of hemp fabric make sure the mitts will be used in the kitchen for many years.
When purchasing an oven mitt, we should look for the ability of the fabric to survive in a constant steamy and wet environment. Hemp oven mitts filled with cotton fleece combine both high absorbency and mildew resistance, so it won't catch bad food odors. Furthermore, the kitchen can be a perfect living place for persistent bacteria and fungi. Hemp's antimicrobial characteristics have this also covered.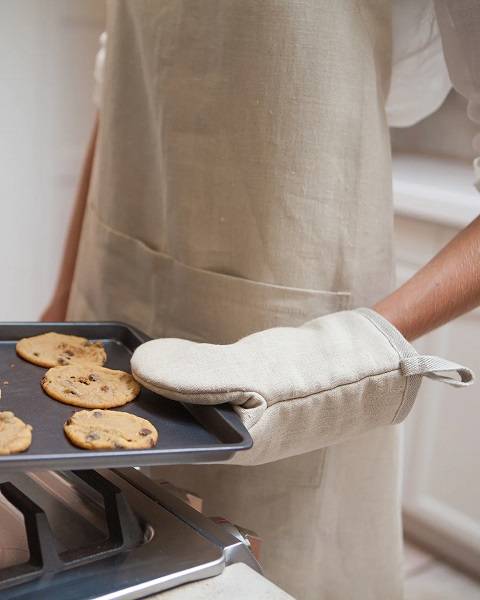 Hemptique Hemp Oven Mitt
Blend: Filled with 100% cotton fleece
Color: Natural - unbleached and undyed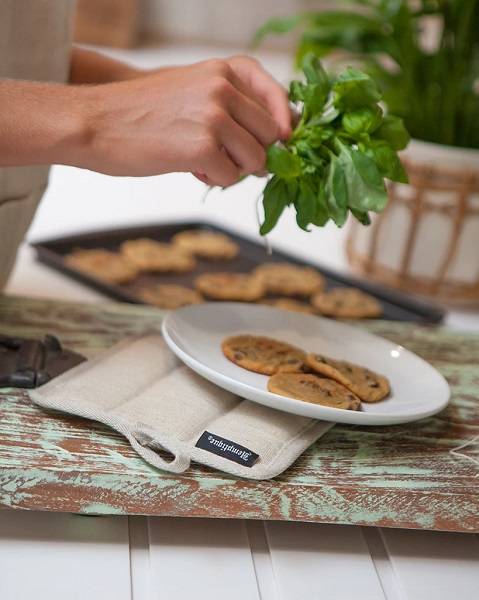 Hemptique Hemp Potholder
Color: Natural – Unbleached and undyed
Size: Approximately 6.5" square


Potholder is a popular kitchen accessory used in handling hot pots and dishes. It is a great addition to the oven mitt since you can protect both hands from burning while taking the dish out from the oven or off the stove. Again, it is chemical-free and antifungal option of potholder, and everyone should consider it since it comes in touch with food.
Hemp potholder
will become stronger and won't show signs of wear and tear. This is very important since kitchen accessories are used daily and choosing the most durable option is an affordable way.
If you want a new potholder, the best alternative would be the one matching the oven mitts. By purchasing a hemp potholder you'll avoid the usage of synthetics in the kitchen and welcome plastic-free products in your life. Hemp potholders are also mildew resistant and have antibacterial features, making them a great option around water, steam, and food.
Kitchen napkins are a great accessory when hosting a dinner or used in restaurants. Napkin can be used to place utensils in it to keep them clean and sanitized. Additionally, people have the habit of putting the napkin on their lap or around the neck to prevent dirtying their clothes. Therefore, hemp napkins are perfect for chemical and plastic-free options since they meet the skin.

Since they get softer and more durable with every usage and wash,
hemp napkins
are luxurious and sustainable alternative for restaurant owners. It is an accessory that comes in touch with food stains and water, so it will probably be washed more often.
The hemp napkins are 100% natural and it has high resistance to odors and bacteria which can easily get into the fiber. Furthermore, its mildew and mold resistance produce antifungal characteristics. Most napkins are made from synthetics and can cause a skin rash or allergy. Hemp is also hypo-allergenic and non-toxic, which is recommended for those who have sensitive skin. The fiber and color will put a special sparkle to your table setting.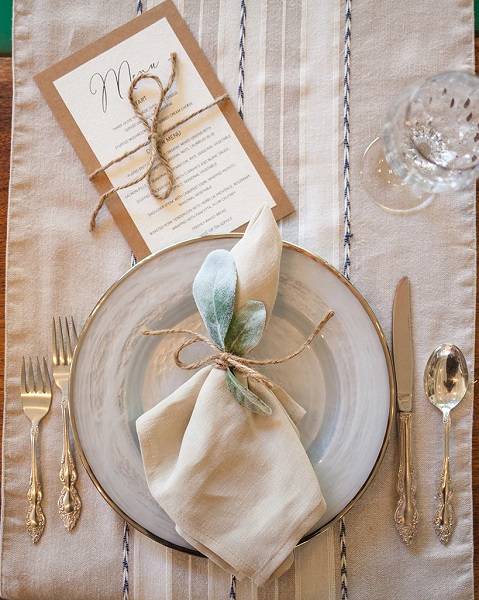 Hemptique Hemp Napkin
Style: Bistro
Size: 17.75" square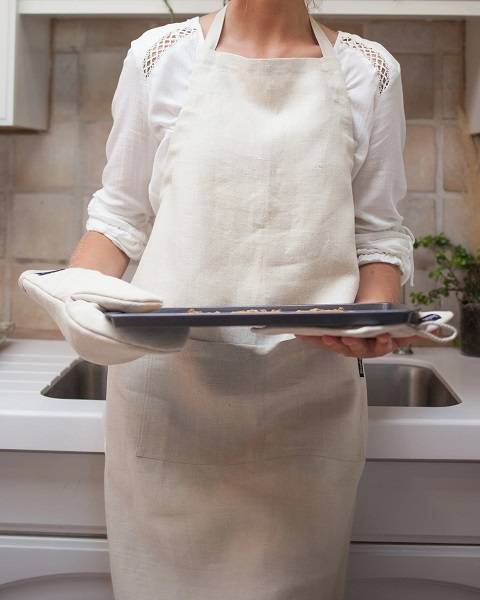 Hemtique Kitchen Apron
Color: Natural
Material: 100% hemp



Not so often people use aprons in everyday cooking, but for those working as chefs is a must-have kitchen accessory and equipment. Every person working in the kitchen looks to avoid stains from frying food and sauces. So, aprons are washed daily, and choosing the material that will stay strong, resist tear and wear, and become comfier with every use is very important. Hemp apron can be a great choice for green, organic, earth-conscience chef or friend who likes to spend time making delicious dishes.
Hemp kitchen apron
usually comes in beautiful and natural colors which suits both men and women. Hemp is a very lightweight fabric that can be perfect for a home baker. Also, it is a breathable material which is crucial for chefs working all day in a hot and steamy kitchen.
Hemp aprons resist bad smells because of their mold and mildew resistance characteristics. Its high-water absorption and purity place it on top among natural fabrics. Hemp kitchen aprons drape well and will get softer and softer over time. All those who aren't sure how to choose the proper apron material should consider the most sustainable, antimicrobial and durable fabric on Earth.
Besides being used in the bathroom, hemp towel can be hung in the kitchen to dry hands after dishwashing or even for drying plates. There are some vital characteristics to consider when purchasing towels since they will be in direct contact with water daily. The factors to consider include material, absorbency, softness, and durability. Hemp fabric options have it all!
Hemp Knitted Hand Towels
are highly absorbent, antimicrobial, and hypo-allergenic products. Their constant contact with the wet and moist environment makes them prone to catching bacteria, so hemp's antifungal and antibacterial elements are crucial when choosing the hand towel. Additionally, the towel's durability is guaranteed since hemp fabric is one of the strongest among natural materials.
But one of the most important things when purchasing a towel is its ability to dry quickly and not leave any bad odor. Because of its absorbency, hemp hand towels will stay fresh and won't produce any mildew. Another characteristic is UV resistance if you decide to dry it outside in the summer. The color and the material won't fade and become rough from the sunlight.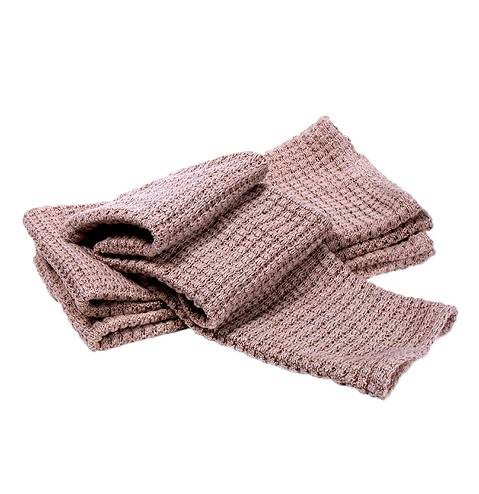 Hemp Knitted Hand Towel
Specifics: It includes a braided loop for easy hanging
Color: Natural
Size: 15in x 25in – 38cm x 64cm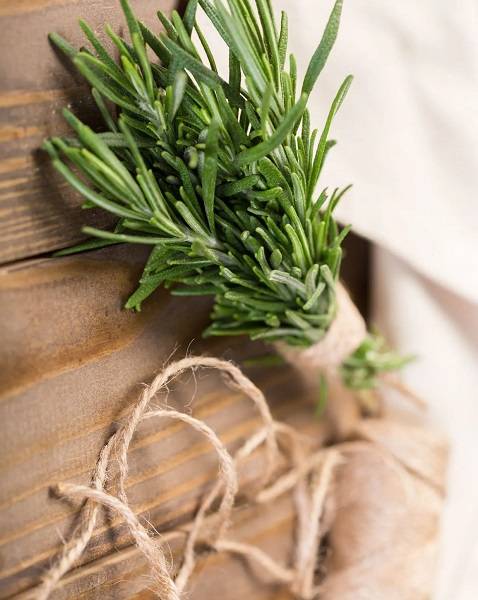 Hemp Cooking Twine
Material: 100% hemp
Safe for culinary use

For those who enjoy preparing meat with some stuffing,
kitchen twine
is a perfect choice. Whether we truss chicken and turkey or tie a packet of herbs,
hemp twine
is always good to have. Hemp kitchen twine is very strong and durable, which is important for oven use. Furthermore, there is no better chemical-free and toxin-free material for use around food. In comparison to synthetic twine, hemp alternative is safer.

Hemp cooking twine
is compostable and biodegradable green choice for earth-conscience lovers. Hemp rope's tensile strength is very high, so it can also hold big pieces of meat without tearing apart in the oven. Another important characteristic is mold resistance and its antifungal and antibacterial properties. Additionally, hemp twine is resistant to chemicals and can withstand most of them since it is untouched by any pesticides while growing.
More Hemp Uses and Benefits