6 Must-Have Hemp Bath Accessories
Elevate your bathtime experience with these eco-friendly gems. They are not only good for the planet, but they'll leave your skin silky smooth. Let the natural goodness of hemp work its magic.
Developing and supplying premium-quality, sustainably grown, consumer products
Organically Grown and Ethically Sourced

hemp and other natural fiber products
We offer fast shipping
Your order out within 1-3 days
Visit our wholesale portal to register or login to your account
As we become more conscious of our environmental impact, many industries are looking for sustainable options for their products. One of the best options is hemp - a natural plant fiber that is both eco-friendly and versatile. Unlike other fibers, hemp doesn't require chemicals during cultivation and actually improves the soil it grows in. The fiber is strong, durable, and absorbent, making it perfect for a range of products such as clothing, ropes, paper, and bathroom accessories.
Bathroom products such as towels, robes, scrub gloves, washcloths, and shower curtains constantly get in touch with water and moisture. Hemp fiber is a great solution for these products since it is mold and mildew-resistant, hypoallergenic, and antibacterial material.
In the lines below, we'll emphasize all benefits of hemp fiber and recommend a few essential accessories made to sustain everyday use in warm, and high-humidity bathroom air.
Buy Hemp Bath Accessories Directly from Manufacturer!
Hemptique offers 100% hemp-made bathroom line of products of premium quality. Our towels, soap holders, scrub gloves and washcloths have antifungal, antibacterial, and absorbent properties that make them perfect for use in a bathroom environment. Hemptique's goal is to deliver high-quality products together with superior customer service. We offer many benefits when purchasing our products wholesale. Some of them are direct factory orders, discounts on quantity, reliable inventory, wholesale prices, and low wholesale minimums. For more information about bath hemp products, call (760) 602-4864, ext. 403 and 405. If you want to apply for wholesale purchase, please get a volume pricing quote or apply for wholesale account.
Why Use Hemp Accessories in Bath?
Here are some of the advantages of hemp fabric that make it perfect choice for wet and damp bathroom environment.
Hemp bathroom products get softer each time you use them and their strong fibers can endure many washes. Hemp doesn't lose its durability with time, but it gets better with age, which is great for products that will be used frequently.
Hemp fibers are naturally soft, making the fabric comfortable to use in bathroom accessories such as towels, scrub gloves and robes.
Hemp has very strong fibers; blending with other materials can make them softer, breathable and even stronger. Many bath towels and washcloths are made of cotton and hemp combined. Hemp makes it eco-friendly, and cotton tends to be softer on the skin.

Since it gets softer with each wash, hemp is comfortable and breathable on the skin. Hemp fabric resists weather conditions, especially UV light. It can block up to 95% of UV rays. This means you can expose products to the sun, and they will not fade.
Hemp fiber is anti-microbial, anti-fungal, and hypoallergenic, making it perfect for sensitive skin. Anti-fungal element saves it from mold and mildew. This is extremely important with bathroom products that often get in touch with water and condensation. Anti-bacterial properties help to reduce odors too.

Unlike synthetic and polyethylene fabrics, hemp is biodegradable. That means it will break down and return to the earth, making it fully sustainable option.

6 Recommended Hemp Bathroom Products
Hemp bathroom accessories are becoming more and more popular. If you need quick-drying, soft, durable and ultra-absorbent accessories, hemp is a perfect choice. All these products can come in different colors, designs, and patterns.

The most important factors to consider while buying towels for bathroom are material, size, absorbency, durability, softness, price, color and design and finally, ethical/environmental factors. If you decide to go with hemp towels, you will easily fulfill all your needs for high-quality products.
Hemp towels
provide greater quality with every wash as the fabric softens more with continuous usage. Furthermore, hemp durability guarantees that towels can last for many years.
When buying a bath towel, the important thing is that it dries quickly. Because of its high absorbency, hemp towel dries the skin fast too. Hemp towels won't catch bad odors or produce bacteria. Lastly, fiber provides natural UV protection, so you can rest assured that it will not fade when exposed to direct sunlight. Towels made from hemp can be dyed in many colors, but the most popular is natural color since it easily complements most bathroom styles.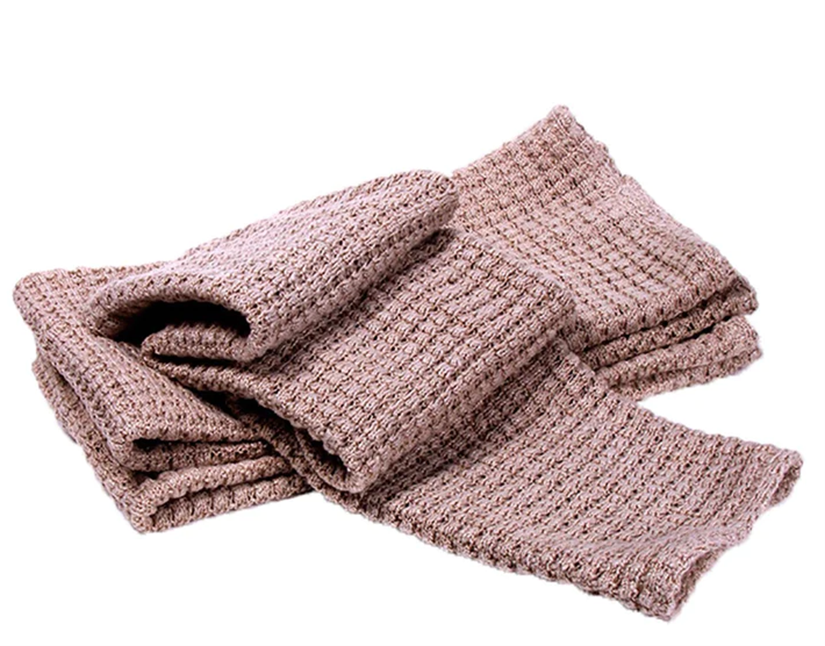 Hemptique Knitted Hemp Towel
Dimensions: 15 x 15 inches
Includes braided loop for easy hanging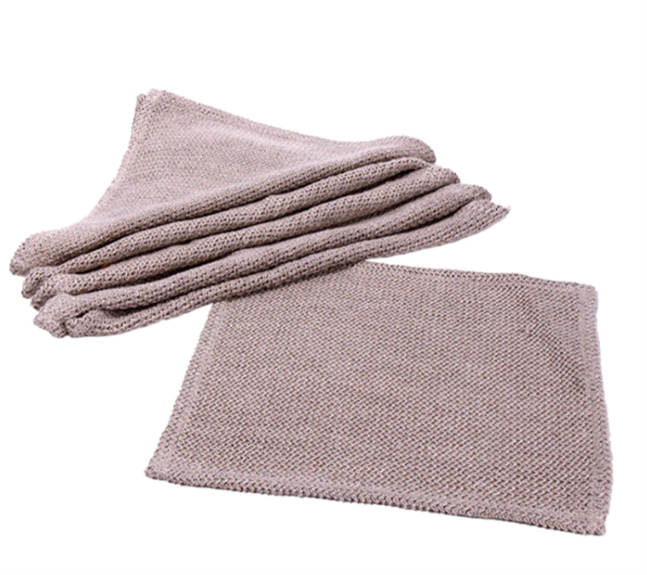 Hemptique Hemp Washcloth
Dimensions: 8 x 8 inches
Color: Natural
A washcloth is usually used as scrubbing product, mostly for exfoliating and cleaning the skin. They are smaller compared to traditional bath towels, and thus can be used for removing makeup and washing the face. They are frequently used in spas and saloons, hotels and resorts.
Recommendations we have when buying towels apply to washcloths as well. Cotton and bamboo products are good options, some even prefer microfiber, but hemp offers many advantages – especially for use in commercial facilities like hotels. They can withstand frequent use without showing signs of wear and tear.
The
hemp washcloth
is 100% natural, and it gently exfoliates the body and face. Besides being used in the bathroom, it can also be used in the kitchen. The main advantage is that it absorbs water quickly and doesn't cause a bad smell. Moreover, it is mildew and mold resistant, which means it has anti-fungal features and can be used many times before washing.
Wrapping in a cozy bathrobe is experience everyone enjoys. Whether you prefer to wear it on a chilly day or after a relaxing bath, a bathrobe is a special piece of clothing that makes us feel both warm and comfortable. It also has a practical purpose: to serve as a towel, keep us dry, and act as an absorbent cover after a shower or swim. There are many bathrobe materials out there – cotton, microfiber, silk, chenille or cashmere, but those made from hemp are the most popular choice for eco-friendly users.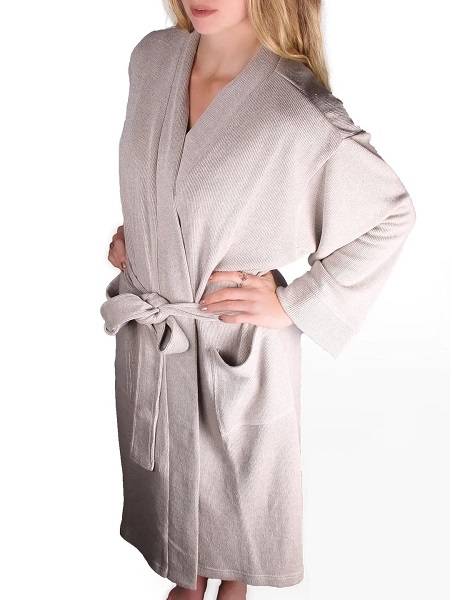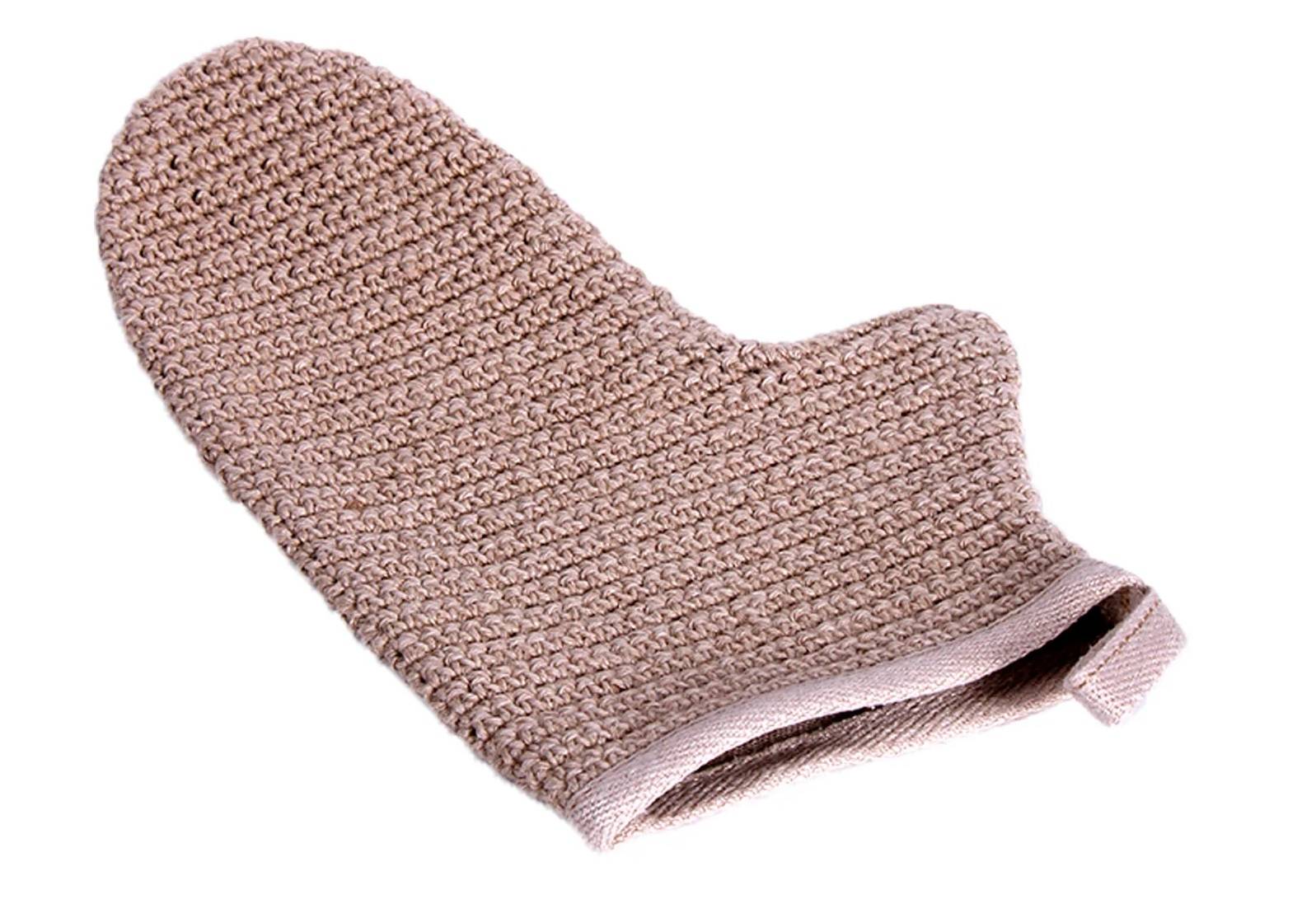 Hemptique Hemp Scrub Mitt
Color: Natural
Includes braided loop for easy hanging


Scrub gloves and mitts become very popular items in the summertime when our skins need exfoliation. To achieve smooth legs and arms, remove dead skin cells, clear out pores and minimize ingrown hairs, women usually buy synthetic exfoliating gloves. Hemp is a great alternative to polyester gloves and offers many benefits since it is eco-friendly and doesn't contains plastic micro-beads.

Because of fiber structure and woven fabric,
hemp scrub glove
exfoliates dead cells faster than nylon gloves and leaves your skin smooth and soft after first use. Glove is fully biodegradable, anti-microbial, and hypoallergenic. It is water absorbent and doesn't catch bad odors if it dries naturally. It may be rough at first, but it will be softer with each use. Before first use, soak the glove in hot water to make it smoother. It can be used for sensitive skin since hemp will not cause any micro-tears on the skin. You can use it two times per week.
Wash hemp glove by hand or in a machine, using gentle program and leave it to dry.
Soap bags are great addition to a bathroom. They allow you to use every last bit of your soap. Furthermore, soap bags are great for exfoliating the skin, removing dead skin cells, and improving circulation. In recent years, eco-friendly alternatives to synthetic (plastic) loofahs hit the market in the form of hygienic soap-saver bags made from hemp and sisal. They come in different sizes and colors.

Why use hemp soap savers over plastic loofahs? Synthetic mesh easily accumulates bacteria, mold and dead skin leftovers. Dermatologists never recommend exfoliators made from plastic mash materials. Instead, you can try natural and 100% sustainable solution – hemp soap bags. They are bacteria-free, durable, non-toxic, soft, UV-resistant, hypoallergenic, and plastic-free. Natural soap bags can be machine washed at cold temperature.
Hemp soap saver
is a perfect zero-waste option that extends the life of your soap bars. The soap pouch can also be used as a body scrub. Regular usage will make your skin look healthy and smooth. It's the perfect "tool" in your self-care kit and may be an ideal gift for a green-conscious friend.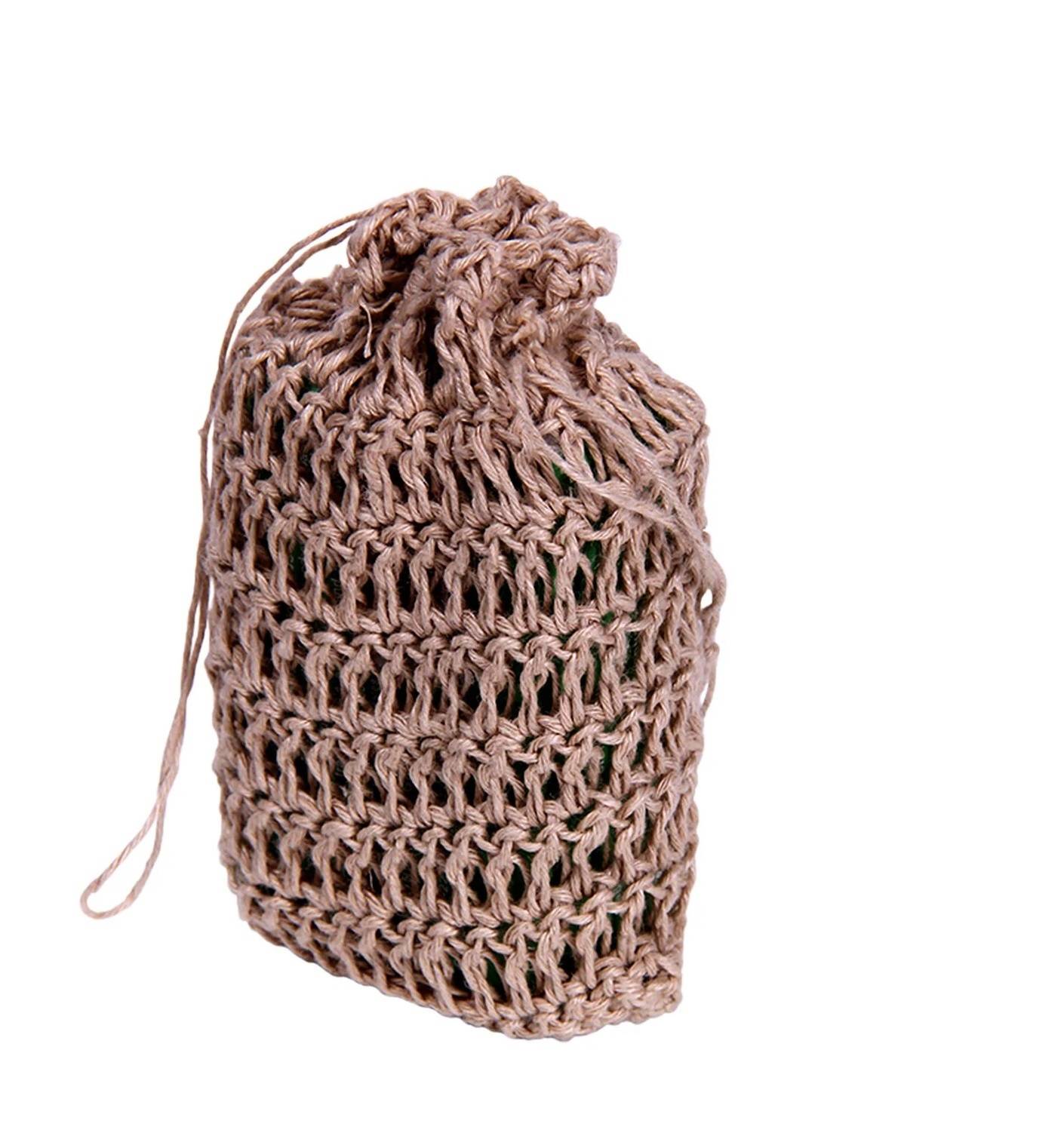 Hemptique Hemp Soap Bag
Color: Natural
Includes braided loop for easy hanging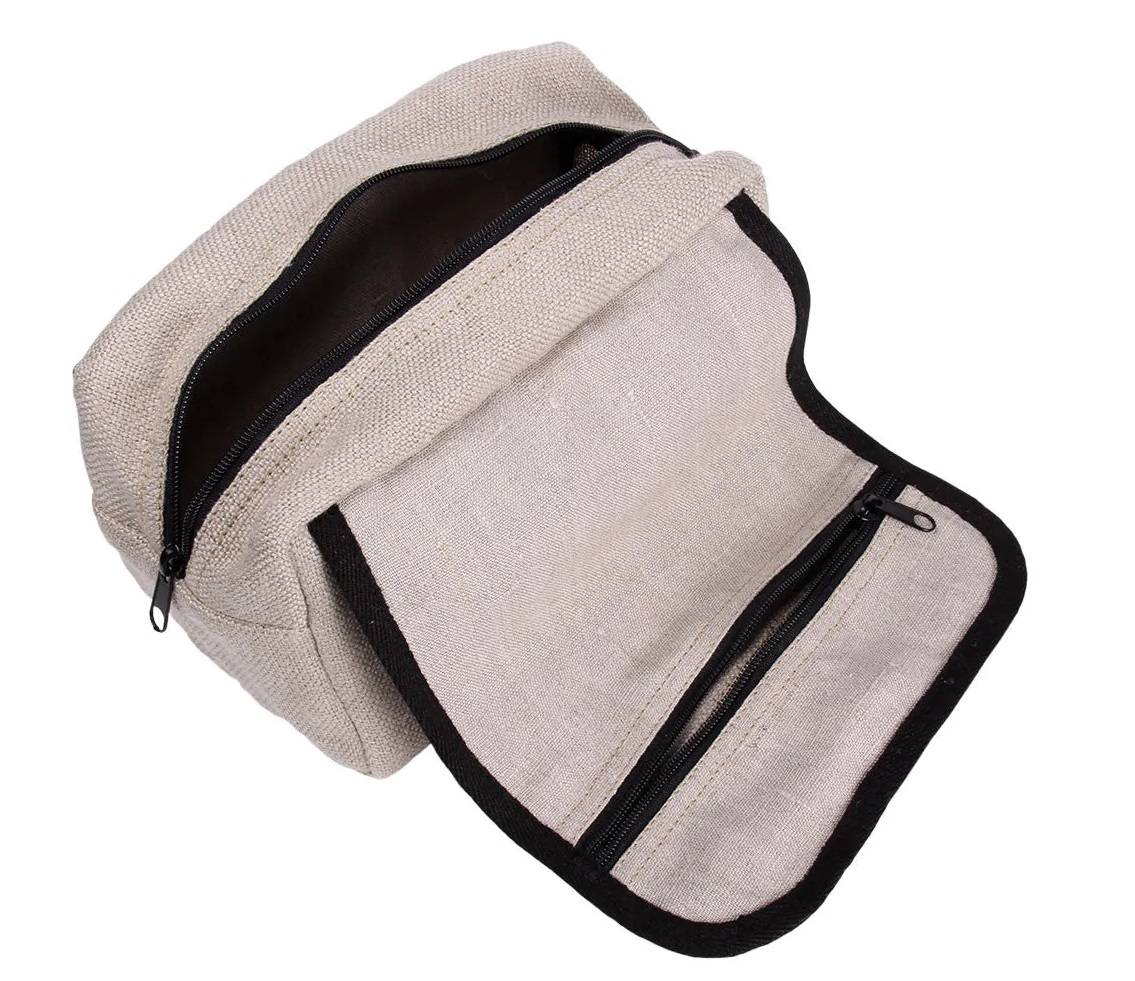 Hemptique Toiletry Bag
Color: Natural and Black
Size: 5.5" x 9.5" x 4"


Whether you are taking a holiday for several days or just a one-day business trip, you will need a bag to pack all your bathroom essentials. Toiletry bag is perfect companion during travels. To find the best one for your needs, look for bag capacity, material, portability, durability, zippers, closures, and compartments. Toiletry bag we recommend is quite simple, affordable, very durable and lightweight – suitable for everyday use. But its main characteristic is it is made from 100% hemp woven canvas.
Hemp bathroom bag
is ideal for packing your toothbrush, shaver, skincare and haircare products, vitamins and makeup essentials. Because of hemp properties, toiletry bags made of hemp canvas are mold and mildew resistant, water-resistant, anti-bacterial and durable to withstand frequent use and bathroom environment. Hemp is considered the strongest of all fibers and versatile enough to use in all seasons. You take it to the beach with you. It's UV ray resistant, so colors will not fade when exposed to sunlight.