4 Quick & Easy Macrame Ghost DIY Ideas For Beginners

Make Your Home Boo-Tiful With These Halloween Handmade Hanging Ghosts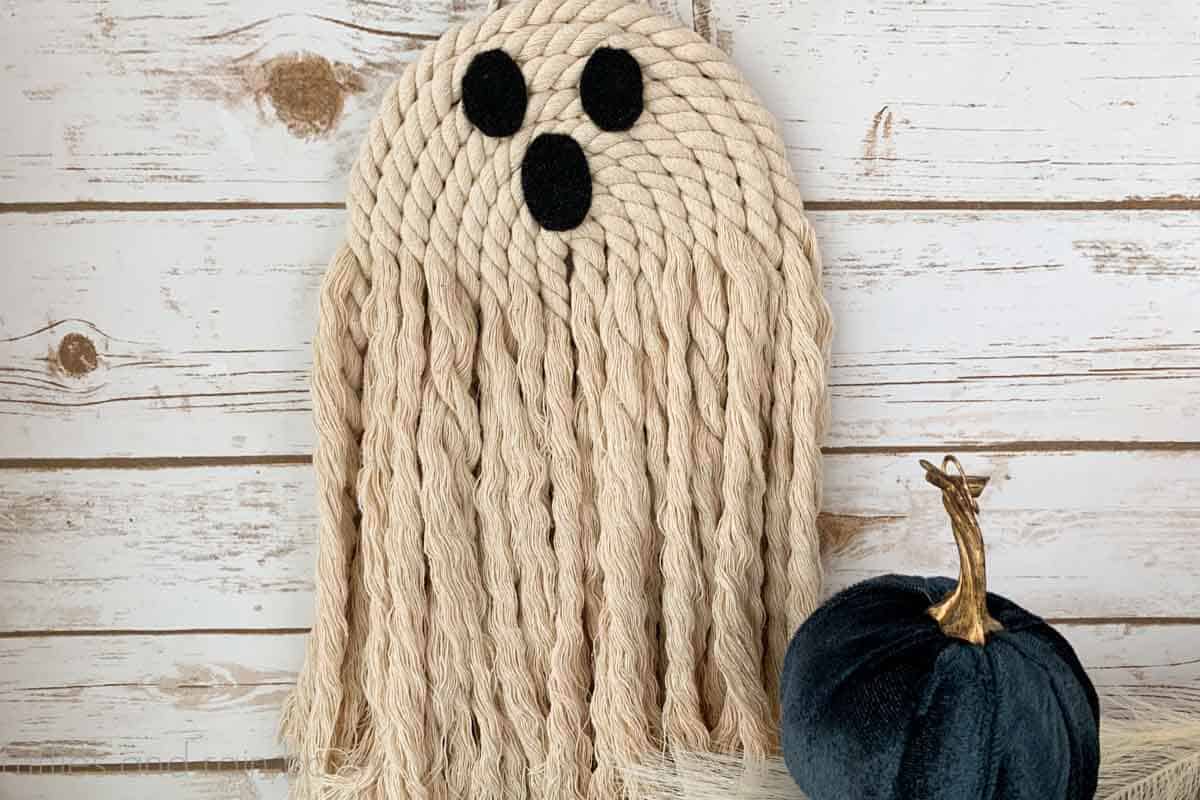 credit:rufflesandrainboots.com
Developing and supplying premium-quality, sustainably grown, consumer products
Organically Grown and Ethically Sourced

hemp and other natural fiber products
We offer fast shipping
Your order out within 1-3 days
Visit our wholesale portal to register or login to your account
Halloween season is perfect for doing handmade projects – from carving a pumpkin to making a perfect costume. In this article, we are sharing a few brilliant ideas on how to make an adorable macrame ghost. Each rope ghost craft in our compilation is simple and straightforward. The instructions are quite easy to follow, which means they are
suitable for beginners, including young kids
. Any of these ghost patterns will be a perfect activity for the weekend to get your family and the little ones amused and
creative during Halloween season
. They will surely get very excited about taking part in preparation of Halloween décor by creating a simple craft that can last for years to come and stand as a testament to their contribution to family celebrations.
To complete projects below, you will need just a few supplies, including the rope.
Royal Corderié Macramé Craft Cord from Hemptique
can be used to complete all of the projects listed below. If you decide to learn the basics of macrame, it is fairly easy to get a grasp of it and you will soon be hooked on knotting! To get you started, we are sharing
macrame knots guide for beginners
, where you can get acquainted with basic knots, such as
a square knot
. If you have not tried the macrame technique before, don't worry! Most of the projects in our collection do not require knotting at all, even though they resemble a real macrame handicraft. Let's get crafting for Halloween season!
1. DIY macrame ghost (with link to step-by-step video instructions)

2. Hanging ghost decorations

4. DIY macrame ghost pattern ornament

Buy High-Quality Macrame Rope For Your Halloween Crafts At Hemptique
Hemptique prides itself on offering the finest crafters' eco-friendly supplies. Our selection of products includes high-quality, durable recycled cotton and ethically sourced 100% natural hemp cordage for all kinds of arts and crafts. At Hemptique, you can find
macrame cotton rope
, yarn, string, twine,
hemp cord
, linen & waxed cotton cord for jewelry making,
round leather cord
for braiding and beading, apparel, and accessories. Our products come in a wide selection of colors and different thicknesses making them applicable for a variety of hobbies and DIY projects. We provide our services and sell products to individuals, businesses, retailers, interior designers, home décor brands, workshop organizers and anyone else looking to craft with the
best eco-friendly rope for crafts
. Contact us to discover more about our preferred client program, adaptable ordering options, and fast, global shipping. You can reach us at
760-602-4864
. ext. 403 and 405, or via our
contact page
. To register a wholesale account and enjoy exclusive advantages, visit
wholesale account application page
.
Hemptique's
Royal Corderié Double Twist 6mm Macramé Rope
is a perfect and highly durable supply material for making decorative wall hanging ghosts at home or making any other kind of string art. Exceptional in its quality, this premium 100% recycled-cotton rope made in Belgium is extra strong and sturdy. With its smooth and soft texture and flexible features, it is highly suitable for beginners and young kids. This double strand twisted rope is offered in two diameters:
4mm thick
and
6mm thick
. It comes in 4 beautiful colors – white, natural, grey and black. The length of the rope is 33m/108 ft. Apart from making Halloween DIY decorations, you can use this rope for various other macrame crafts, such as DIY plant hangers, wall décor, crocheting, and so much more. Don't miss out on revealing all the benefits of Hemptique's recycled-cotton rope!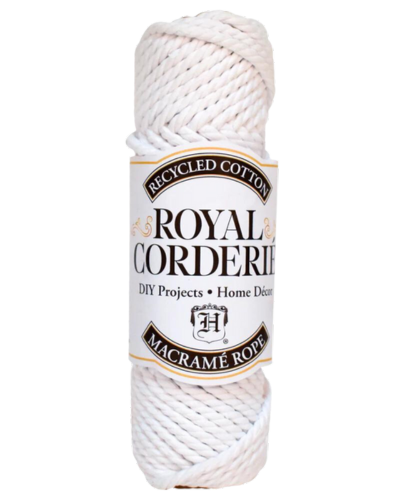 1. DIY Macrame Ghost (with link to step-by-step video instructions)

The first project we are sharing is a simple and quick boho style wall hanging ghost from
Southern crush at home
. It doesn't take a lot of time to make, and it is a budget friendly activity. You don't need to be familiar with knotting techniques for this project, as it is not technically macrame. It only reminds of it as it is made with rope, but it does not require any special skills. It is an ideal craft for beginners as it is suitable for all ages, including preschoolers. All you need for this craft is some glue and the will to create this cute rope ghost.
Supplies needed for DIY macrame ghost:

Scrap piece of cardboard or foam board (semi-circular shape)

Black felt (fabric, construction paper, or paint)


Optional; small ribbon or a bow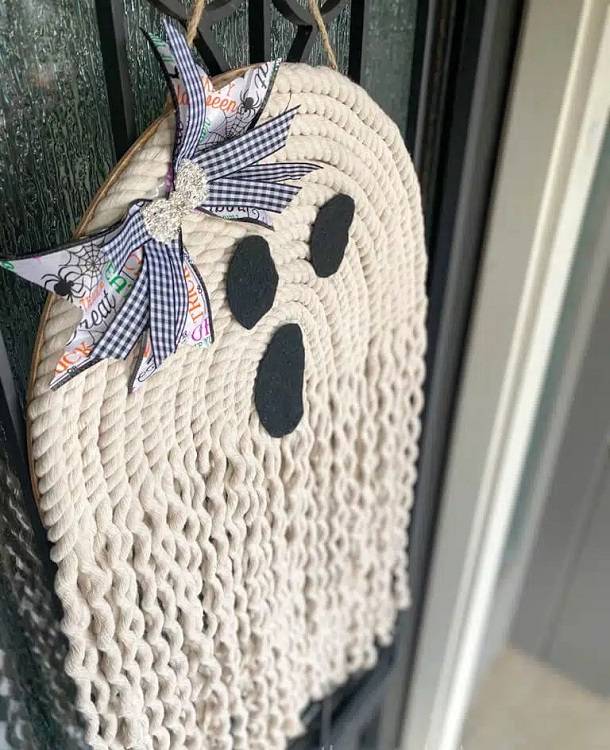 Before beginning the project, think of what the ghost's face will look like. Depending on whether you want to see a happy or a scary face, cut the pieces of black felt (or cardboard) which you need to later glue onto its face in the end.
For video instructions on how to make this rope ghost, watch this
YouTube
video from Southern crush at home.
2. Hanging Ghost Decorations (with video instructions)

Make these sweet hanging ghosts using a free step by step video tutorial below by
Macrame for beginners
. This is another very effective craft that is so easy to make. By using just a few supplies, like rope and wire, you and your kids will be able to create these beautiful hanging ghost decorations, which can be hung on front doors, in the front yard, or on the mantel. You can make them in different sizes and colors, and they make a great treat bag stuffing.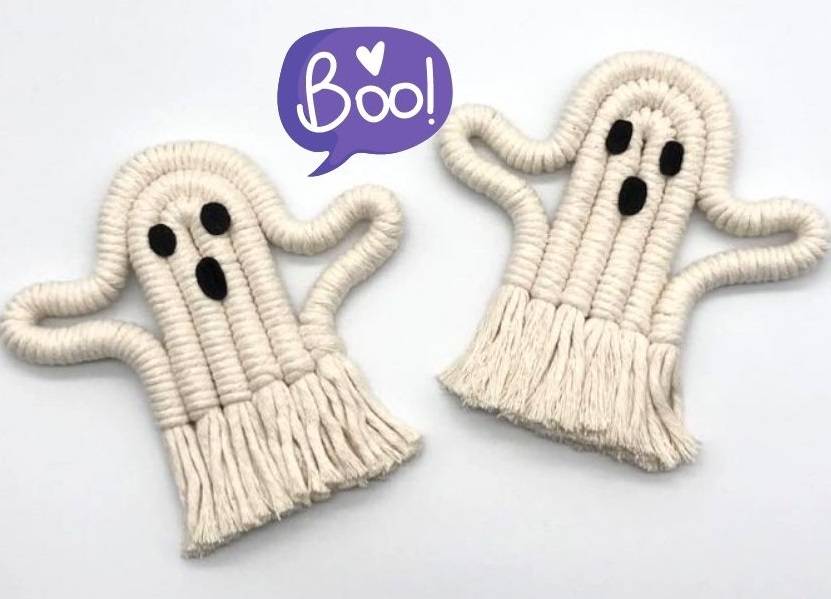 Detailed measurements of cordage is listed in the description of the YouTube video. To follow video instructions on how to make these cute hanging ghosts, here is a
video tutorial
from Summer Macrame.
This Halloween, treat yourself with these sweet and adorable little macramé ghosts. Even if you have not tried to knot before, this craft will be very simple and quick, as it is pretty easy to recreate. It is fit for kids and first-time crafters, so gather supplies listed below, and make this beautiful Halloween ghost pattern for yourself, or as a gift for your loved ones.

Things you will need:
Natural color or white string (two different diameters)

Black felt (cardboard, or black paint)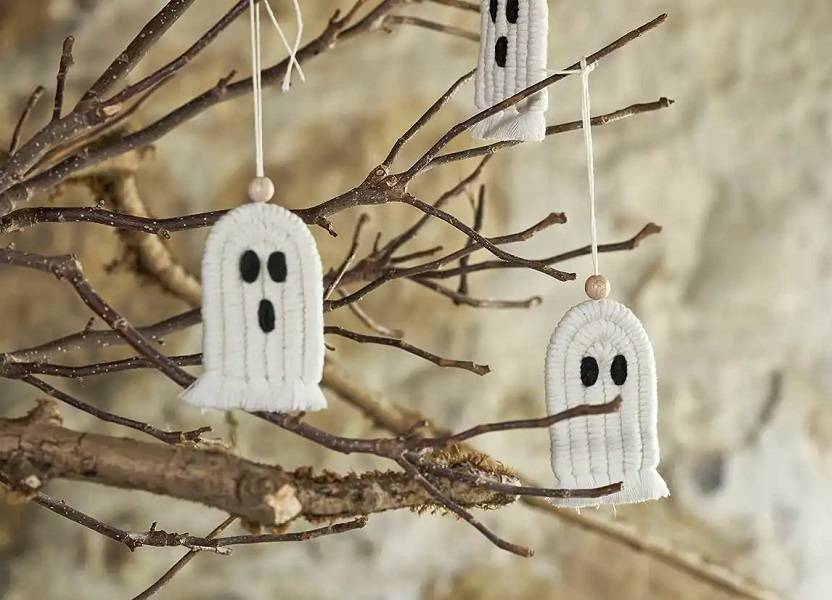 4. DIY Macrame Ghost Pattern Ornament

Besides sewing a cute Halloween costume and carving a pumpkin, fall season is all about cute and spooky décor. The next creative craft we have for you will surely be one of the favorite ones for your little kids to try, since this little macrame ghost is soft, plush, and super cute.

If you are looking for an affordable and stylish handmade Halloween décor, this is it! It can be hung on a front door or a wall to make your celebrations unique and exceptionally festive. Since it is fairly easy to make, why not create several different sizes so you can decorate more than one area of your home. To add a contemporary touch, try using colored rope, or painting sections of finished product with preferred patterns.

Materials you will need for this craft:
Hot glue gun / glue (or sewing kit)

Black colored felt (vinyl, cardboard, or paint)


Optional: Cricut ghost eyes or eyelashes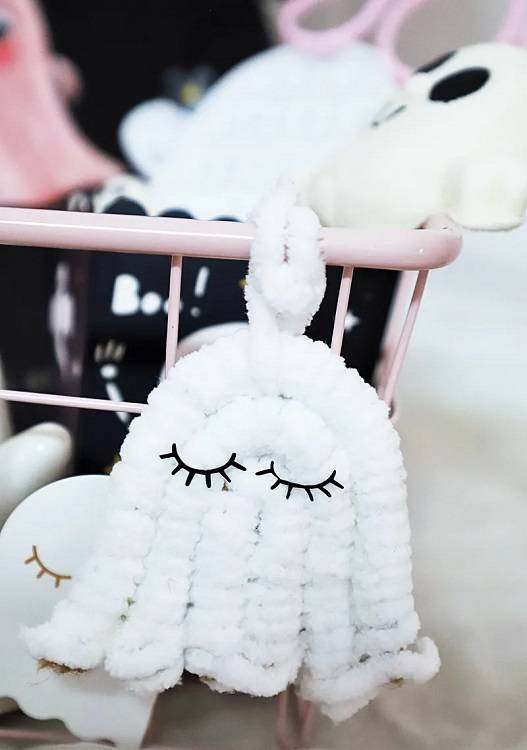 For detailed instructions on how to recreate this rope ghost ornament, visit the
A Bubbly Life
website.
These ghost ornaments are made in traditional white color, but you (or your kids) can use a different color if you wish. For instance, you can use a green macramé cord to make Frankenstein or an orange cord to make a pumpkin ghost. Other Halloween creatures you can create are a black cat, a witch, Jack O'Lantern, or a one-eye monster.